Welcome to NASTE

1/24, 1/32, 1/43, and HO Scale Racing
Congrat's to John Bostic
the NASTE 2008 Champion!
Final Results are posted on the "Standings" page for the 2008 NASTE Point Series Championship
Glenn Gregorio's Blacklight Blacktop in Hillsboro, Oregon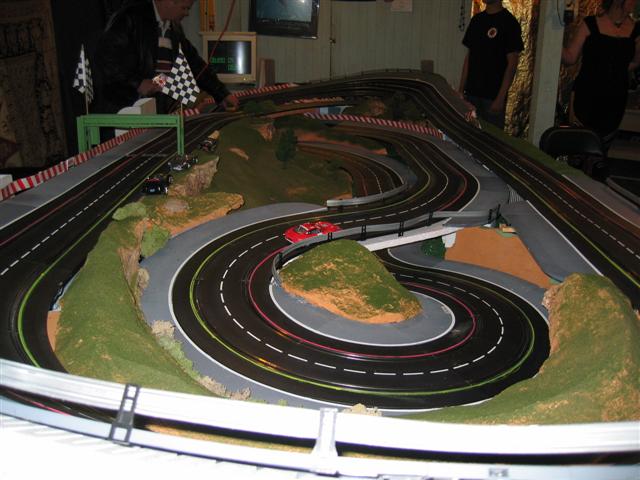 Bryan Trachsel's HO Butterdish Raceway in Portland, Oregon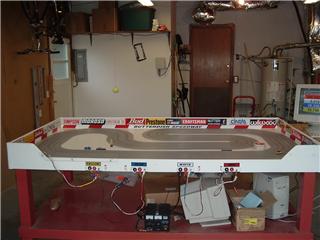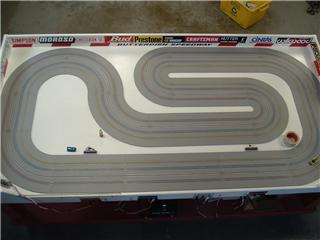 Dennis Hart's 1/32 Hawksbill Station in St. Helens, Oregon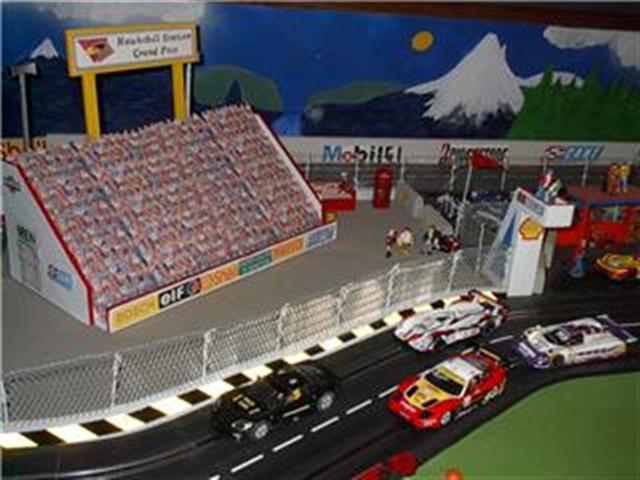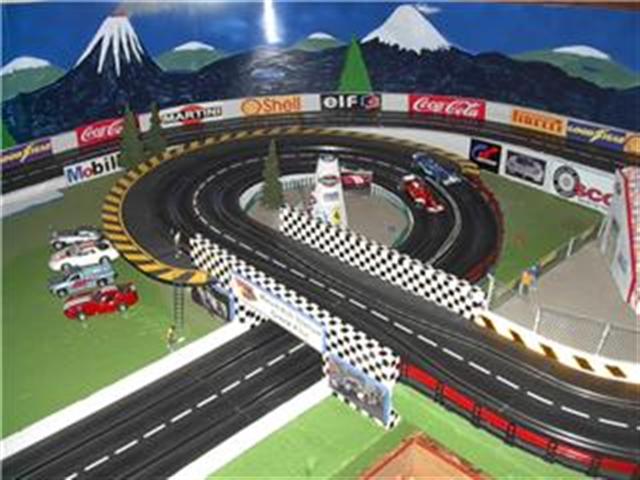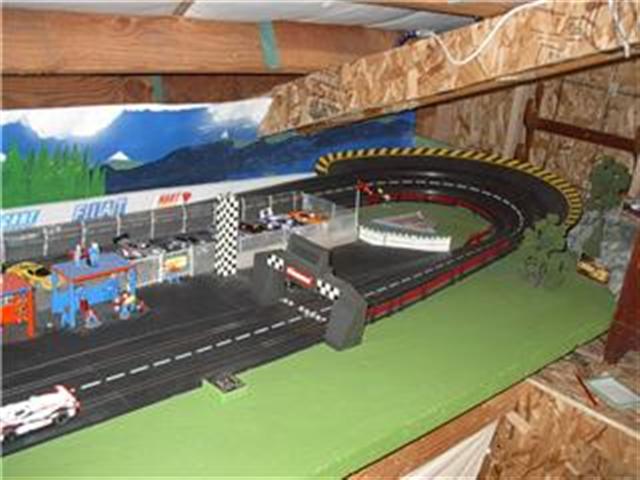 Howie's Rapid Raceway - 1/24 in Portland, Oregon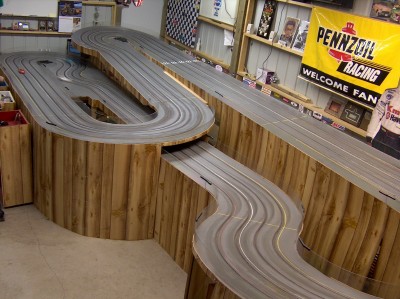 Monte & Victoria Saager's Autumn Hills Raceway - 1/32 Scalextric Track in Hillsboro, Oregon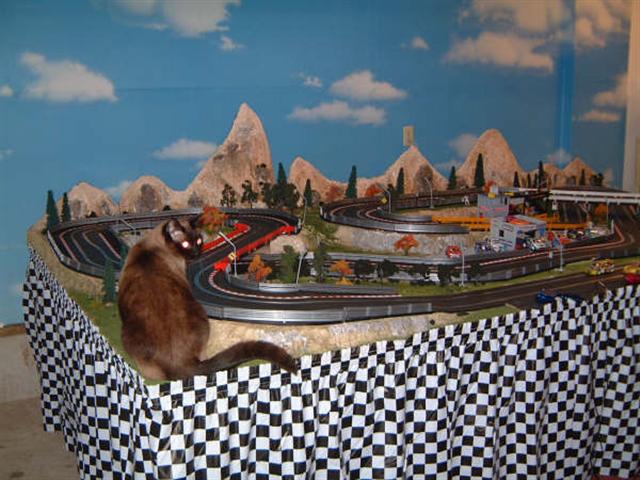 Bob McFarland's Checkered Flag Raceway - 1/24 in Aurora, Oregon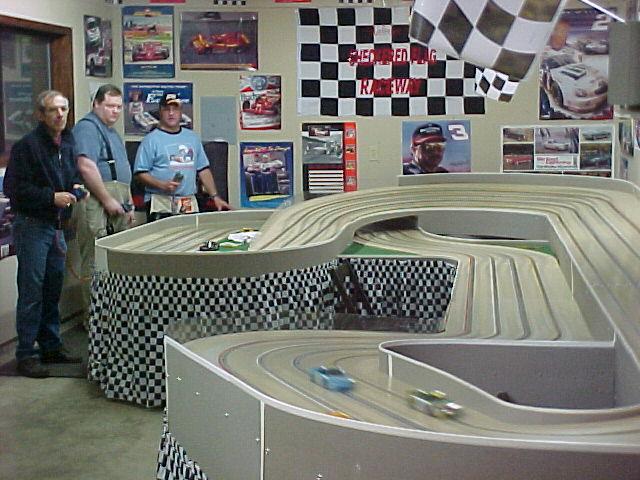 Randy & Byron Stumman's Marshall Field Raceway - 1/32 Scalextric Track in Beaverton, Oregon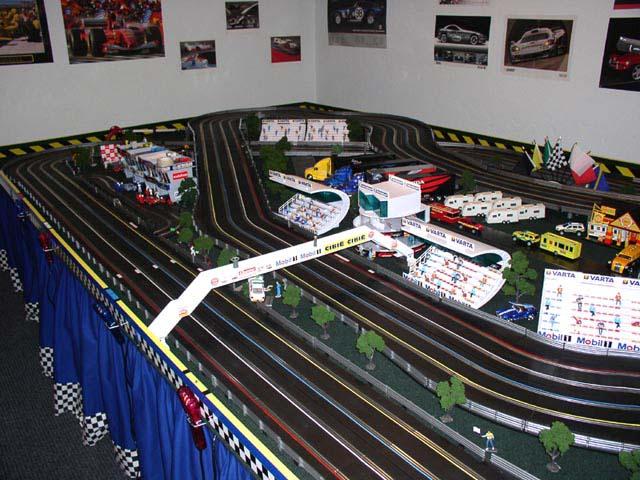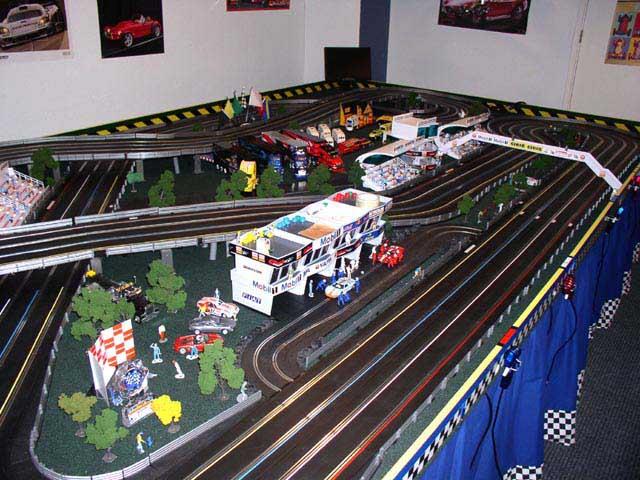 Bill Bostic's routed HO track in Fairview, Oregon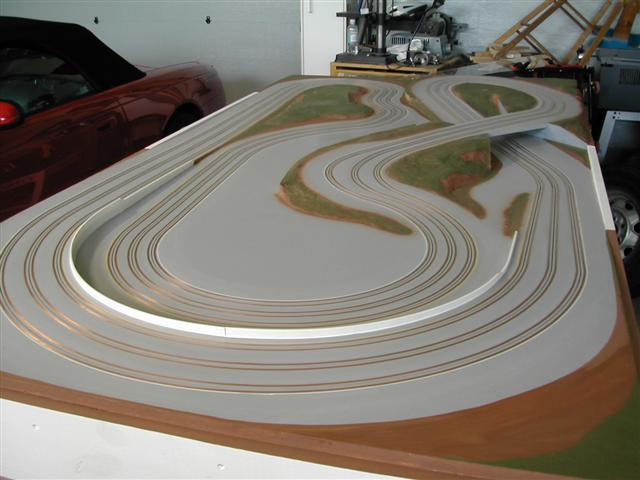 TOOBAD Raceway - 1/24 in Fairview, Oregon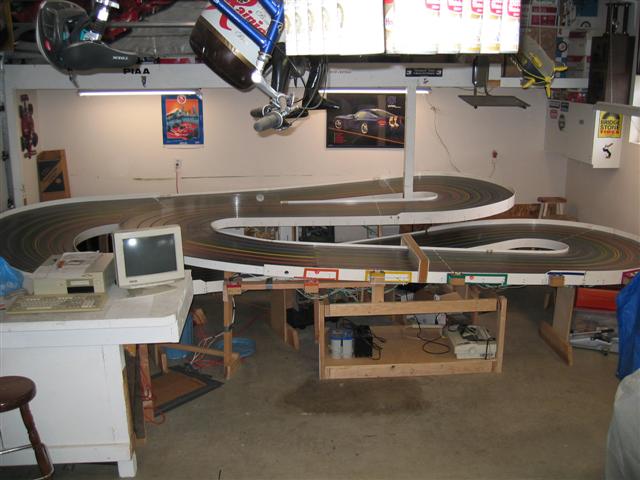 ---
Contents
About N.A.S.T.E.

Favorite Links

Messages

Current Projects

Jerry Was A Racecar Driver - Music Video
Northwest Association of Slot Track Enthusiasts
NASTE was established in 1996 by a small group of slot car racing enthusiasts in the Portland Oregon area. The group's racing and car building experience varied from veteran to rookie. Most of the veterans had raced with many different clubs and groups since the 1980s. They had experience racing and building HO, 1/32, and 1/24 scale cars. These racers were now building and racing slot cars with their children, most of whom were now high school students. The group was looking for something different in slot car racing. This group started racing on a short, 3 lane routed 1/24 scale track. Short as in 34 ½ foot lap length. The racing was intense, and the name NASTE (which originally stood for North East Ainsworth Short Track Encounters) stuck. NASTE expanded, adding more tracks to their racing schedules. The cost of racing is of major concern, and the cars we race still reflect that concern. Our goal is to make our racing inexpensive, with the main focus on FUN! Besides, low tech can be very competitive! Presently the NASTE group races on tracks at different private locations in Portland and the surrounding area. Since 1996 we have had the pleasure of meeting many new people. We have men and women of all ages racing, as well as kids, and even a kid (well he was 20 years ago we he started racing with us) who has come back with his kids! So, check out our cars and tracks. Drop us line if you have any questions or comments.
Favorite Links
NASTE MSN Community & Message Board

Pelican Park Speedway

The Old Weird Herald

Roark's Slot Cars

OSCAR Oregon Hardbody Racing

Peace Frogs

Monte & Victoria's Autumn Hills Raceway - Scalextric Track

Beaverton Area Slot Car Club
NASTE 2008 Race Results:
April 19, 2008. TOOBAD Raceway - NASTE Race #11. Fifteen racers showed up for the last race of the NASTE 2008 season. Randy Stumman raced a great race for a first place finish at TOOBAD Raceway, (formally The BullRing) in Fairview Oregon. It was Randy's first win in a NASTE event. Going into this last race of the season, one point separated each of the three contenders for the championship. In the end it came down to the three contenders all racing in the "A" Main. John Bostic secured the championship with a second place finish in the 11th and final race of the NASTE 2008 season. It was an exciting evening filled with errors, fun, and laughter! There was plenty of racing for everyone, and everyone experienced the now famous "Too Bad" rule, first instated at the newly renamed TOOBAD Raceway. Personally I had a great time, and I'd like to thank everyone for a great NASTE 2008 season! --------Bill
April 12, 2008. Blacklight Blacktop - NASTE Race #10. Glenn Gregorio was host to the tenth race of the NASTE 2008 season. Glenn's two lane 1/32 Carrera track was challenging and exciting! A Carrera Ferrari and a Carrera Corvette were raced in an IROC format. Bryan Trachsel devastated the field winning by a comfortable two lap margin. Byron Stumman ran an impressive race to finish second. It was great to race on Glenn's nicely detailed track. The scenery he has added looks great! Thanks to Glenn for a great race and excellent pizza, snacks and drinks!
March 15, 2008. Butterdish Raceway - NASTE Race #9. The race went smooth with no car problems. Bryan Trachsel took the win with Terry Abbott close behind in second. A BIG thanks to Monica for cooking pizzas, and thanks to all who showed up! ----------------Bryan
March 1, 2008. Autumn Hills Raceway - NASTE Race #8. Monte & Victoria Saager held the eighth race of the NASTE 2008 season on their Autumn Hills Raceway in Hillsboro. This was the first race for the 1/32 Slot.It HRS chassis based TCONY Class. The cars as spec'd out by Monte were a gas to drive! They handled well on the challenging Scalextric track! As usual the racing was very close. The full results are posted on the "Standings" page. In addition to the NASTE racing event, Monte had a SCX Digital layout set up in another room for all the racers to try out. From my experience with the Carrera Pro-X Digital sets I was somewhat sceptical of digital slot racing. But after trying out the SCX set up I must say it works much better than the Carrera digital system! Thanks Monte and Victoria for a grat evening of racing, food, and fun! -----------------Bill
February 16, 2008. The BullRing - NASTE Race #7. This was the first race run on the newly reconstructed 6 lane 1/24 track that was moved from Roseburg to Fairview. This track is short with tight lane spacing. Because the track is so difficult to turn marshal in it's present location, a race format that was used in the early days of NASTE racing was selected for this race. The format consisted of 20 lap qualifying heats, followed by 20 lap mains. Racers had the opportunity to advance in each main. There were 19 racers on hand to race the six "Flexi" style 1/24 IROC cars. There was plenty of racing, and in true NASTE style, the racing was brutal! When the checkered flag dropped it was Steve Smith taking the win, followed by Dave Smith in second (no they're not related. They're both just fast!). We had two new racers, Stuart Wall and Scott Benjamin. Both did very well for their first time racing with our group. It was good to see Jeff Courtney back, and it was great to see "Howie". I would like to thank Glenn Heath who originally built the eight 1/24 Flexi NASCARs we used in the race. The eight cars raced for a recorded 4,819 laps. That's over 800 laps per car with only two gear failures! A testament to Glenn Heath's car building skill (Glenn we miss you, would sure like you to make a race if you get a chance!). I also want to thank Monte for his computer expertise. We would not of had a race without Monte's help in sorting out the Hyundi! -------------Bill
February 2, 2008. Marshall Field Raceway - NASTE Race #6. If you missed this race in Beaverton, you missed a good one! John Bostic pulled off his second win of the 2008 season by being not only fast but consistant! This race saw entries that included some "hotshoes" from the PASER and OSCAR Clubs, "Stevie Blunder", John Gill, and "GEARLOOSE". It was also nice to see the return of Art and "Odie", both making their first appearances for the 2008 NASTE Season. This race had significant impact on the 2008 point race for some racers. Charlie Marovich advanced two spots, while AJ Locati, David Harburg, and Rico Locati all moved up at least ten positions each! Congrats to Byron and Randy Stumman for assembling four excellent IROC cars! The cars were based on Scalextric NASCAR models (the cars were named "AssCars" by Randy & Byron). The cars were fast, handled great, and withstood abuse from seventeen racers in two hours of racing............. outstanding! Thanks also for the great pizza! And thanks to Dorothy Abbott for those great cookies!!! -------------Bill
January 12, 2008. Autumn Hills Raceway - NASTE Race #5. The fifth race of the NASTE 2008 season was run on Monte & Victoria Saager's Autumn Hills Raceway in Hillsboro. Five races so far this season, and five different winners. Monte had two pairs of cars ready for the IROC style race on his tight "rally type" race course. This is a very challenging race track! Racers ran the first set of heat races in daylight conditions, driving Ninco non-magnetic Porsches. For the second round, a pair of four wheel drive rally cars were the weapons of choice for the race under the lights in night racing. The racing was very close, the food was great, and the company of racers excellent as usual! Thank you Monte & Victoria! -------------------Bill
December 15 , 2007. Bill's HO track in Fairview - NASTE Race #4. 23 racers, that's right 23 racers FILLED my garage for the fourth NASTE Race of the 2008 season. This is the best turnout I've seen for a race in years! We raced three newly built, modified T-Jet style Trans Am cars in an IROC format. The racing was extremely close! John Bostic lead the field for the win. I want to thank Dorothy Abbott, Lynette Spohn, and Victoria Saager was the most excellent snacks and goodies! And thanks to my wife Diane for the pizzas and just plain putting up with me!!!! -----------------Bill
November 3 , 2007. Butterdish Raceway - NASTE Race #3. 14 racers were on hand for the inagural race on Butterdish Raceway in southeast Portland. The Max Trax HO track was a blast to run on, and the four T-Jet GTOs set up for the IROC style race performed very well. Bryan Trachsel was blazingly fast, and scored a decisive win. Great snacks, and great pizza! Thanks to Bryan Trachsel and Terry Abbott for putting on an excellent race! -------------Bill
October 20, 2007. Hawksbill Station was home to the second points race of the NASTE 2008 Racing Season. The two lane Carrera track proved to be quite a challenge for most of the racers. Getting through the banked turn cleanly was not as easy as one would think! There were some spectacular crashes! Terry Abbott drove quickly and smoothly for the win. All the racers commented on what a great time they had! Thanks to Dennis for hosting his first NASTE race! The snacks were excellent, the awards were way-cool, it was a great race! --------------------Bill
September 29, The NASTE 2008 Season Opener was run at Marshall Field Raceway in Beaverton. This race was a non-IROC race for Carrera Vintage Stock Cars. 13 racers showed up to kick off the season. These cars proved to be a real handful for some of us! Overall the racing was very close. Byron Stumman scored the first win of the season by driving smoothly and consistantly. I'm looking forward to another great year! ---------Bill
Messages:
Monte Saager
has put together a list of slot car racers and a
notification system
that automatically notifies racers by email
of an upcoming race
. The reminder is automatically generated 5 days before the racing event. To get on the list go to Monte's site here:
http://slotcars.saagervision.com/
Sign up with your email address under "Get The News!". This is open to anyone. So far the race schedule includes races for Beaverton Slot Car Club, some of the Paser and OSCAR races, and NASTE races. If you're a track owner and would like to get your races on the schedule of events, shoot us an email. -------------------------Bill
Use the link above to go to our NASTE MSN Community for more information on the Scalextric A1 GP cars!
Howie sends out newsletters from time to time with race schedules and rules. Drop me an email with your mailing address if you are interested in receiving hardcopies of his newsletters. -----------------Bill
Check out the cool slot car video by Javan Ivey! Click on the link "Jerry Was A Race Car Driver" under 'Contents' above.
The original NASTE 3 lane 1/24 short track
4' X 16' tabletop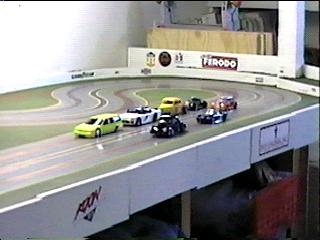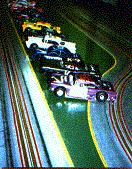 Last Updated: 4/21/08
Current Projects -
Construction stage of new 1/24 & 1/32 scale slot car track - 3 lane, copper tape over steel embedded wire (On hold for now).
---
This Slot Car Racing Web Ring site owned by Bill Bostic.
[ Previous 5 Sites | Previous | Next | Next 5 Sites | Random Site | List Sites ]
Last revised: April 21, 2008