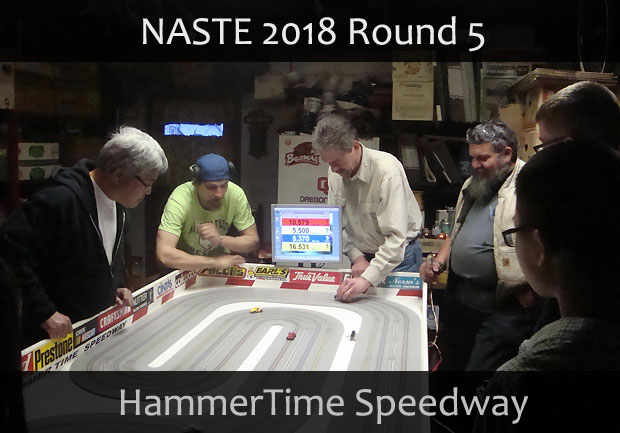 The NASTE IROC Drivers Championship for 2018 continues on with round 5.
It was another night of short track racing under the lights at HammerTime Speedway. 16 drivers did their best to negotiate the turns and the turn marshals thumbs. Of course, good food had to be handled, too.
The first heat featured "gasser" type cars in honor of the track owner's new toy in the driveway. Henry J race cars never saw many turns but these handled it just fine. At the end it was Tracy on top with Terry in second and a tie between Al and Dana for third.
The second heat brought out the modified track cars that are fun and fast, at least they seem fast for t-jets. The track owner showed everyone the fast way around the track to secure a victory. Dana took the second position and Tracy rounded out the podium.
It was a night of great laughs, great food and great friends. Russell Flood brought his new wife and her cousin and they both drove the cars very well for newbies.
There were a lot of requests for them so the next race here in September will see the Isetta racers get back on the track.
The next event is scheduled for the big 1:32 track at the Gorge Raceway in Troutdale on May 12th. Come join us.