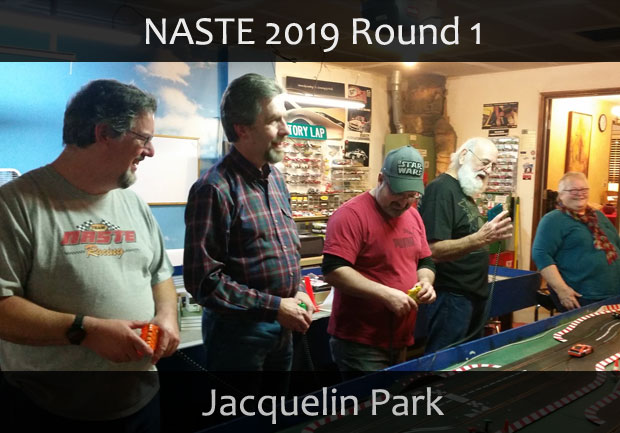 The NASTE Second Saturday Series for 2019 kicked off with a fun evening of entertainment at Monte and Victoria's Jacquelin Park Speedway in Hillsboro.
The Jaq is a 60' Carrera Digital track that can race up to 6 cars at once on its smooth flowing 2 lane layout. Racers have to adjust to the fact that other cars will be in their lane – all the time. It's a different kind of beast.
The race was broken up into three sections with the lap totals from each section added together for a grand total.
For the first section vintage sports cars took to the track in a classic battle – Porsche 904's and Cobra's. The second section brought out something new – SCX NASCAR's! Converted to Carrera Digital and with the magnets firmly in place the COT's ripped around the track with a fury. Per Victoria, we were not using the fuel settings so no trips to the pits, just flat out racing.
For the final section, the lights went out, and in the distance the 1:24 Carrera Cheetah's could be heard starting to growl. It's always fun to race in real darkness and the Cheetah's brought just the right touch to the final heats.
When the final counts were made Terry Abbot finished first with Tracy Flood and Al Christensen tied for second.
A special thanks to Victoria for having pizza at the ready and to all the rest that brought snacks to share. Next up, the January Race at Stan's track in Newburg. It's sure to be a fun night, make your plans to join us.