NASTE News
2024 Racing Season Opens!
Saturday September 30, 2023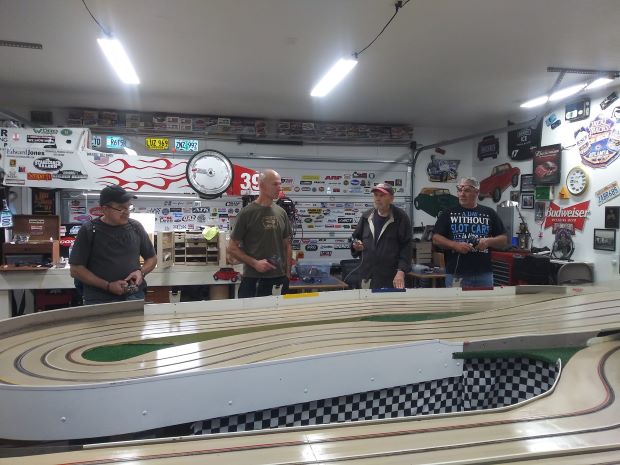 The 2024 racing season is now officially open!

PASER started the season with an Even Thursday Race on September 28th at Inslot's Checkered Flag Raceway in Vancouver. The opening event featured a Womp race followed by a Flexi race. The results of that race can be seen here

Howie will be holding the first Northwest Trues Scale event at Rapid Raceway on October 14th. The opening event will be the Rapid 500 for the NASCAR Class. The word is the Seattle racers are coming prepared!

NASTE starts their 2024 season championship on October 19th with an Odd Thursday race at Al's Rippin' Ridin' Raceway in Portland. All you 1/32 racing fans need to get those cars prepped! Dan Fritz (Doc) is the current reigning champion, and I expect he will be a tough competitor again this year!

The season for OSCAR starts on October 21st at Tom's World in Bend with a Super Stock Class race! There is a good group of Portland area racers committed to attending the race!

And don't forget the Annual NASTE Halloween Race coming up on October 28th at Rapid Raceway! Get those Halloween cars ready!

As always you can see all the upcoming events on the NASTE Calendar here.



RTR Slot Cars - BRM
Wednesday September 20, 2023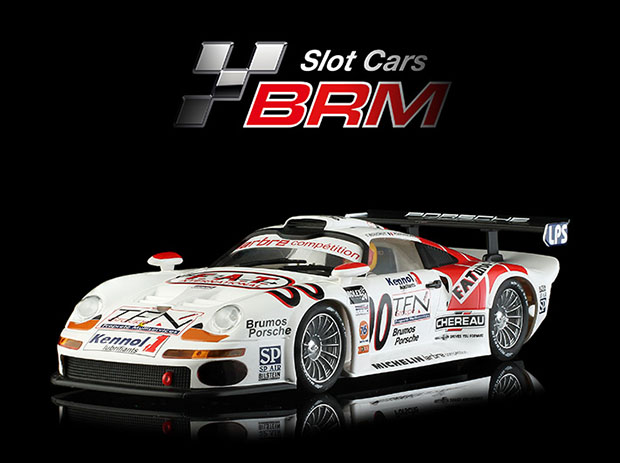 First in our series featuring Ready-To-Run (RTR) 1:24 Scale slot cars is BRM.
In their own words:
It all began in the mid-nineties, when the BRM founder, Mr Pascal Baratella, a passionate model maker, decided to repaint and customize some "slotcar" models of that period that had been produced to be more functional and beautiful.
The satisfaction of seeing their creations compete against each other created the conditions for the birth of the "BRM" in 2003. Initially with the opportunity to enter the static worldwide modeling market producing tires and accessories and later, in 2006, with the production of the first 1/24 scale BRM slot car model.

Click here to read more

Earnhardt / McFarland Memorial NASCAR Race at Tom's World
Tuesday May 23, 2023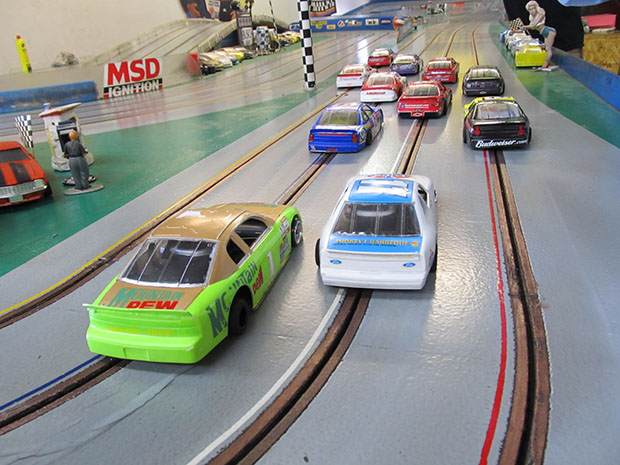 Saturday May 20th was the date of the Earnhardt / McFarland Memorial Race at Tom's World in Bend Oregon. It was a full day of racing, provided by our host Tom Street and included an awesome lunch with pulled pork sandwiches.

Friday the track was open for practice and tuning.

Click here to read more



Stuart Wall's PASER Chassis Building Classes
Wednesday March 22, 2023
Stuart Wall's chassis building class for the PASER group is progressing well! Participants are improving their building skills under Stuart's tutelage.

All of the participants are on schedule to have their chassis finished by the date for the OSCAR NASCAR Race at Inslot's Checkered Flag in April.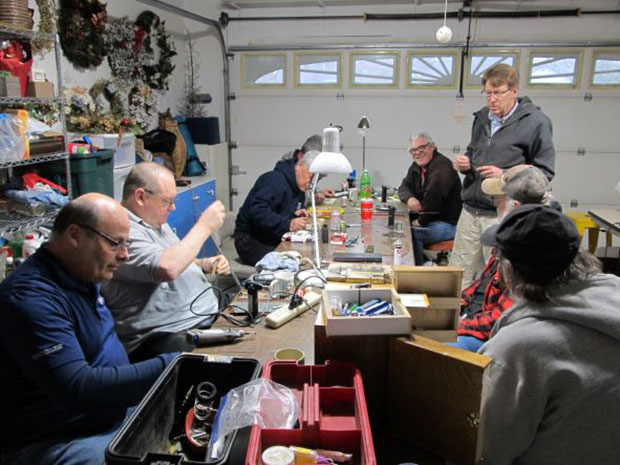 Sad News About Beau Frazier
Thursday December 22, 2022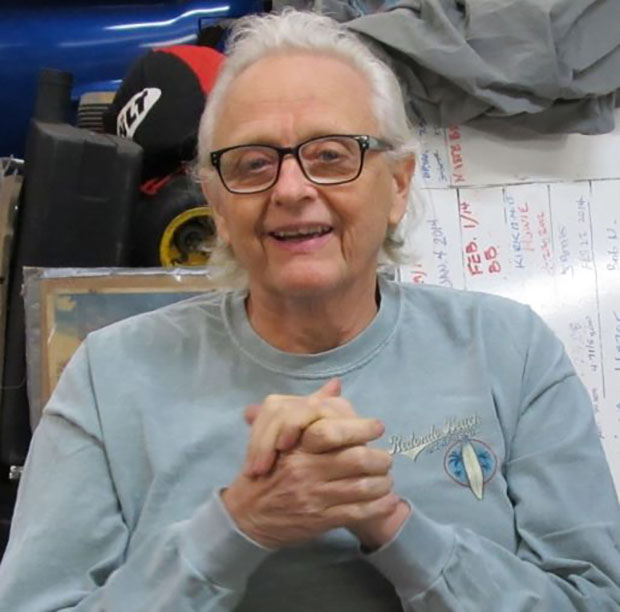 It is with great sadness that I am reporting on Beau Frazier's passing at the age of 72 this morning at 6:15 am. He was a great friend to me in both slot cars and the 1-1 car world. Beau would help anyone who asked and did a lot for the sport/hobby of slot car racing. He would build great slot cars for the new guy for practically nothing. He found the Pro Slot Indy cars that we are racing. He Built a chassis for the Can-Am class that was available to all racers. He will be greatly missed.

--
Gary "Howie" Howard

OSCAR NASCAR Race at Inslot's Checkered Flag Raceway in Vancouver Washington
Sunday December 11, 2022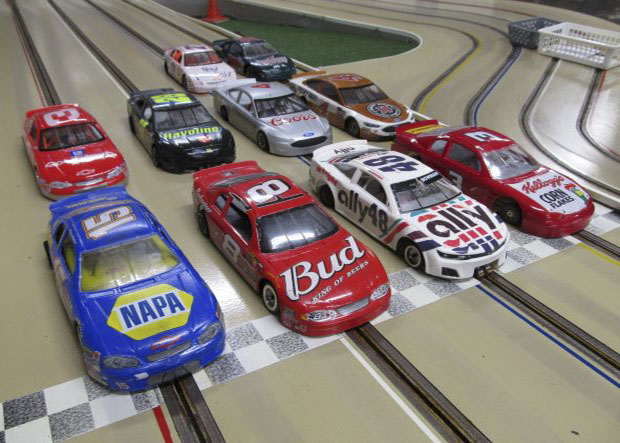 OSCAR, one of the premier 1/24 scale hardbody slot car racing clubs in the Pacific Northwest, held a NASCAR race at Inslot's Checkered Flag Raceway on Saturday December 10th. There were 10 racers in attendance that provided some close and very competitive racing over the nine-hour day.

McFarland Memorial Track Tour : Round 6 : Pelican Park Raceway
Tuesday August 30, 2022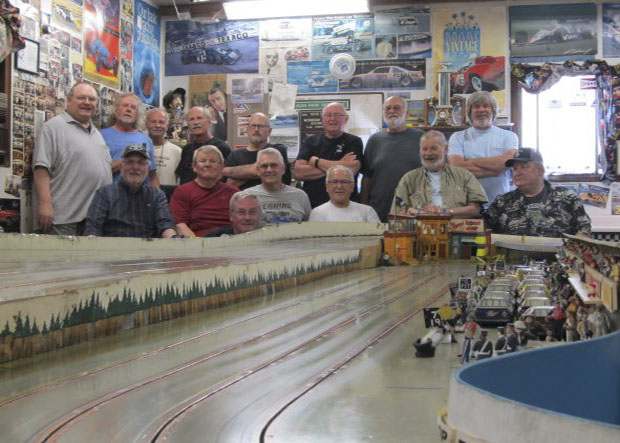 Round 6 of the 2022 McFarland Memorial Track Tour took us to Eugene and the Pelican Park Track. The guys at Pelican Park had scheduled their race for a Saturday August 20th, instead of their normal Wednesday night routine, which was really appreciated by us out-of-town folks!

Click here to read more



NASTE 2022 Point Series Champion!
Friday August 26, 2022
Congratulations to Daniel "Doc" Fritz, the NASTE 2022 Point Series Champion!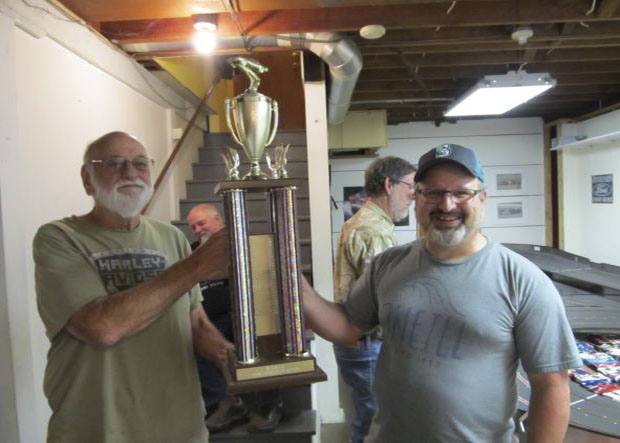 McFarland Memorial Track Tour : Round 5 : Rich Vecchio's Electron Raceway
Thursday June 09, 2022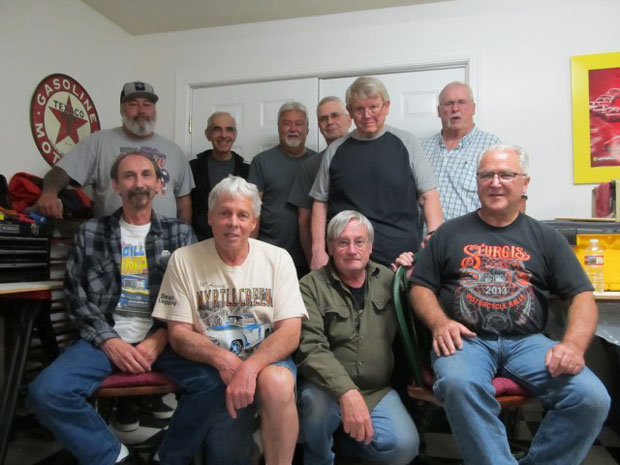 Round five of the 2022 McFarland Memorial Track Tour was held at Rich Vecchio's Electron raceway in Roseburg Oregon on Monday June 6th. Rich chose their Trans Am Class for this race. The race format consisted of two rounds of racing. In both rounds, each racer raced all four lanes for two minutes, for a total of sixteen minutes of racing.

The Trans Am cars were beautiful, as is Electron Raceway!

A big thanks to Rich for hosting this event which featured some very close intense racing!

Read more here



McFarland Memorial Track Tour : Round 4: Tom's World
Tuesday May 17, 2022
Round four of the 2022 McFarland memorial Track Tour was held at Tom's World in Bend Oregon on Saturday May 14th. In honor of Bob his favorite class, the OSCAR NASCAR Class was raced, using the traditional OSCAR racing format.

Friday practice kicked off the event, followed by a full racing schedule on Saturday. The event included a qualifying session, followed by sixty four minutes of racing for both the Xfinity division and the Cup division. It was closely contested race which I know would have pleased Bob!

You can find more on the race here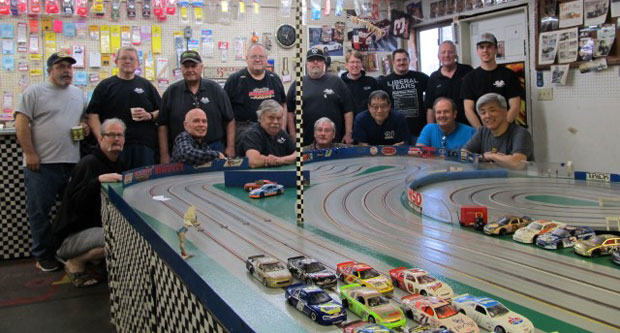 McFarland Memorial Track Tour : Round 3 : Rapid Raceway
Sunday April 17, 2022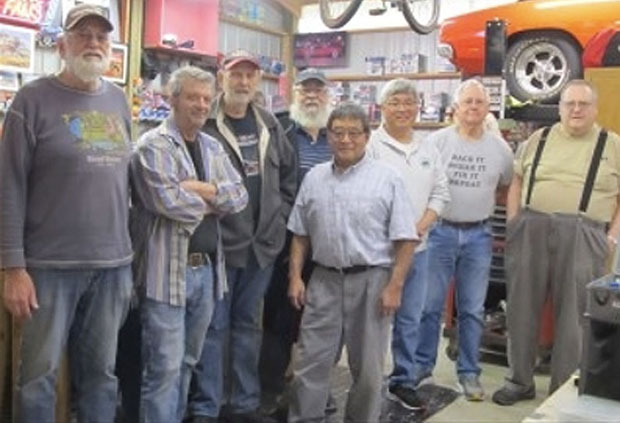 Stop three on the McFarland Memorial Track Tour was for the Porsche 962 Championship race at Rapid Raceway on April 16th. Howie started off the day with a great story about Bob and his love of motorcycles, which did not include Harley Davidsons. Through the years this brought forth many opportunities for friendly jabs between Bob and Howie!

The nine racers in attendance celebrated Bob's love for slot cars and slot car competition, by battling in the third and final race of the 2022 Columbia Gorge Championship for Porsche 962s. Ironically this race was for "bolt together" type chassis, which everyone knows Bob was not fond of, making this race even more special! I can still imagine likely derogatory comments from Bob as the race progressed! But even Bob would have admitted these cars perform extremely well, under duress of course!

We miss you Bob, wish you were here giving us a hard time about these "bolt together" cars!

More on the race here



McFarland Memorial Track Tour : Round 2 : Spare Time Raceway : Roseburg
Thursday March 10, 2022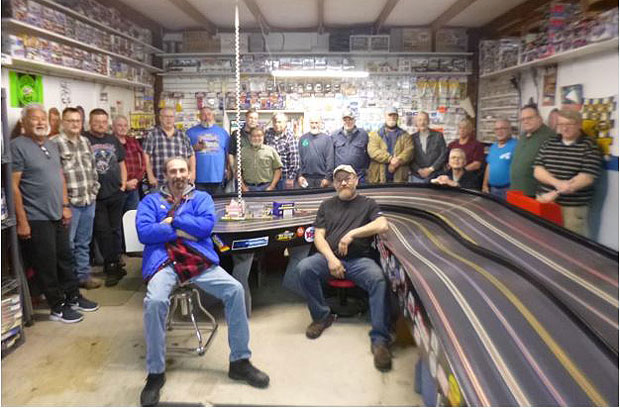 In February of 2020, the slot car community lost one of its finest, Bob McFarland. Although he had not been doing well for some time, his death was sudden and a shock to all of us. In addition to being a fine gentleman, Bob was a tireless promotor of the slot car hobby. He was a fierce competitor, track owner, builder and mentor. He shared his knowledge with others by holding classes in scratch building on a regular basis.
The McFarland Memorial Track Tour is the brainchild of friend and track owner, Bill Bostic. He came up with the idea of having several events at private tracks in the Northwest as a fitting tribute. Several private track owners throughout Oregon have committed to hosting Tour events.

Breathing New Life Into a Historic Track!
Wednesday February 16, 2022
Rob Enders has purchased from Jeff Courtney, the track originally built by Larry Cockerham in Carlton Oregon. Rob has moved the track to its new location close to the Salmon Creek area in Vancouver Washington.

Read more here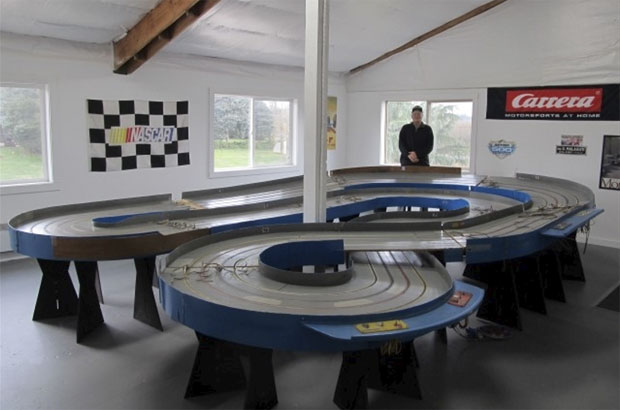 McFarland Memorial Track Tour : Round 1 : Springwater Raceway
Monday February 14, 2022
The McFarland Memorial Track Tour kicked off with an OSCAR Super Stock race at Bob Nakamura's Springwater Raceway in Gresham. It was an enjoyable day with good close racing and lots of conversations about Bob.

Coming: 2022 McFarland Memorial Track Tour
Tuesday January 18, 2022
We are officially announcing the 2022 McFarland Memorial Track Tour. In memory of our friend Bob McFarland, track owners throughout Oregon are holding races designated as memorial races for Bob. The races will be held on tracks where Bob frequented. Two race dates have been scheduled and more are being decided.

The first of the eight races will be held at Bob Nakamura's Springwater Raceway in Gresham. Check the NASTE.org website Calendar for details.

Stay tuned for additional announcements with more race dates.



OSCAR Sports Car Race at Springwater Raceway
Sunday January 09, 2022
What a day at Springwater Raceway. A schedule change brought the OSCAR group to race the Sports Cars class today, and the racing was nothing short of exciting. 11 racers came to battle, and it came down to the end to determine finishing positions, From first to last, it wasn't over until the checkered flag flew!

Complete results here



WOMP Racing Kicks Off 2022!
Tuesday January 04, 2022
Yes it's true, the very first race of 2022 was a Womp race! PASER started out the new year with Womp racing on January 3rd, 2022. Attendance throughout the Monday Open Track day topped out at 12, with some new attendees.

Read more about the day here



Northwest True Scale Classic NASCAR Race at Inslot's Checkered Flag Raceway
Sunday November 21, 2021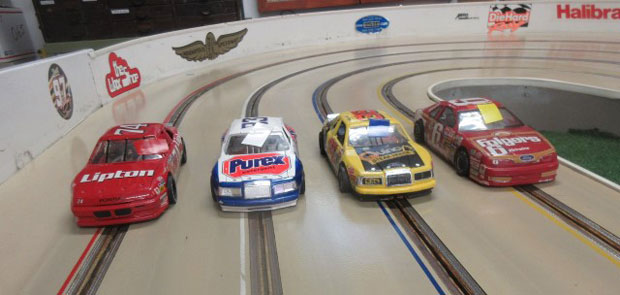 Northwest True Scale returned to Inslot's Checkered Flag Raceway for a Classic NASCAR race on Saturday November 20th.

In a 32 minute race with 15 entries, Zack Morgan won over Craig Rieland by just a 2 lap margin!

Click here for to read more



The Thunder Returns!
Monday November 01, 2021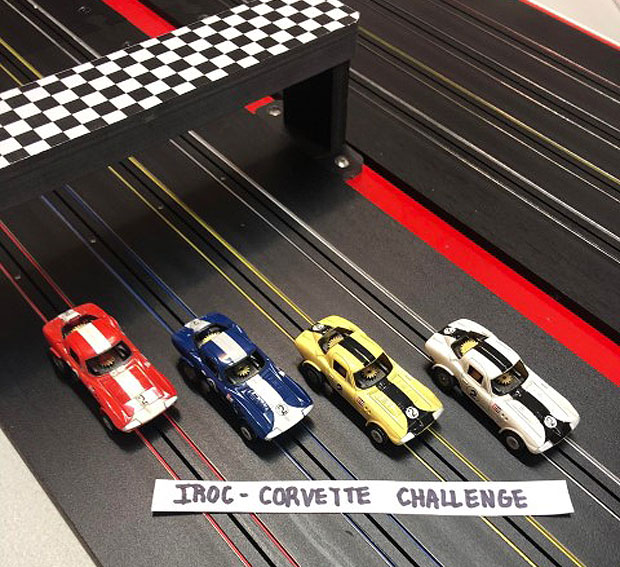 Dave Smith's legendary Hear The Thunder race made a return appearance at Ron Constantin's new Viper track in Woodburn Oregon. This famous race is a spot light event for vintage Aurora Model Motoring Thunderjet 500 chassis.

For this return race Dave had set up and tuned three sets of cars for IROC style races. Johnny Lightning Corvette Grand Sport bodies were used on original Thunderjet 500 chassis for one set of cars. The second set of cars were original A/FX non-Magnatraction chassis fitted with customized A/FX Porsche 911 bodies. The third set of cars were new OS3 TFX chassis fitted with Jimmy Flintstone '33 Plymouth coupe bodies.

This was destined to be an awesome race from the start!

click here to read more



NASTE Annual Halloween Race for 2021
Sunday October 31, 2021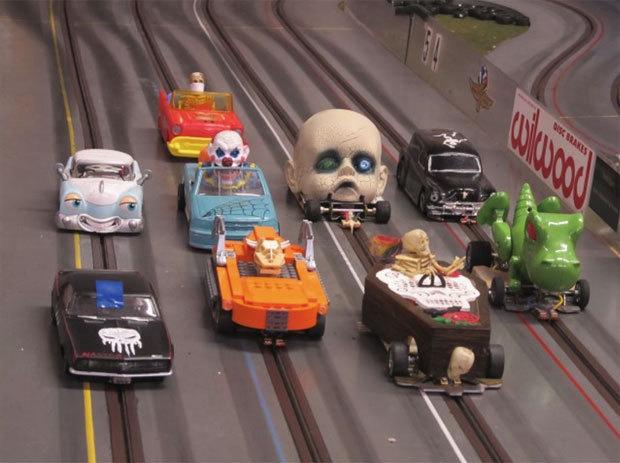 It looked bleak at one point but we pulled it off!

Nine racers made it out to haunt Howie's Rapid Raceway in the running of the 2021 Halloween Race! The race which includes one daylight session and one session in darkness was contested by a very diverse field. Everything from skeletons to dinosaurs!

This is a race, make that an event, that has to be experienced to be understood. OK, maybe another poor choice of words. I've been too many and I still don't fully understand them, anyway they are just way too much fun!

Check out the details here



Clubman Class Race at Tom's World Raceway
Sunday October 10, 2021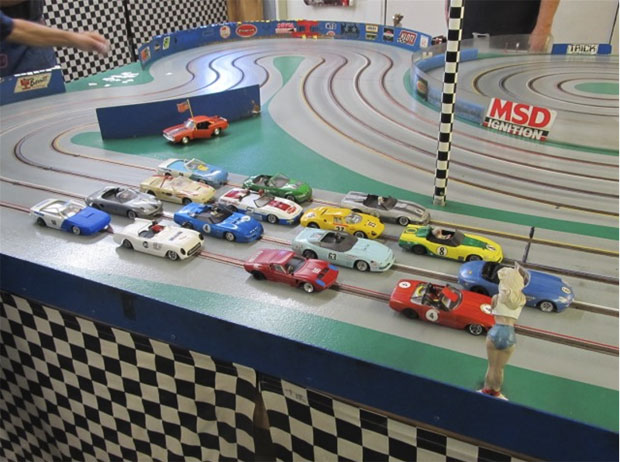 On Saturday October 9th we raced in the OSCAR Clubman Class race at Tom's World Raceway in Bend Oregon. The race was held on the short course version of Tom's fast and challenging track. Curt was the eventual winner with JP in second, Tom in third, and our local hero John coming in fourth.

Congratulations To 2021 NASTE Champion Al Christensen!
Friday July 30, 2021
Al scored the win in the LMP Class and secured the title as the 2021 NASTE Point Series Champion! Going into the last race Al and Dan were tied. Al drove a perfect race, not even one de-slot to take the win in the LMP Class. Dan was only half a lap behind, with Rico trailing him by only one tenth of a lap! It was an awesome race!

Congratulations Meat (Al), you earned it.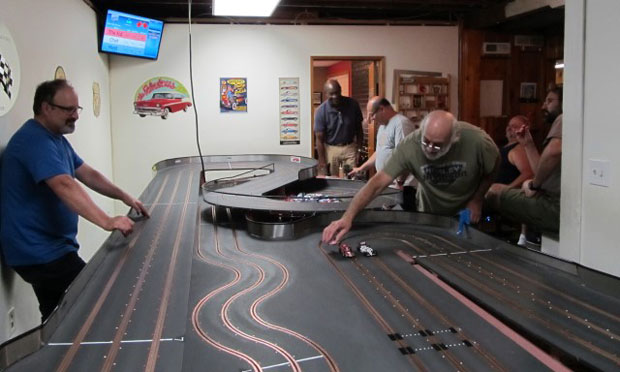 Wednesday Night Racing at Pelican Park Speedway
Friday July 23, 2021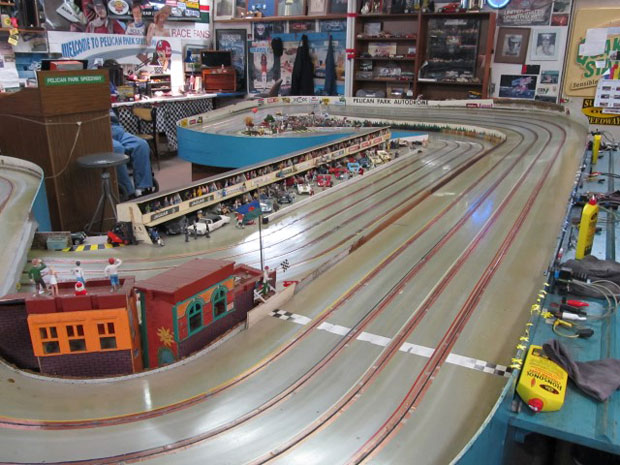 The pandemic is winding down and racing is back up to Speed at Pelican Park in Eugene. It was great to make the trip down to Eugene and get in some track time racing with this great group of guys! Racing at Pelican Park is always fast and exciting! Their 50 lap heat races keeps things moving with little down time for racers. It makes for an exciting evening!



The Legends Proxy Has Arrived at Mitch's Allenbrook Raceway!
Monday May 31, 2021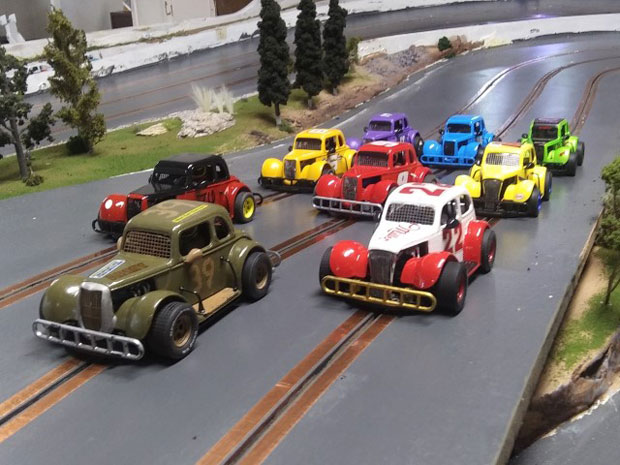 More info here



OSCAR Sports Car Race at Springwater Raceway
Sunday April 11, 2021
On Saturday Springwater Raceway hosted the OSCAR Sports Car Race.

You can read more about the race here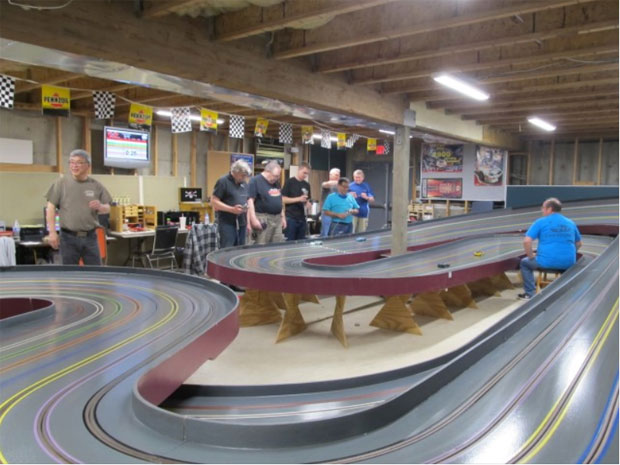 OSCAR Race at Tom's World in Bend Oregon
Sunday November 15, 2020
On Saturday November 14th four racers representing the PASER group from Portland overcame snow, ice, and torrential rains in their venture to Tom's World in Bend Oregon to compete in an OSCAR Super Stock Race.

For those unfamiliar with Tom's World, the track is a very challenging course featuring a tight infield section, a rolling hill bridge overpass, a banked curve, a long gradual curve that is driven as a straight, and a long straight in excess of 20 feet. Awesome racing takes place on this track, including spectacular crashes, and the race on this particular Saturday was no exception!

Thanks Tom, I had a blast!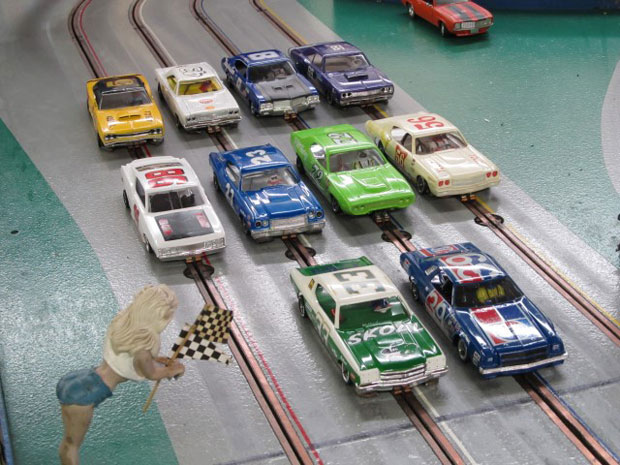 Racing is Alive and Well at Rapid Raceway!
Sunday November 08, 2020
Racing in 1:24 scale continues despite the current COVID 19 crap! Racer participation is still not at 100% but, there is still a good turn out of cautious drivers. That would be cautious in regards to health concerns, NOT in regards to on track competition! The current race season includes races for the Late Model Sportsman cars and the NASTRUCK Class.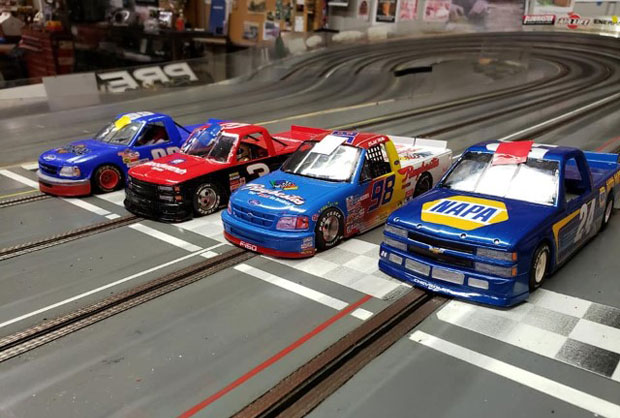 PHOSAR is in the house!
Monday October 05, 2020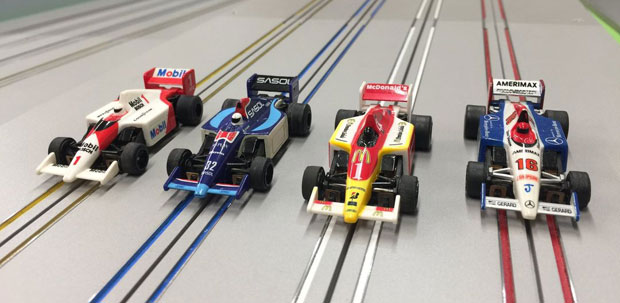 Welcome to the Portland HO Scale Auto Racing group.

If you like HO racing here's a chance to get some track time with a great group as well as learn more about the HO side of our hobby, We'll be posting their event listings and maybe get them on the forum for some slot talk. In the meantime you can find them on Facebook at https://www.facebook.com/groups/2636610096456412

Small cars! Let's race!



Racing - CANCELLED! For now...
Saturday April 04, 2020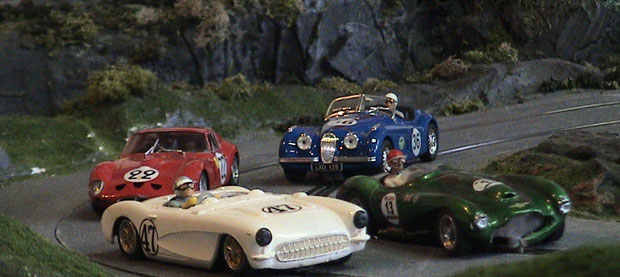 With the current Virus situation going on most of the club racing has been brought to a standstill. But we're hobbyists and we won't let something like social distancing slow us down!

So if you're in need of a hobby fix or better yet, some like-minded company, stroll on over to our forum and join us for some hot discussions. Or follow folks like Mitch and Zack on Facebook, they're always up to something. Zack is usually working on some cool scratch-build project and Mitch is usually fixin' up about a dozen cars a day - while supplies last.

But wait, there's more! Bill is still holding tight to the ultimate slot car candy store while also thinking about modifying his routed track. Holy sawdust, Batman! Somebody get me a saw.

So, no, we can't get together to race in these days of social distancing but we can still enjoy our hobby - even together, somewhat. Stay chipper, stay safe, drop us a line to let us know how you are and what you're up to and above all, keep it in the slot.



Our Mentor Bob McFarland
Thursday February 13, 2020
Tonight is yet another sad night. I learned today that Bob McFarland passed away yesterday. Bob was one of the nicest and most generous men I have ever known. He loved the slot car hobby more than anyone I have met. He did more for the slot racing community than anyone I have met. He was a talented innovative builder and an awesome competitor. Bob was not only a leader in the slot car racing community, he was the spirit of slot car racing in the Northwest. Our slot racing community will feel the loss, and I will miss him greatly.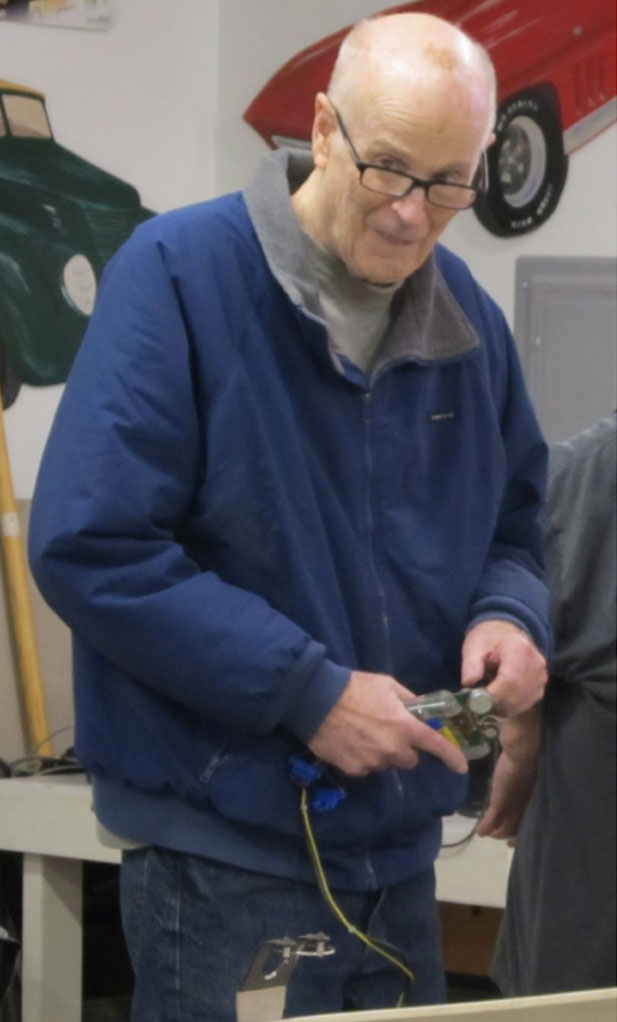 Springwater Classic NASCAR 500
Friday January 31, 2020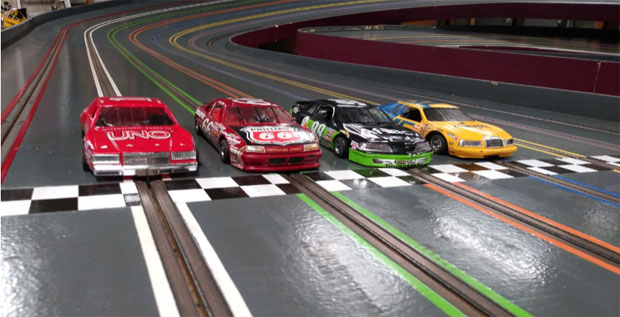 Springwater Classic NASCAR 500
Saturday, March 7th , 2020
Springwater Raceway

Track opens: 9am
Tech: 10:30am
Race starts: 11:00am



Rules: NW True Scale Sportsman Class with 1:24 Monogram NASCAR bodies from 1981 - 1992
Cost: $10.00 (includes lunch)




The race will be run as 5 minute heats, three times through.

For those planning to attend or for more information please contact

Bob Nakamura at rnak94@AOL.com

so he can get a head count for lunch preparations.

Columbia Gorge Championship Opening Race at Springwater Raceway
Sunday January 05, 2020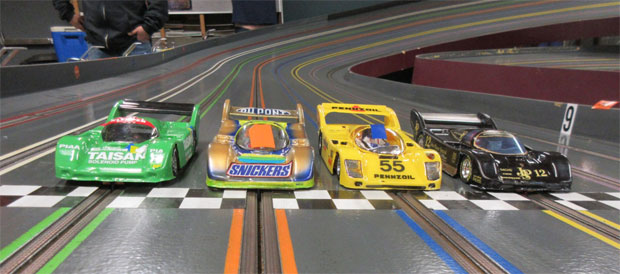 The first race in the Columbia Gorge Championship series for Porsche 962s was run at Bob Nakamura's Springwater Raceway yesterday. The race was a huge success with eleven racers competing. This eight lane Ogilvie track is huge and wickedly fast! Racing the Scholer nuts and bolts type chassis with Team Bluegroove .030" lexan bodies mounted was a real challenge. The racing was extremely close with these cars as they were all very close in performance. Not only did racers had to watch traffic and avoid on track pile ups, they had to carefully choose where to try and make a pass. Passing was treacherous, sometimes requiring a racer to hang back a little for several laps.
Here's what I really liked about this race:
1. The race format. We raced 4 rounds of 4 minute heats on the four inside lanes of the eight lane track. This gave each racer just over an hour of on track, controller mashing race time.
2. With these long heat races if a racer suffered problems (like me multiple times with crash damage, from a huge wreck in the bank, and later gear failure) there was time to make repairs in the pits and still get back into the race.
3. The track. Super-fast and very challenging when it came to dealing with traffic. A good portion of this was because the Porsche 962s were not only fast, they were wide!
4. The cars. This is an awesome class Howie has put together. These cars are very evenly matched. They are relatively easy to build and they are durable. The Team Bluegroove .030" lexan bodies held up very well.
There were a lot of on track close battles throughout the race. Almost every racer suffered some type of race related damage or breakage and had to pit for repairs. More than one of those races battled back from those issues to finish well. It was truly an awesome race!

Checkered Flag Raceway Re-Opens to Racers
Sunday November 24, 2019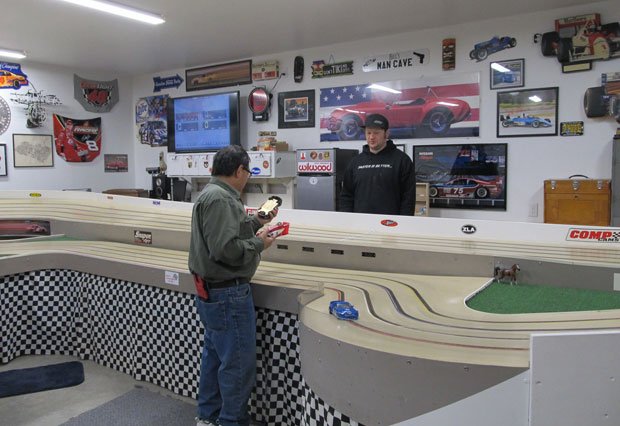 On November 23rd 2019, Checkered Flag Raceway re-opened. Checkered Flag Raceway, long time home track to the PASER slot car club, was shut down last year and moved to its new location in Vancouver Washington. Now referred to as Inslot's Checkered Flag Raceway, the opening race was held for PASER's Late Model NASCAR and Can Am Classes.

Attendance was good for the race with a dozen people on hand, with racing grids totalling nine entries in each class. PASER is the oldest active slot car club in Oregon, being formed in the early nineteen sixties. Two of its original and founding members are still active racers and builders and, are still the guys to beat!

The Late Model NASCAR Class was first to the start line. Stewart finished in first place with Dennis just four laps behind. Bob and Jerry filled out the podium in third and fourth respectively. In the Can Am Class Dennis finished first, followed by Ted in second, Zack in third, and Jerry in fourth.

I'd like to thank everyone that came to race, and I'd like to give a couple shout-outs! Dennis, thanks for making that long drive from Seattle! Zack, congrats on your third place finish in Can Am, especially considering this was your first time on the track, and for helping me out with the track official duties! A very special thanks to Bob for letting me become the new caretaker of Checkered Flag Raceway!



Oregon Donors take 3rd at 24 Hours of Tacoma
Monday November 11, 2019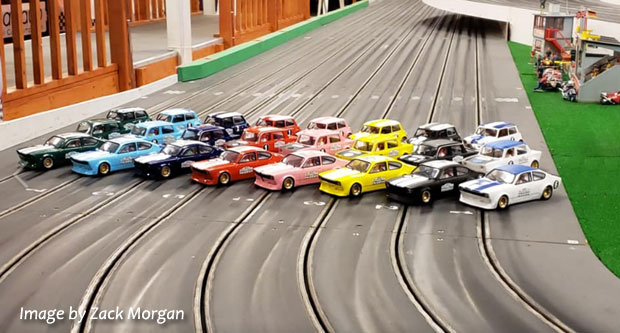 The NASTE Traveling Race Team took 3rd place in the 24 Hours of Tacoma this past weekend with their best showing so far. Hats off to the team of Chris, Zack, Ray, Tony and Monte.

Driving a trio of cars in yellow for 8 hours each - a Mini Cooper, an Opel Kadett with lights for the night portion and finally, a Simca - the team stayed strong throughout the event with only a few minor repairs required. By the conclusion they had run the second most laps but a points system knocked them down to third. Well done team!



Springwater Raceway's Opens With The OSCAR Sports Car Race
Sunday November 10, 2019
Bob Nakamura's Springwater Raceway opened to racing with the OSCAR Sports Car Race on November 9th, 2019. The day started with the doors opening for practice at 7:00 AM. Racers travelled from Bend, Eugene, and Roseburg to attend this opening race. 14 cars were gridded for the start, each to compete in 48 minutes of racing.

Springwater Raceway is an extremely fast, smooth, and challenging race course. All of the cars entered performed very well on the track. The grip level was high and the car's tires could be heard squealing as the cars rounded the corners. Racing was close and intense!

In addition to the fantastic racing, Bob and Teresa treated us all to a great taco bar lunch! There's not much better than slot car racing and FOOD! Thank to Bob & Teresa for putting on an awesome event!

Read more and see videos and photos here: http://naste.org/forum/viewtopic.php?id=1073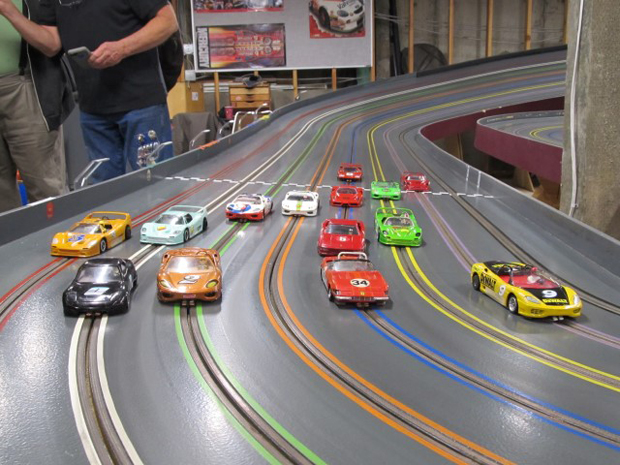 OSCAR Race at Tom's World in Bend Oregon
Sunday October 20, 2019
On Saturday October 17th I attended an OSCAR race at Tom's World in Bend Oregon.

The race was for the Super Stock Class of cars, which are very fast early model American sedans and coupes on scratch-built chassis powered by open super 16D motors. Think FAST and not quite excellent handling cars, on a very fast but very challenging track! What that makes for is a full day of AWESOME racing with a great group of guys!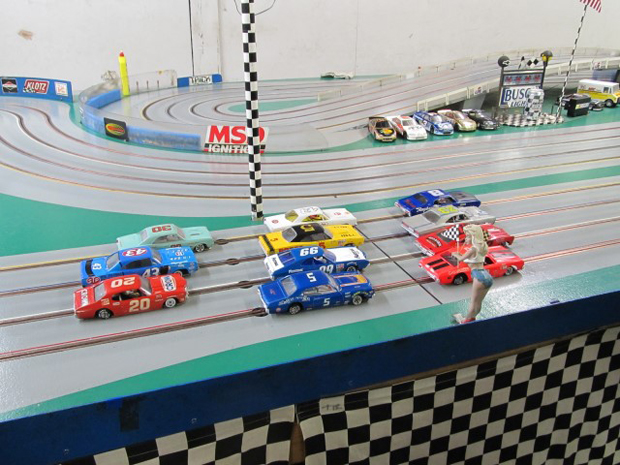 Read more and see more photos here:

Springwater Raceway Inaugural Coming Soon!
Thursday October 10, 2019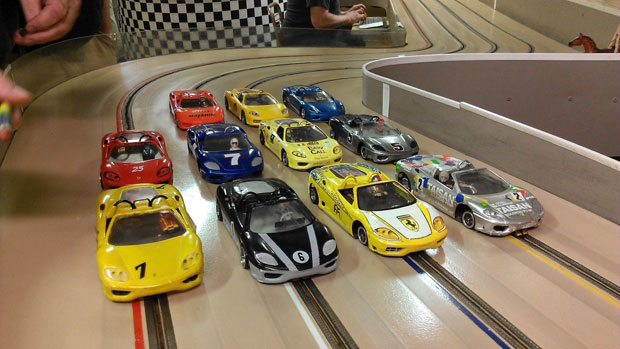 Get those cars ready, here comes the Inaugural Race at Bob Nakamura's Springwater Raceway!
OSCAR Sports Cars

Doors open 7am / Tech 9am

Race starts at 9:30 - 4 times through with t minute heats

Lunch after 2 times through

$10 per racer
Date: Saturday, November 9, 2019
Location:
Springwater Baptist Church
Address:
5527 SE Jenne Rd., Portland, OR 97236
Cell Phone:
Bob Nakamura (503-319-9990)

NASTE 2019 IROC Series - Race 9
Saturday August 31, 2019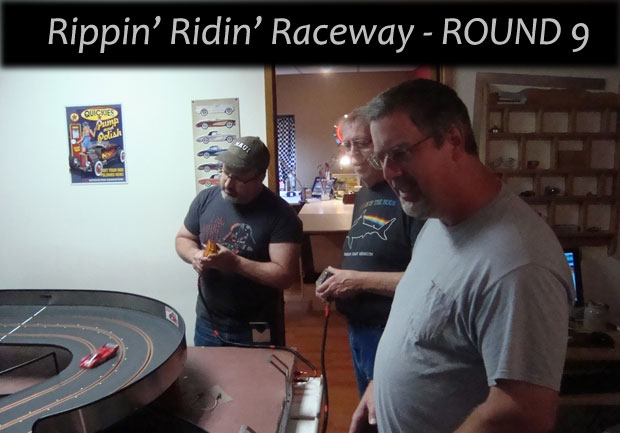 August brought us a few hot days and it was nice to spend one of those in Al's basement playing with toy cars. This was our second stop this season and as it's a regular on our Thursday night schedule racers had no trouble adapting to the track or the cars.
Up first – the Slot.It Porsches. Fast, smooth, everyone likes these cars. Liking them the most was 'The Mailman' Terry Abbott taking the lead with a 71.9 lap total. Our host Al was about half a lap back in second with Monte Saager staking claim to third – barely by a tenth over Dan 'Doc' Fritz. In total six cars were within two laps of the leader – the chase was on!

click her to read more

NASTE Goes To The Races
Sunday August 18, 2019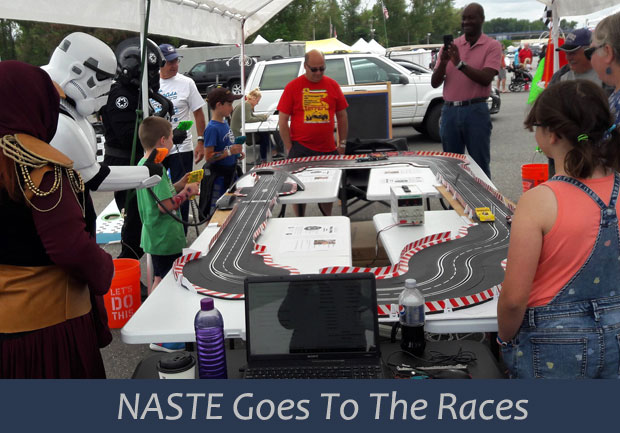 NASTE members Monte and Victoria Saager also maintain membership in the Cascade Sports Car Club. One of the major Cascade events is the annual charity race and fundraiser, the Dash for Kids. A feature of the Dash is a kids ride around the track in actual race cars. It's always a hit as they give them a race helmet, strap them into the passenger seat and away they go.

New to this year's festivities were slot cars! Monte and Victoria set up a digital slot car track to give the kids something else to do during the day and it was a hit. There was constant action on the track as children of all ages gave it a try. Smiles were abundant and you could even hear 10 year-olds talking smack. My favorite were the two that were telling each other who was fastest as they kept coming off on every corner. It was quite the scene.

NASTE members Jeff Fields and Rico Locati came out to give us a hand and it was greatly appreciated. With 4 cars circling the track it was hectic. It was mayhem. But the kids were having fun and that was what really mattered. We even had Star Wars characters stop by. No word on where they left their Death Star.

NASTE 2019 IROC Series - Race 8
Thursday July 25, 2019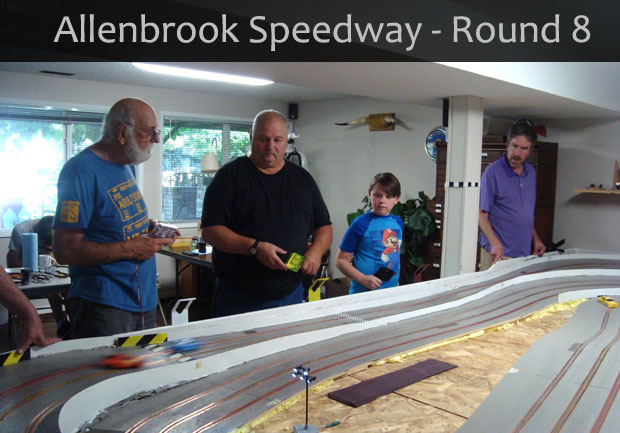 Welcome to July and a new track! It's Mitch and Chris' Allenbrook Speedway located in Tigard featuring three lanes of routed fun and excitement.
Thirteen racers took to the track to give it a good running including a return by the Petrequin family. It's always good to see old friends - welcome back!
Since it's a new track there were a few growing pains but we pushed through with typical NASTE determination. A few PC reboots and we were cooking. Mitch set out two sets of cars and we gave them the running they deserved. Hard and fast.
Pushing hard in the first set, the mailman, Terry Abbott held a good lead over the field with Al Christensen and Monte Saager tied for second down two laps.
In the second set, out came the smoother running cars. And with the change lap totals picked up and things got a lot closer.

click here to read more

NASTE 2019 IROC Series - Race 7
Monday July 22, 2019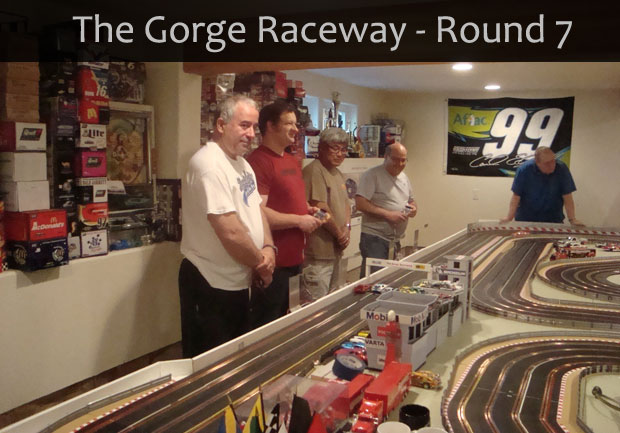 June bring our seasonal trip to Troutdale and Bob Nakamura's large Scalextric Sport layout. Featuring 4 lanes and enough length to stretch those leg, it's always a good time at Bob's.
Featuring two different sets of cars, drivers worked their best to get good times and, most importantly, stay on the track! In the first set Bill Bostic led the way with a great run followed closely by Bob Nakamura with Zack Morgan in third.
In the second set drivers really had to work to get the best result as the cars were a little slower and more treacherous.

click here to read more

NASTE 2019 IROC Series - Race 6
Thursday June 06, 2019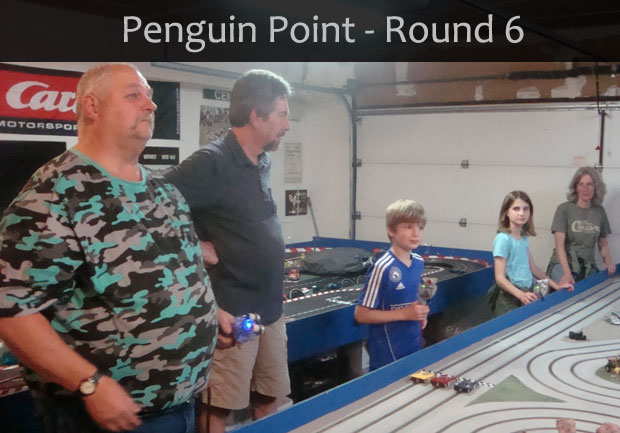 The 2019 NASTE Saturday IROC Series once again returned to Hillsboro for a visit to Monte and Victoria's Penguin Point. A good field of 14 racers turned out to give the Point a workout. It was also a chance to visit with both new fiends and old. Making their first visit to the Point was the Feb family – Charity, Elspeth and Aslan. And making a return trip after too long an absence was Frank Lynn. Welcome!
After some time for the "newbies" to practice it was time to put on the race faces. Monte put up two sets of Slot.It cars – Alfa's and Lancia's. Alfa's are short-tailed open top cars, Lancia's are long-tailed GT's. With the twists and turns of the Penguin Point track, each offers a slightly different challenge. Most racers seem to fare better with the longer tailed cars.
Taking up the challenge, the track owner Monte put the hurt down in no short order. After the first set Monte led the D1 field by one half lap with Terry in second and Tracy in third another tenth behind. Dorothy led the D2 field with Victoria in second and team Feb charging hard.

NASTE 2019 IROC Series - Race 5
Tuesday April 30, 2019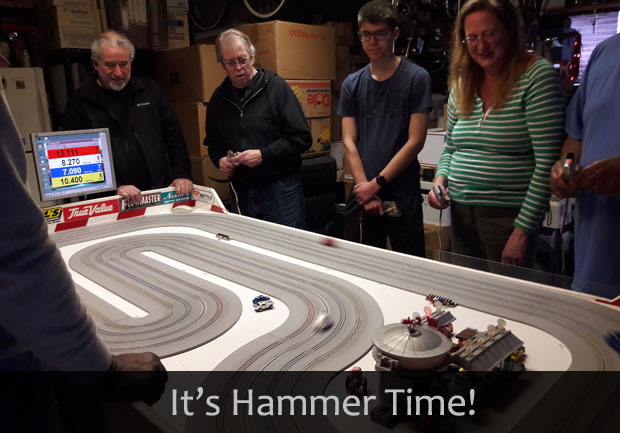 The NASTE Saturday IROC Series for 2019 continued with a trip to Portland for HO racing and our yearly visit to Dorothy and Terry's Hammer Time Speedway. This is the land of the HO T-Jets. The smallest scale we run but also great fun.


A good field of 17 racers assembled to take on the 'Hammer. And up first, the treacherous, little, FIAT Abarths. Tall and short, they resemble little boxes on wheels. The skill here isn't speed, it's task management. Like racing in a roller rink there's always something to dodge. Top dodger of the night was our host Terry Abbot with a one lap lead over Jeff Fields in second with Monte Saager in third.


While all this dodging was going on, our hostess Dorothy kept the table filled with a veritable selection of epicurean delights. The yummy sounds nearly drowned out the racers. Such are the hazards of NASTE racing.

click here to read more

2019 Point Series Race No.15 - GT3 Class
Sunday April 28, 2019
Monte Saager posted an impressive win at the fifteenth race of the 2019 NASTE Point Series with his GT3 car. Monte edged out Rico by just over a lap in a very close battle. But the real news was Al sewing up the championship for 2019 with his third place finish. With one race to go second through tenth are up for grabs! Al may have beat us this year, and I don't know about everybody else, but I'm not just settling for seventh. The next race is the last race of the 2019 season, and for me, it's on!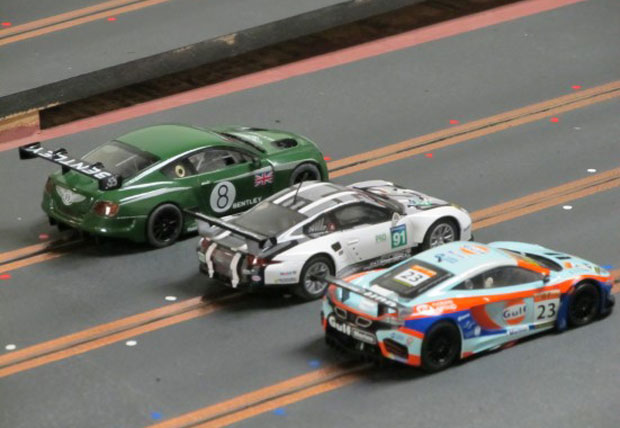 HOPAC Racing at Riverside Raceway in Portland
Sunday April 14, 2019
Saturday April 13th was the date for the HOPAC race at Andre Perra's Riverside Raceway. In attendance were racers from the Seattle/ Tacoma as well as local Oregon racers. I was told this was the last race to be held on the Riverside track before Andre replaces it with a newer version. This was HO racing at its best, with some of the most well known HO racers of all time!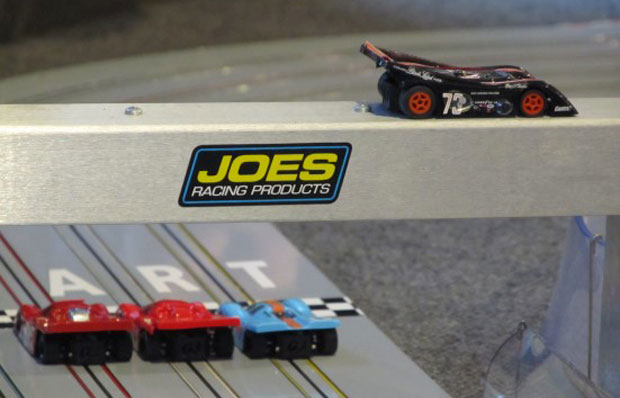 NASTE 2019 IROC Series - Race 4
Monday March 18, 2019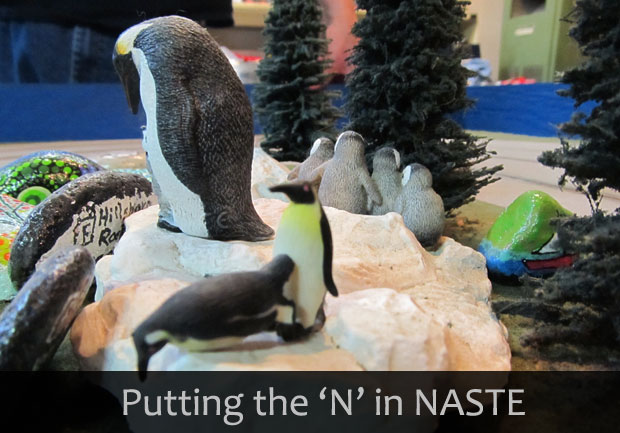 The NASTE Second Saturday Series for 2019 continued with a trip back to Hillsboro but this time it was analog racing on Monte and Victoria's Penguin Point track.
This is another track that most of us are familiar with having been the site of the Sunday series for many years. Less a track about speed, more about quick and handling. And not just handling the penguins.
The cars of the evening were Slot.It Can Am cars – a pair of Alfa 33/3's and a Chaparral 2E
Striking out like a man protecting some large birds from a predator, Monte stormed to an early lead. Jeff and Bill kept the heat on through the first set and after 9 minutes of racing action were tied for second.

Awesome builder, Awesome racer, but most of all AWESOME FRIEND!
Tuesday March 05, 2019
Goodbye my friend.....Gary "Goose" Gossett......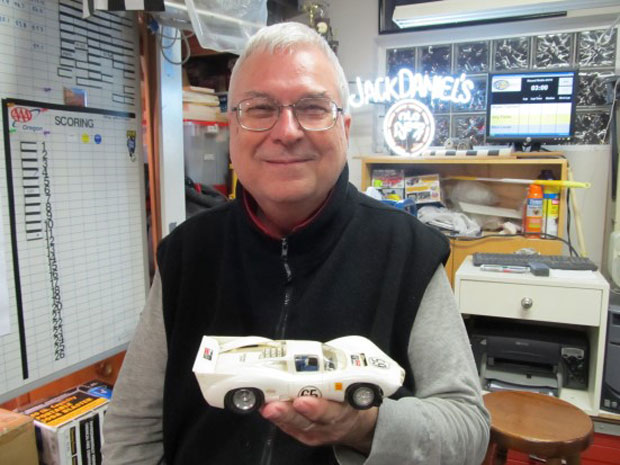 NASTE 2019 IROC Series - Race 3
Sunday February 17, 2019



The NASTE Second Saturday Series for 2019 continued with a trip to Rippin' Ridin' Raceway – Al's fun and fast track in Portland.
Most of us are no stranger to this track since it's become the current home of Odd Thursday night racing. And with this familiarity a lot of close racing was expected. We were not disappointed.
To start the evening Al provided a set of Scalextric F1 cars that had been worked over to the max by Al. They handled great and were a fun drive. 'Careful with that red lane'. Taking the top spot in this set was our host Al, followed by Zack just squeaking by Monte by a tenth of a lap. As always, close racing and every lap counts.

click here to read more

Test Laps Completed At Springwater Raceway!
Saturday February 02, 2019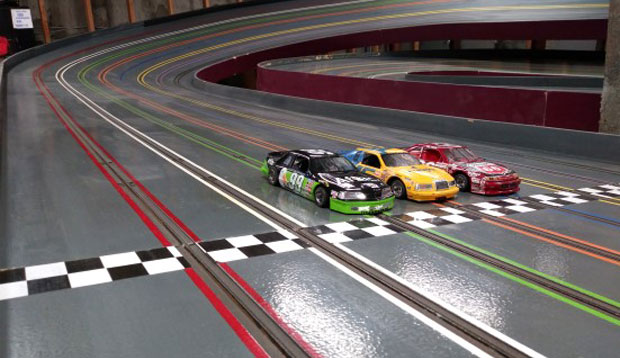 "Chet" Wins Again!
Friday February 01, 2019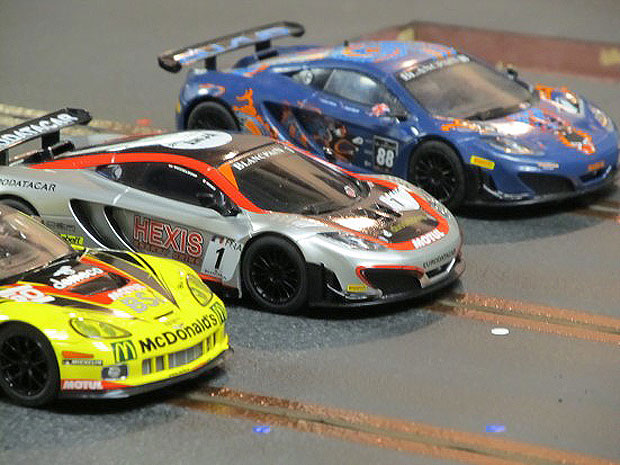 Rico Locati claimed his second victory in a row in the 2019 NASTE Point Series Championship by winning the GT3 race on January 31st. Following Rico just three tenths of a lap back was Al Christiansen. Dan Fritz held onto third, beating series leader Monte Saager by a mere one tenth of a lap.



NASTE 2019 IROC Series - Race 2
Friday January 25, 2019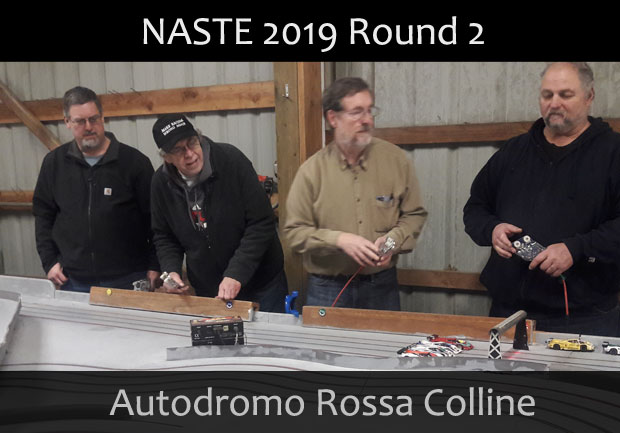 The NASTE Second Saturday Series for 2019 continued with a trip to Autodromo Rossa Colline – Stan Smith's great track in Newburg.
The "Red Hills Raceway" is a routed, 4-lane track with plenty of turns to keep drivers on their toes as well as a nice straight to let the dogs loose. And let them loose we did! Yet despite our wildest intentions the smooth flow of the layout made for fewer offs and everyone seemed to find the rhythm of the track in short order.
Running Slot.It C-Class Lancia's, drivers pushed to get every ounce of speed they could squeeze out of the trigger. After the first set of heats, Monte had a lead on the field with Tracy in second and Al close behind in third.
Time for a little bench racing and some driver refueling courtesy of Stan's great Chili. We eventually resumed with the second set...

click here to read more

The 1/24 BRM Group C Cars Return to Rippin' Ridin' Raceway!
Friday January 18, 2019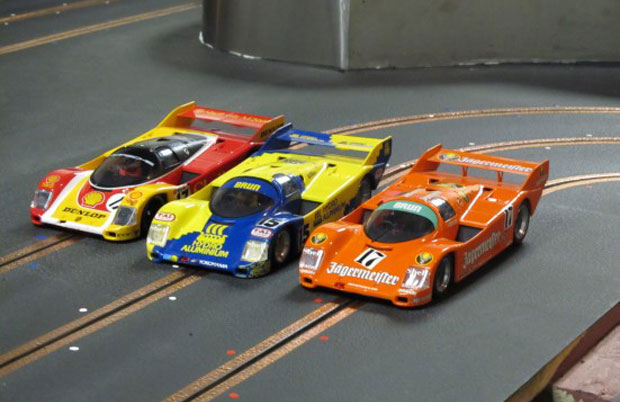 Highlights from the racing at Rippin' Ridin' Raceway on January 17th include:

Rico doubles up on wins, one win in the Le Mans Class point series race, and one in the 1/24 BRM Group C Class!

After the eighth race in the 2019 NASTE Point Series Championship there were no changes in the positions of the top seven. Chris moved up two spots to eighth, Zack moved up one spot into the top ten, and Kevin moved up two spots.

The big news was after a long absence from the grid the 1/24 BRM Group C Class cars returned to the track! We had almost forgotten how much fun these cars are to race at Rippin' Ridin' Raceway! Thanks again Al for some awesome racing last night!



Racing the 1/24 Sportsman Class at Rapid Raceway
Sunday January 13, 2019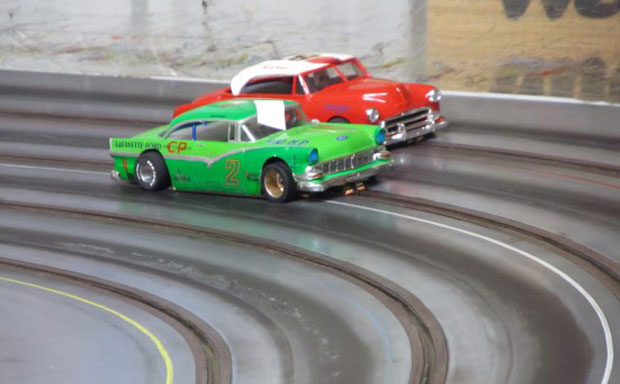 A dozen racers showed up at Rapid Raceway on January 12th to compete in the Sportsman Class. This class of cars use a chassis designed by Bob Hanna some 20 years ago. Although the Econo Chassis design is somewhat dated, these cars still perform extremely well, and the class is still one of the racer's favorites at Rapid Raceway.

NASTE 2019 IROC Series - Race 1
Thursday January 03, 2019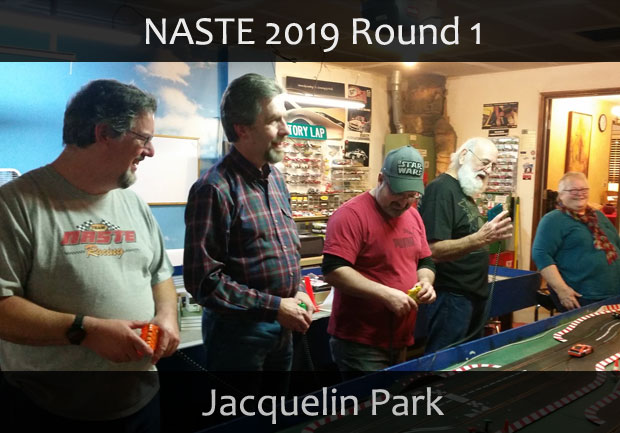 The NASTE Second Saturday Series for 2019 kicked off with a fun evening of entertainment at Monte and Victoria's Jacquelin Park Speedway in Hillsboro.
The Jaq is a 60' Carrera Digital track that can race up to 6 cars at once on its smooth flowing 2 lane layout. Racers have to adjust to the fact that other cars will be in their lane – all the time. It's a different kind of beast.
The race was broken up into three sections with the lap totals from each section added together for a grand total.
For the first section vintage sports cars took to the track in a classic battle – Porsche 904's and Cobra's.



NASTE Closes Out 2018 with the Sixth Race of the Season
Friday December 28, 2018
The last NASTE race of 2018 was the Odd Thursday Night Race held at Al's Rippin' Ridin' Raceway on December 27th. The event included the sixth race of the 2019 point series where Monte scored the win to put him in the number one spot going into 2019. Congrats to Monte on an excellent drive!

The night of racing started out with the GT3 Class race, not my favorite but a very competitive class! Less than one lap separated the top three finishers, and seven of the ten competitors had over sixty laps. Daniel got the win over Rico by just two-tenths of a lap with Al coming in third, six-tenths of a lap behind Rico.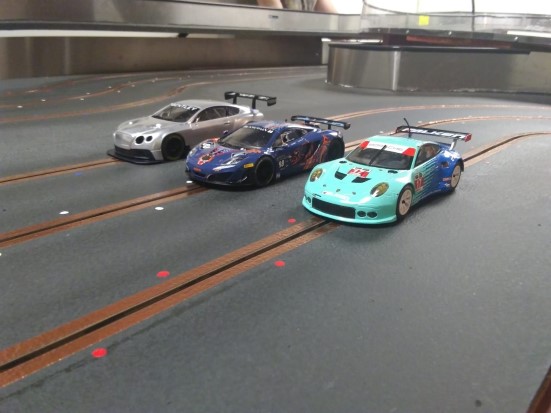 The second race of the night was the point series race with Le Mans class cars. Again it was a very close race with Monte edging out Daniel by just two-tenths of a lap. Both Monte and Daniel ran just over seventy laps, and again seven of the ten racers scored over sixty laps in nine minutes of racing! Rico held the third podium spot at just under seventy laps.
In the end, the Open Class cars were gridded for the final race of the evening. Much to everyone's surprise, including his, Bill motored his way to the win. Speculation is there was probably some sort of rules violations involved, but the evidence did not surface. Filling out the podium was Al in second and Daniel in third. The top three cars all completed more than seventy laps.
Thanks Al for yet another terrific evening of racing, complete with snacks and awesome racers to compete with!

A Tie For The Lead In The 2019 NASTE Point Series Championship After 5 Races
Friday December 14, 2018
Racing at Al's Rippin' Ridin' Raceway on December 13th resulted in a tie for the lead in the 2019 NASTE Point Series Championship. The fifth race for points was a Can Am race where Monte's second place finish put him in a tie for the Lead with Al. Chris won the Can Am race with his NSR Porsche.

In the support races, Jeff finished first in the Trans Am Class, and Al finished first in the Open Class. Thanks to Al for an awesome night of racing and that delicious smoked salmon, and to everyone that brought snacks along!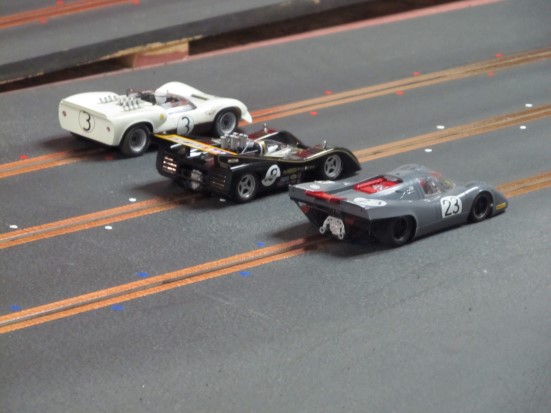 Rest in Peace Evil Jimmy
Thursday December 06, 2018
It is with deep sadness I report to you that the NASTE community has lost a member and dear friend, Jimmy Jones. Evil Jimmy, as we liked to call him, passed away on November 20th. Jimmy suffered a heart attack while driving which resulted in him leaving the road and crashing his Jeep. Jimmy was a true, larger than life character. Every conversation I had with Jimmy contained laughter. I will miss him! ======Bill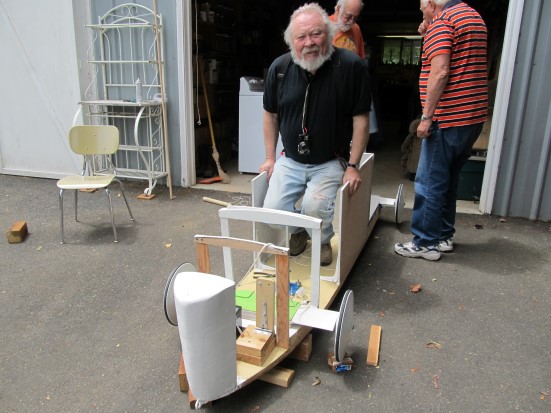 December 1st Sportsman Race at Rapid Raceway
Sunday December 02, 2018
There was a great turn out of racers for the Sportsman Class race at Rapid Raceway on Saturday December 1st. The racing was very close with only 2 laps separating the top four. Bryan Trachsel showed he has not lost his touch by winning the Sportsman race. Blake Howard and Bob Nakamura tied for second just one lap behind Bryan.

The new NASTRUCK Class was raced after the Sportsman race. Howie Howard won that race with Bob Nakamura finishing second, and Blake Howard and Marty Barney tieing for third. There was some extremely close racing racing all night long. It was a great way to start December!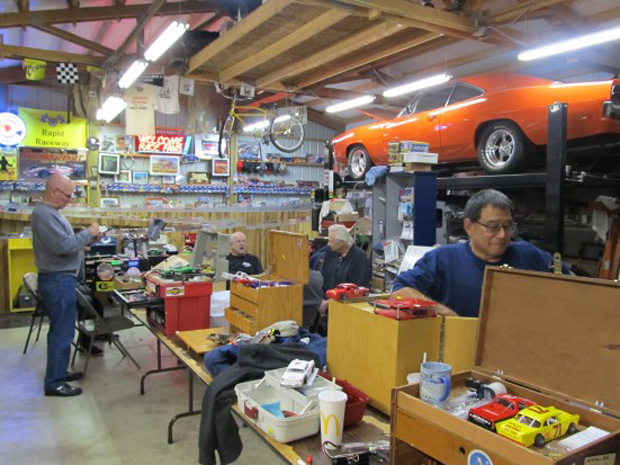 Second Race of the Season at Rapid Raceway
Sunday November 04, 2018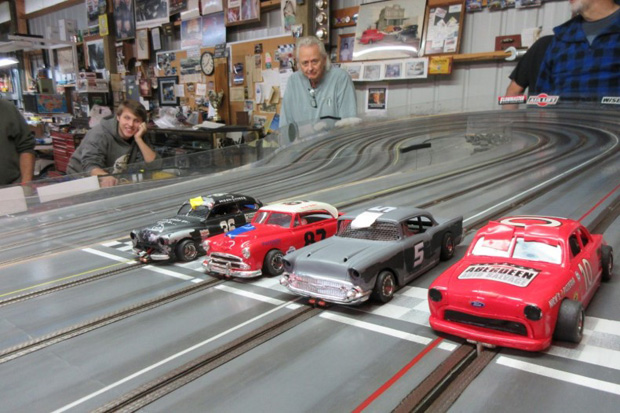 Saturday November 3rd was the date for the second race of the new season at Rapid Raceway. We had a good turnout and we saw the return of Bryan Trachsel at this race. It was really good to have him back in the mix on race night!

First up for the night of racing were the Sportsman cars. This is the class being raced for points for the first half of the season. After the first Sportsman race last week it looked as though Gearloose was going to dominate the class, but tonight it was Howie taking the win.

After the points race the new NASTRUCK Class was run just for fun. This truck class based on Scholer type chassis are going to be a lot of fun!



Meat Kicks Ass at Point Race No.2!
Friday November 02, 2018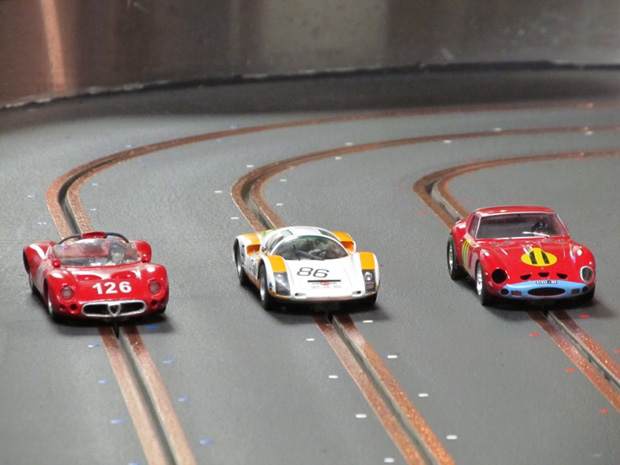 Al Christensen, we call him Meat......don't ask.....showed us all how to win a point race for the second week in a row. Al appears to be serious about defending his championship title as he again raced to victory in the second point series race of the 2019 season. In this Le Mans Class point race Monte Saager finished second with Dan Fritz a close third.

In the support races Dan Fritz finished first in the Classic Sportscar 2 Class with Mitch Brooks second, and Rico Locati third. The Open Class race finish was Dan Fritz first, Al Christensen second, and Bill Bostic third.



NASTE 2018 Halloween Race at Rapid Raceway
Tuesday October 30, 2018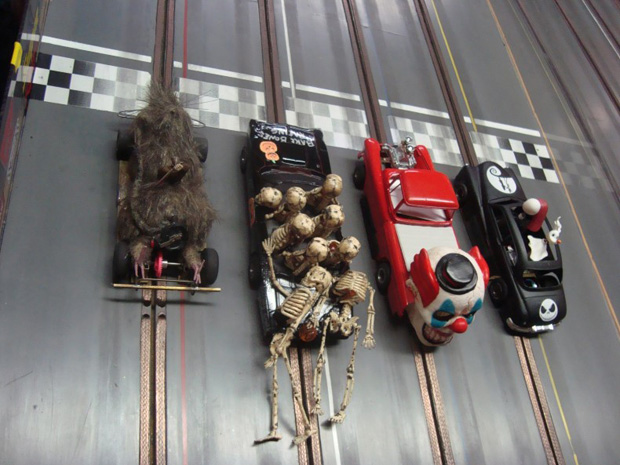 On Saturday October 27th creepy NASTE racers met at Rapid Raceway for the annual Halloween Race. Since 1996 when NASTE was formed, the annual Halloween race has been a favorite of the NASTE group. With the exclusion of only a couple years, the Halloween race has been a mainstay in the NASTE racing schedule.

This race requires special equipment, but not special in the usual sense. Special in the sense that the cars don't look much like true racing cars. Think of the NASTE Halloween race as more of a cross between the Lemons Race and a parade. The rules are very simple. Your race car must be able to negotiate the track under its own power, and your car cannot block another car's ability to pass on the straights. Basically your car can't be too wide. Cars are expected to include some sort of Halloween theme or decoration, but it is not written in the semi, sorta, official racing rules.

Originally the races were run in three segments. The first round of heat races was and still is raced with full lighting of the room and track. The second round of heat races was originally run using strobe light illumination. After a couple years of that it was discontinued because it sometimes resulted in motion sickness, not because it always involved total chaos! Strobe light heat races were definitely crazy!

The last round of racing is run in total darkness, so it is pretty much a necessity for cars to incorporate some sort of illumination, although not a requirement per the rules. Add a potluck dinner and that's the NASTE Halloween Race, just a plain old fun, crazy race! Look for it again next year in the latter part of October, and plan to attend! You won't be sorry!

Race Results:

1. Bryan Trachsel - 130 laps
2. Monte Saager - 112
3. Bill Bostic - 110
4. Al Christensen - 102
5. Rico Locati - 93
6. Victoria Saager - 88
7. Dorothy Abbott - 83
8. Terry Abbott - 71
9. Sherry Trachsel - 66
10. Mitch Brooks - 54



Odd Thursday Night Racing & NASTE 2019 Point Series Race No.1
Friday October 26, 2018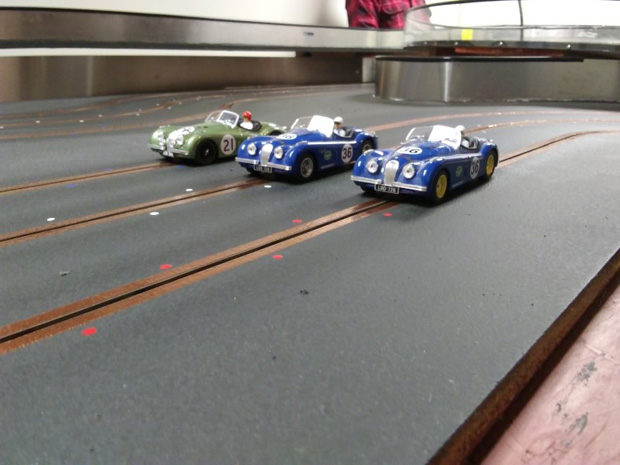 2018 NASTE Point Series Champion Al Christensen started defending his title by winning the first point race of the 2019 season. In the second race of the evening Al defeated the other nine racers in the Can Am Class with a two lap lead over Dan "Doc" Fritz in second place. The middle of the field racing was very close with one lap separating third through seventh.

The night's racing was kicked off with a round of Classic Sports Car 1 racing. Twelve racers competed with Monte Saager winning the race with his Ninco Jaguar XK120 just four tenths of a lap ahead of "Doc". Rico was a close third just a lap back from "Doc". The newly refined Classic Sports Car 1 Class is a popular class and very closely contested.

The majority of the racers headed out after the Can Am race, but for those that stuck around some Open Class racing was next on the agenda. The new Thunderslot cars are considered the best cars in this class, but Al showed everyone his old reliable Slot.it Porsche 962 was still competitive. Al won the race with a comfortable three and a half lap lead over Rico in second.



Coming Soon! - Racing on Springwater Raceway
Wednesday October 24, 2018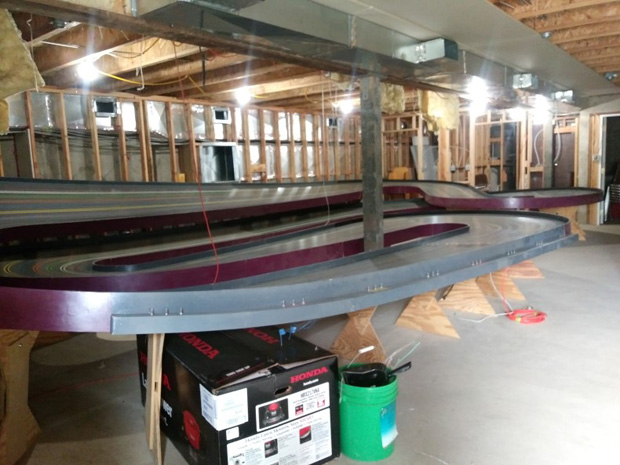 It has been 2 years since Bob Nakamura purchased the two 1/24 commercial tracks from the out of business raceway in Depoe Bay Oregon. This week one of the tracks was moved to a new storage area to make room for the assembly of the track Bob is planning to keep and host races on.

The track is a beautiful Ogilvie 8 lane hill climb, with a lap length of roughly 140 feet. This particular track saw very little use in Depoe Bay and is in amazing condition. The paint, running surface, and even the contact braid are all in excellent condition, requiring no repairs or replacement pieces.

Bob reported he had just completed the assembly of the track sections and their supporting legs. This is going to be an awesome track to race on!

Gearloose Wins Opening Sportsman Race at Rapid Raceway
Monday October 22, 2018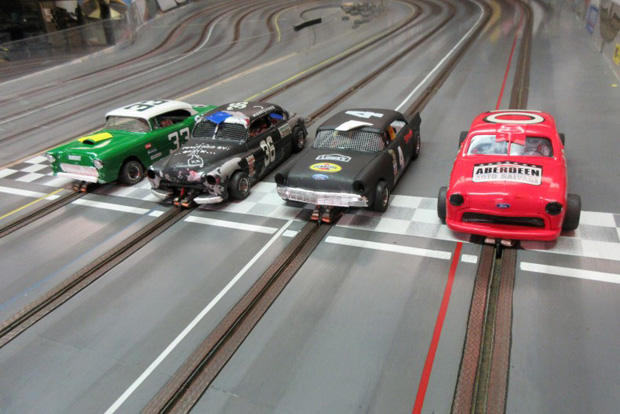 10 racers competed in this the first race of the 2019 season. The racing was close and the strain on equipment was high as more than one racer fought with gear and motor problems. In the end Gearloose finished first with 381 laps ahead of Blake in second with 366 laps and Bob N. in third at 353 laps. If the rest of the races are anything like this one it is going to be an exciting season!



Rapid Raceway Rapid 500 Season Opener
Sunday October 07, 2018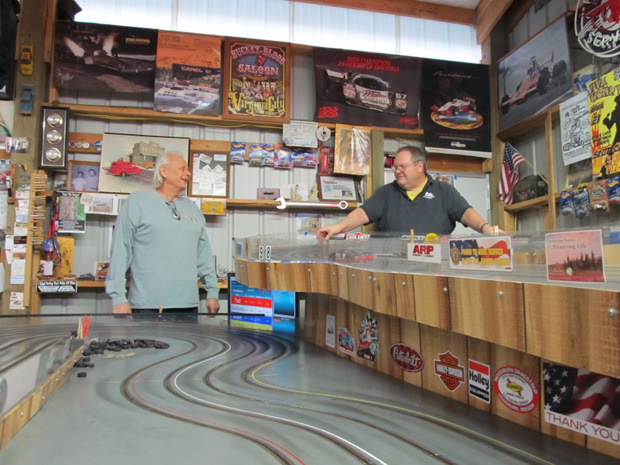 As the cooler and wetter autumn climate gradually moves northwestern sun seekers indoors, slot car racers prepare entries for the racing season. Rapid Raceway's Rapid 500 signals the start of the season for Portland area 1/24 scale racers.

Twelve racers attended and competed in this year's event for NASCAR style slot cars. Rules require the cars be powered by 16D motors, mounted in an inline or angle winder configuration. Chassis design can be scratchbuilt or bolt together kit type. The car's bodies must be either 1/25 or 1/24 scale model car kit, injection molded plastic. The race itself was broken down into two halves. Each participant raced each lane of the four lane track in four minute heat races, a total of four times. In this format each racer is on the track competing/driving for a total of sixty four minutes. There is no lack of track time in this race!

A long race like this takes its toll on equipment and the racers themselves. Even more so with these heavy yet very fast cars built for this NASCAR style race. Many of the racers had to make trips to the pits to make repairs due to the stress on the mechanical parts as well crash damage. In the end it was Marty in first place with Blake close behind in second. A big thanks to Howie for organizing and presenting this event which included a fantastic pizza feed!



Congratulations to Al Christensen - 2018 NASTE Point Series Champion!
Thursday June 14, 2018
Al Christensen won the 2018 NASTE Point Series Championship with a point total of 120. Al finished the season with four wins, six 2nd place finishes, and two 3rd place finishes. He only finished out of the top 3 in three of the 16 races, with a 6th place finish being his lowest finish in any of the point series races.

Dan Fritz finished the season in the runner up spot with a total of 103 points. Mitch Brooks took the third podium position with a point total of 87.

Congrats to all the racers that participated in the NASTE 2018 Point Series Championship!



NASTE 2018 Second Saturday Series - Race No. 6 & 7
Wednesday June 13, 2018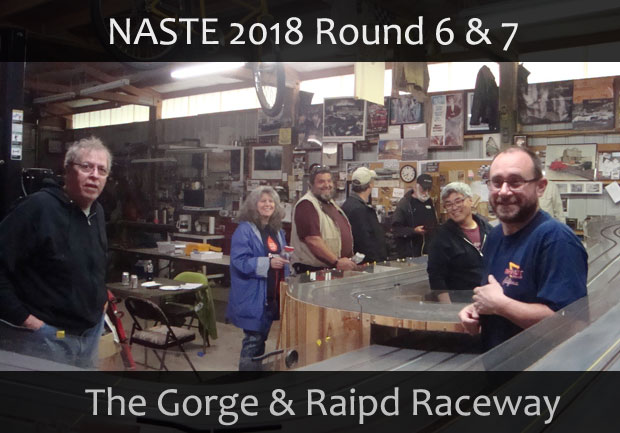 The NASTE IROC Drivers Championship for 2018 continues on with rounds 6 and 7.
In early May we convened at Bob Nakamura's Gorge Raceway in Troutdale to again do battle on his large 4-lane Scalextric layout. And once loosed, the NASTE drivers provided a thrilling race in the first set with Terry Abbot taking first with Bob Nakamura second and Monte Saager third – all separated by only 1/10 of a lap! In the second set Bob led the way with a one lap lead over Monte in second with Tracy flood just a couple of tenths back in third.

click here to read more

NASTE 2018 Second Saturday Series - Race No. 5
Friday April 27, 2018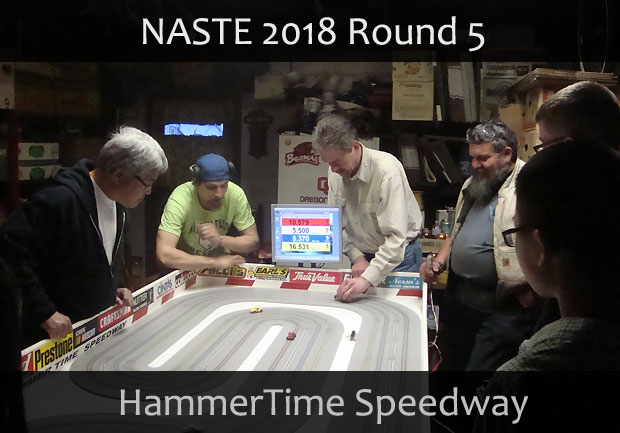 It was another night of short track racing under the lights at HammerTime Speedway. 16 drivers did their best to negotiate the turns and the turn marshals thumbs. Of course, good food had to be handled, too.
The first heat featured "gasser" type cars in honor of the track owner's new toy in the driveway. Henry J race cars never saw many turns but these handled it just fine. At the end it was Tracy on top with Terry in second and a tie between Al and Dana for third.
The second heat brought out the modified track cars that are fun and fast, at least they seem fast for t-jets...

NASTE 2018 Second Saturday Series - Race No. 3 & 4
Wednesday April 04, 2018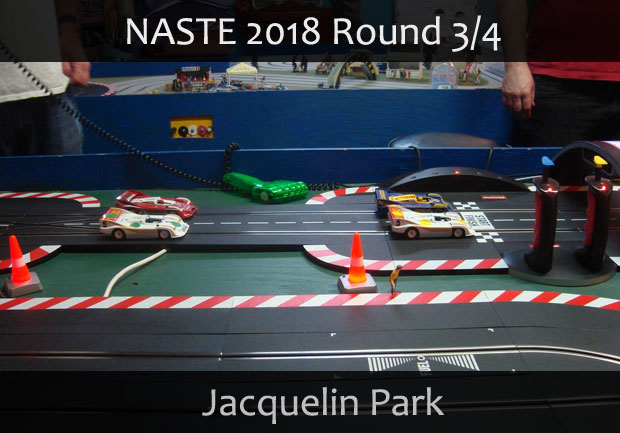 The NASTE IROC Drivers Championship for 2018 continues on with rounds 3 and 4.
Round three was held on the second Saturday of February in Hillsboro at Monte and Victoria's Jacquelin Park Speedway. The 'Jaq' is a Carrera Digital track system that requires drivers to use improved techniques in driving since there will always be cars in your lane and the competition always gets, well, a little silly. To make sure that drivers had to make pit stops part of their strategy, heats were set for 10 minutes. Taking top honors was Terry Abbott, followed closely by Monte Saager with Dan Fritz taking third.
Round four returned us to Al's Rippin' Ridin' raceway in Portland. In the opening round featuring once again, Slot.it Group C cars Monte took the field to task followed by Terry with our host Al in third. For the second set Al again brought out the womps. Everyone enjoys the womps! And at the conclusion it was the Hillsboro Hot Shot again followed closely by Terry with Tracy Flood taking third.
The next event is scheduled for the HO track at HammerTime Speedway in Portland on April 14th. Come join us.

NEW LEADER!
Saturday March 03, 2018
After eight races in the 2018 NASTE Point Series Championship, Al Christensen has assumed the lead! Al's second place finish in the GT Class race on March 1st moved him into the lead just one point ahead of Dan Fritz, and just three points ahead of last year's champion Chris Kouba!



NASTE IROC Season Underway
Monday January 15, 2018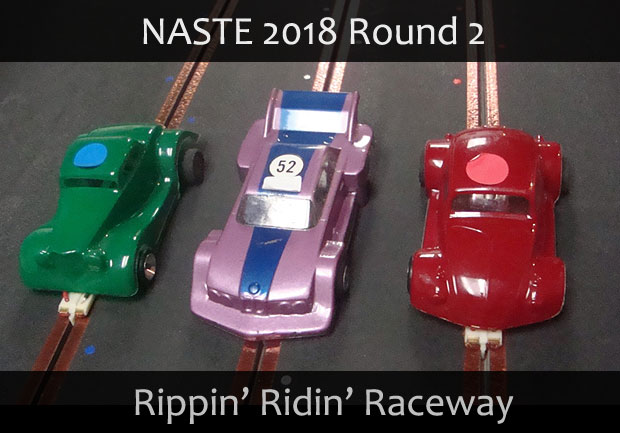 The first event was held the second Saturday of December in Hillsboro at Monte and Victoria's Penguin Point Raceway. Competition was close through two exciting heats of racing action. The opening set was Slot.It Group C cars with the second set being those treacherous Ninco Stratos! And surprise, surprise, the winner was not the track owner but Terry Abbott who took both opening rounds to take the early points lead.

click here to read more



Clean Sweep at the Opening Race of the 2018 NASTE Point Series Championship!
Friday November 10, 2017
Congratulations to Mitch Brooks on his clean sweep of all three classes at the first race of NASTE 2018 Point Series Championship! A great way to start off the season! Is there a new champion on the horizon?



NASTE 2017 Second Saturday Series - Race No. 9
Monday October 23, 2017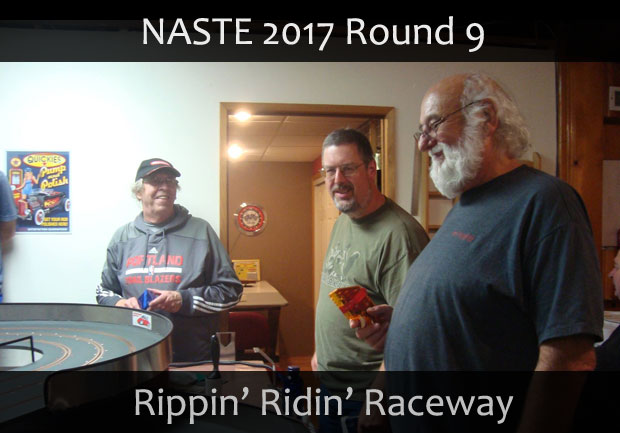 The NASTE Second Saturday Series for 2017 concluded with a great evening of entertainment at Al's Rippin' Ridin' raceway in Portland.
Al's track is one of the regular stops on the NASTE Thursday schedule, so racers were well acquainted with the circuit. It's a smooth, flowing track where good skills can get you a good result.
Eleven racers took to the start line for the nights first event featuring three of Al's Sportsman cars. These are very cool, old-school cars. They can be a little tippy, sometimes a little short of brakes. Rather fun and exciting.

click here to read more

NASTE 2017 Second Saturday Series - Race No. 8
Saturday October 14, 2017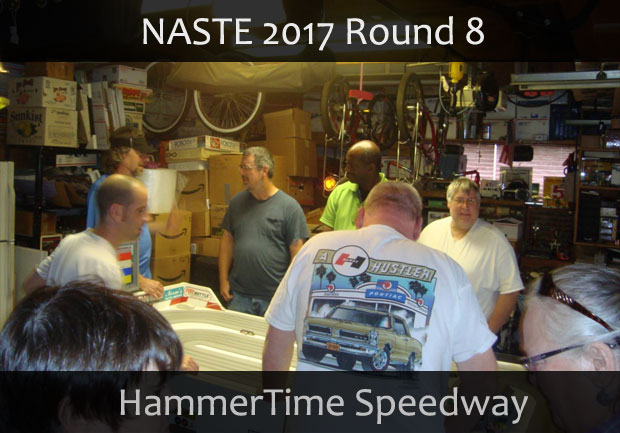 The NASTE Second Saturday Series returned to Portland on Saturday, September 9th at Hammer Time Speedway courtesy of Dorothy and Terry Abbott.
The 'Speedway' is a small, tight HO layout that though simple in design maintains a great amount of danger at most every turn. A clean run is a matter of skill with a pant full of luck thrown in for good measure.
With a large field of sixteen racers in attendance the battle began with some of Terry's dune buggies. Looked more like we should be driving to the beach with a surfboard than racing. But racing we were. Amid the collisions that gives the track the look of a parking lot everyone wants to exit.

NASTE 2017 Second Saturday Series - Race No. 7
Wednesday August 30, 2017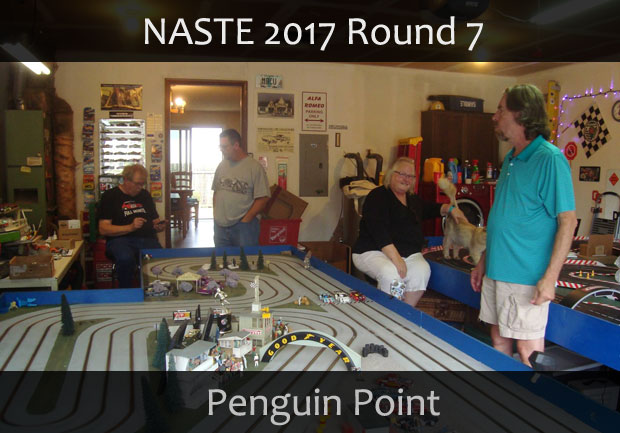 The NASTE Second Saturday Series invaded Hillsboro on Saturday, August 12th.
The Penguin Point track is a 50+ foot analog track. With some tight turns the accent is more on handling than all-out speed.
For tonight's battle Monte had set out a set of Ninco GT's for the opening salvo. With small numbers in attendance Kleo Kitty came looking for track time and almost got some. Eyeing the table he leaped into the air landing square upon the racing surface like a fur-footed Godzilla. As luck would have it no cars were eaten, clawed, or otherwise damaged in his dynamic and dastardly display of cat-fury. This would be the most ferocious event of the day.

BRM Race Day at Rapid Raceway
Saturday June 17, 2017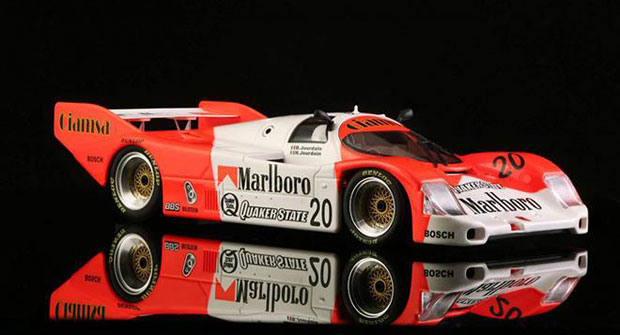 Team NASTE will be hosting an open race day on June 24th for the 1:24 scale BRM cars at Howie's Rapid Raceway in Portland. The day will feature an IROC race plus one or two individual races. Some loaner cars are available - please contact us to make arrangements.

Check the calendar for more details.

NASTE 2017 Second Saturday Series - Race No. 2
Friday June 16, 2017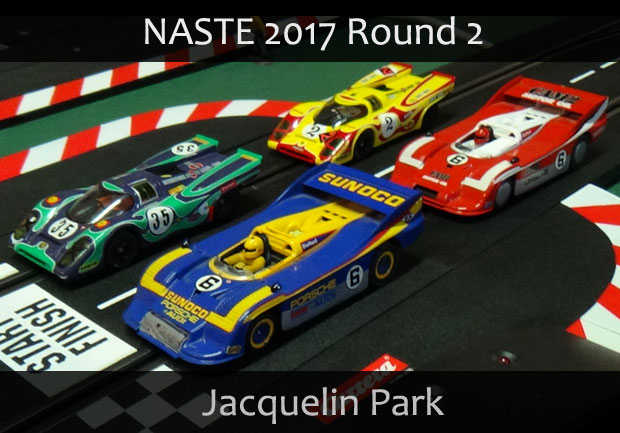 After some delay the long awaited second race of the new NASTE Second Saturday Series finally arrived in Hillsboro on Saturday, June 10th.
The Jacquelin Park track is a 50+ foot Carrera Digital track. Digital racing allows for multiple cars in the same lane. It can become quite intense and sometimes quite silly. Finding the balance is sometimes important but it's not always easy.
For tonight's slug fest Monte had set out a set of classic Porsches – a pair of 917K coupes and a pair of 917-10 open cars. The coupes were fast and tricky, the open cars felt more stable but since it's IROC you get to race them all in turn. The racing would be the standard local Saturday night fare – qualifiers with mains. Monte's idea. However, there would be no fuel – Victoria's idea.
Each driver would drive each car in a series of 25 lap qualifying heats. At the conclusion drivers would be ranked by lap total with the lower four drivers running a 35 lap B Main. The winner would be bumped up into the A Main with the remaining three drivers. In each Main, the higher ranked driver would get choice of cars.

click here to read more



2017 Second Saturday Series - Race No. 6
Sunday May 14, 2017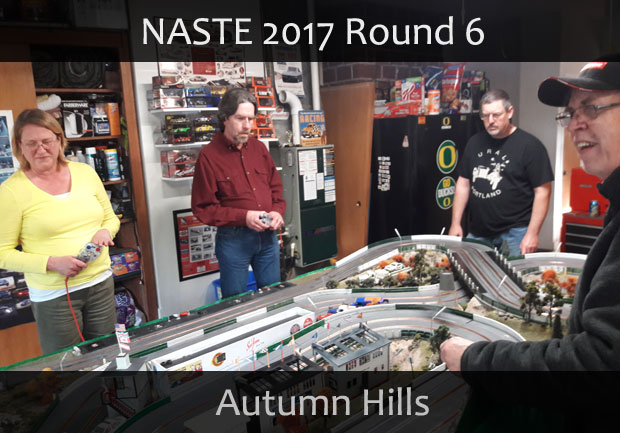 Another scheduled date, another actual race!
On Saturday, May 13th 10 hearty racers were treated to food, fun and frolic. As for the hearty part – torrential rains made the trip to the start quite interesting with lakes appearing in the middle of intersections. We forded a few on route. Once there food caught your eye on the way to the track. It was excellent as always. Kelly never fails to disappoint. Some very tasty pizza gave way to a selection of great cookies. I felt guilty taking the last of the chocolate chips but when I returned later, more had magically appeared! I did the only thing I could and had another one.
On the track, more magic.
For starters Autumn Hills is a beautifully detailed but somewhat tight circuit that will keep you on your toes. Keep the car moving at speed and you'll do well, scrub a little off on the bridges here and there, not so much. But to be sure there's no time to rest.

click here to read more


2017 Second Saturday Series - Race No. 5
Sunday April 30, 2017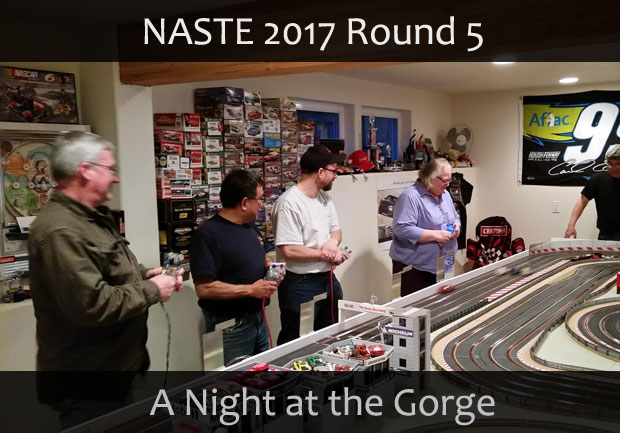 The fifth race of the new NASTE Second Saturday Series arrived as scheduled! A stark reminder that both sickness and foul weather can play havoc with the schedule as both the second and third race had to be postponed for later in the season. Never the less, on Saturday, April 8th we arrived at the home of Bob and Terry Nakamura for another evening of exciting racing on the big track. Bob's 4 lane Scalextric Sport track is the longest track we race on for 1:32 scale cars. Gives them a little chance to stretch out. Or not…
For the evening the surface seemed more like an ice rink or a backyard slip n' slide as cars slipped, slid and careened all over the place. It looked more like Saturday night at the Derby!

click here to read more

NASTE 2017 Point Series Championship
Friday March 24, 2017
With four races to go in the championship, Chris Kouba extended his lead and grip on the title for 2017. Chris edged out Mitch Brooks by just 8/10ths of a lap for the Classic Sports Car Class win at Al's Rippin' Ridin' Raceway last night. That win extended Chris' lead over Dan Fritz in second place to eleven points. The Classic Sports Car Class will be raced in the final four races, and Chris Kouba's Ninco Corvette is very fast! Does anybody have anything to challenge Chris and his Vette? Things are definitely heating up!

Rapid Raceway March 18 NASCAR Race
Tuesday March 21, 2017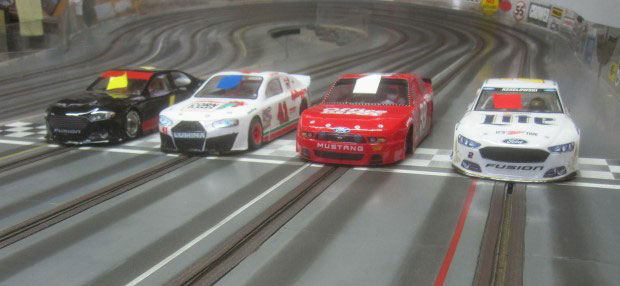 Rapid Raceway unveiled the new clear bodies for the NASCAR Sprint Cup and Xfinity races, as well as a new lap counting and timing system at the March 18th NASCAR and Can Am races. The new bodies for use in the NASCAR races are made by Pattos. The old computer had given up the ghost and was replaced by a newer model. The old SRT timing lap counting system could not be adapted for use with the new computer so it was decided to upgrade to new software. The system chosen was Race Coordinator which is a free download online. The only request from the designer is a charity contribution set up in honor of his son. Race Coordinator is a fantastic system with many options. It is fully customizable for various race formats and other features. For Rapid Raceway's application we chose to run the software through Trackmate hardware. Trackmate is another excellent lap counting and timing software and includes all the necessary hardware to get a track up and running.

As for the race itself, it went off without a hitch, everything performed perfectly! A few adjustments and tweaks were made during the race, but there were no issues interrupting the racing. In the NASCAR race Beau and Gearloose tied with 384 total laps. It was decided to use the average lap times setting in the software to break all ties. Beau's faster average lap times thus gave him the win over Gearloose. Bob Nakamura was third with 373 laps. Gearloose came back to win the Can Am race.

You can see the results and more photos in the Forum under Rapid Raceway.

2017 Second Saturday Series - Race No. 4
Monday March 20, 2017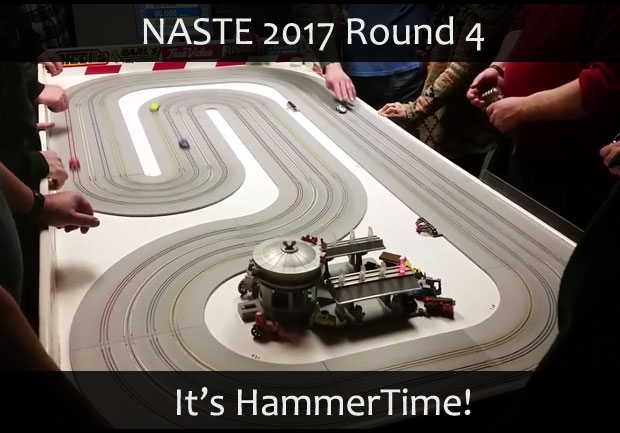 Sickness and foul weather played havoc with the schedule as both the second and third race had to be postponed for later in the season. Never the less, on Saturday, March 11 we found ourselves at Dorothy and Terry Abbott's HammerTime Raceway in Portland for Round 4. And what a round it was!
A grid of 16 racers from experienced to beginner came out to give the HO cars a try. Including two racers – Monte and Anthony – just back from three days of HO racing at the Ferndale Fray in California. Would they be able to put that experience to good use?

Click here to read more


2017 Second Saturday Series Season Opener
Saturday March 18, 2017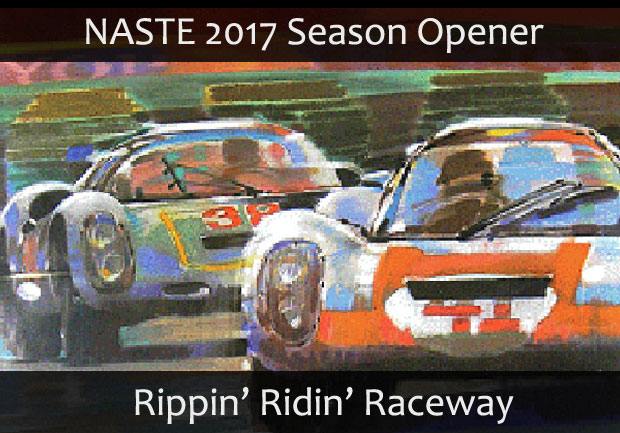 The new NASTE Second Saturday Series opened with a race night at Al's Rippin' Ridin' Raceway in Portland.

A field of eleven racers answered the bell and took to the track for two heats featuring different sets of Womp cars. As drivers got the handle of the fast, little demons, lap times fell and lap totals increased.

Taking the checkered flag in the first set was our host Al with 63 laps followed closely by Monte with 62.6 and Dan Fritz in third with 61 laps.

Click here to read more




Fray In Ferndale 2017
Monday March 06, 2017
NASTE assembled a five member Oregon Team for the 2017 Fray in Fernadale led by team captain Dave Smith. Other members included Monte Saager, Mike Leech of Bend, Anthony Schoepflin, and myself. The Fray organizer Richard Phillis introduced us to Mike Leech who is a veteran of Fray races and thanks to Mike we had some quality and competitive cars to race. Mike let us race his cars in almost all the races, thank you Mike!

Read more here: http://naste.org/forum/viewtopic.php?id=899

Photo: Second from left is Mike Leech of Bend Oregon. Thanks to Mike Team Oregon had some awesome cars to race in this year's Fray. Third from left is the Oregon Team Captain and organizer Dave Smith. On the right is Brad Bowman. Brad is the builder of the famous Fray tracks. Brad stepped up and voluteered to be on Team Oregon for the IROC race.

Thanks Brad!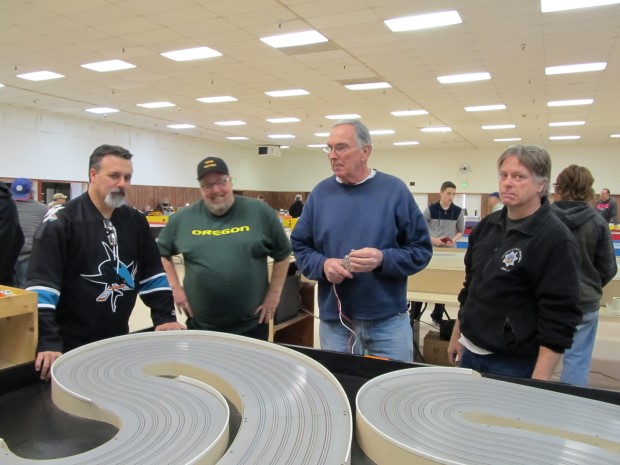 Odd Thursday Night Racing at Rippin' Ridin' Raceway
Friday January 20, 2017
On January 19th the Odd Thursday gang showed up at Al Christensen's Rippin' Ridin' Raceway for some serious paint tradin' and open wheel nerfin'. F1 and Le Mans class cars were raced followed by a round of the Carrera Proxy.

The Le Mans class race was the tenth race in the 2017 NASTE Point Series Championship and Monte Saager showed he had the stuff to take an impressive win over Dan (Doc) Fritz. Rumours are Doc was later overheard saying "second is my spot and nobody can have it!" After 10 races this season we have had 6 different winners. Doc has finished second 6 times......guess we'll let him have it for now.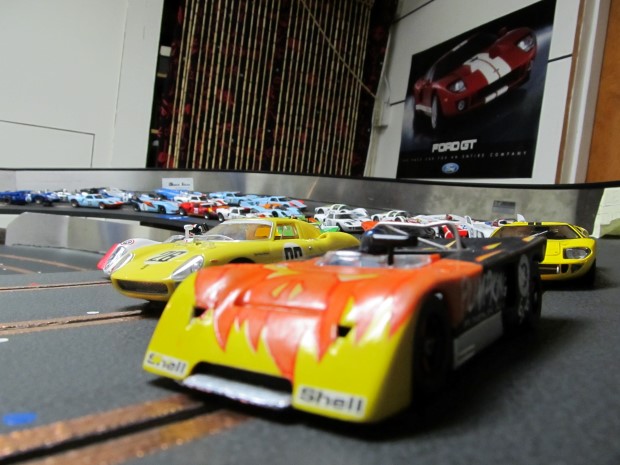 Happy New Year
Tuesday January 10, 2017
The first NASTE race of 2017 was an Odd Thursday Night Race at TooBad Motorplex. Along with the New Year new winners and new records made their appearances. Dan Fritz scored his first win in the NASTE Point Series Championship with his Le Mans Class entry. Along with the win he posted a class record run of 56.7 laps.Chris Kouba lowered the record lap time for the Le Mans Class to 9.256 seconds. Monte Saager posted the first win in the newly established Policar Division of the F1 Class. In the process Monte set an all time F1 Class overall lap total record of 56.6 laps, and set the bar at 9.238 seconds for a single lap. Greg Petrolati set a new lap total record of 51.6 laps in the Cartrix Division, as well as a record 9.579 second lap. This year is looking bright for NASTE racers. We are seeing some of the closest point series racing we have seen in quite some time. Here's to a great NASTE New Year!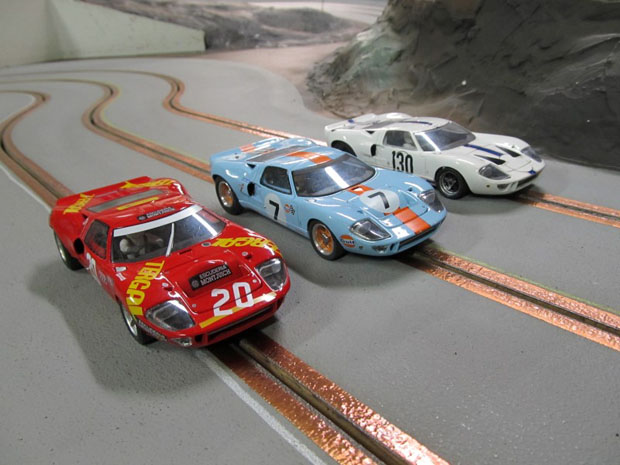 Odd Thursday Night Racing
Saturday November 19, 2016
NASTE's Odd Thursday Night Racing is alive and well! After the fhe fifth race in the 2017 point series championship Rico Locati is in the lead, followed closely by Jeff Fields, with Chris Kouba in third. The next race at Rippin' Ridin' Raceway wil be the last race with the Trans Am cars, after which we will move to the Le Mans class of cars. With five of the eighteen races completed only eight points separate the top five!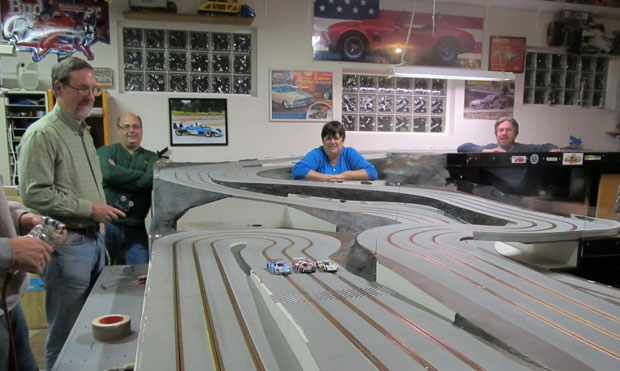 Slot's n' Brauts - Video
Wednesday September 21, 2016
A short video from Greg Gaub - AKA MrFlippant:



NASTE-ROC 2nd Saturday Series Dates Announced
Monday September 12, 2016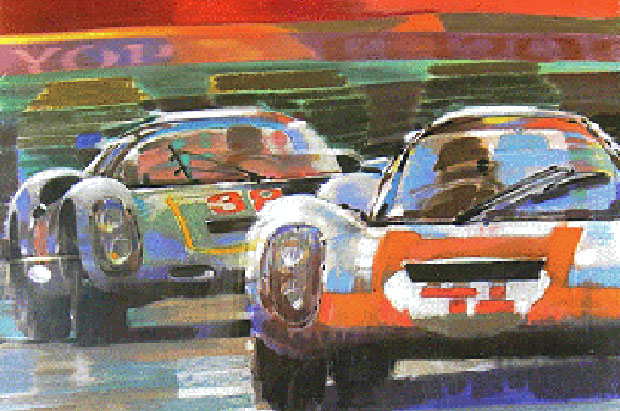 The new 2016-17 NASTE season series dates are listed below.
September 18: Slots n' Brauts - Jacquelin Park, Hillsboro

October 29: Halloween - Rapid Raceway, Portland

November 12: Al Christensen - Rippin' Ridin' Raceway, Portland

December 10: TBD

January 14: Bill Bostic - Too Bad Motorplex, Fairview

February 11: Saagers - Penguin Point, Hillsboro

March 11: Dorothy and Terry - Hammer Time Speedway, Portland

April 8: Bob Nakamura - The Gorge Raceway, Troutdale

May 13: Rico Locati - Autumn Hills, Milwaukie
Doors open 5 p.m., Racing at 6 p.m.
$3 per racer ($2 host reimbursement, $1 series awards)
Interested in hosting an event? Dates are still available. Contact montedsaager@gmail.com for more information.

Team NASTE Gravity Racer - The Hawksbill Flyer Races on Saturday August 20th!
Monday August 08, 2016
Dennis Hart has done an outstanding job of completing the Hawksbill Flyer gravity racer! The car is ready for it's first competitive event, the Portland Adult Soap Box Derby on Saturday August 20th. The racing is scheduled to start at 9:00 am. This is a spectacular event to watch! Come out and support Team NASTE and our Crew Chief and Driver Dennis Hart!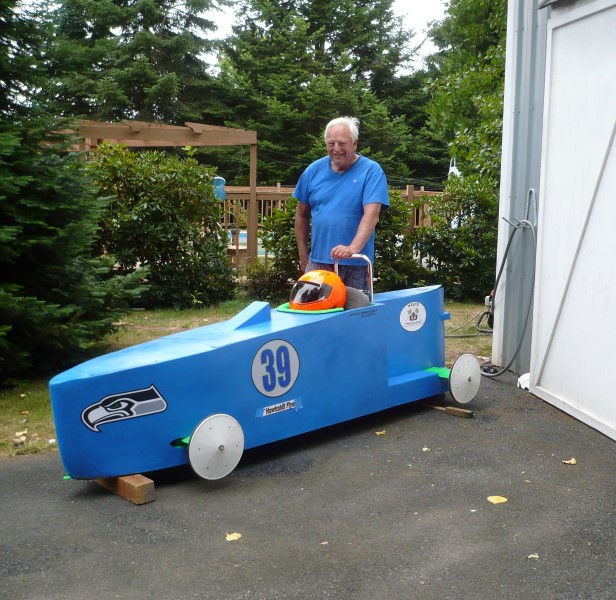 IMSA Challenge at The Gorge Raceway - Saturday August 27th
Sunday July 31, 2016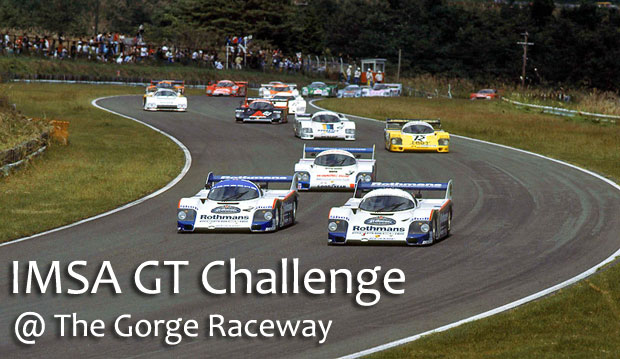 IMSA GT CHALLENGE
Saturday, August 27th, 2016

The Gorge Raceway
985 SE 10th Circle Troutdale OR

Car must be a SLOT-IT group "C" prototype, stock out of the box with FC130 motor. The only modification allowed is choice of tire compound. Wheels must be stock. A back up car is allowed, must be the same as primary car.

Models allowed: Porsche 962, 956, Jaguar XJR 9 or 12, Toyota 88c, Nissan R89C, Sauber C9 Mercedes, Lancia, Mazda 787b .
Race will be 4 times through, 4 minute heats.

Car must be registered in advance to prevent duplication.

Doors open at 8am. Race starts at 9:30am
Entry fee is $10.00 / includes lunch
E-mail: rnak94@aol.com or call 503-661-6084.


GRAVITY RACER TEST RUN
Thursday July 14, 2016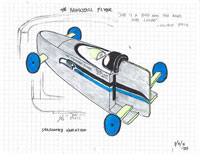 NOTICE: SORRY FOLKS, THIS TEST RUN HAS BEEN POSTPONED!
A new date for the next test run will be posted soon. Please stand by!
The TEAM NASTE Gravity Racer group will be meeting again soon for the second official test run of the Hawksbill Flyer.
The construction has been completed with just minor bodywork and painting left to be done.
Here's your chance to join us for the ultimate downhill racer experience - the TEAM NASTE Gravity car!

Interested parties should contact Dennis to RSVP for more information or
check the forum thread
. It's all downhill from here.

Vintage Trans Am Classic at The Gorge Raceway
Wednesday July 06, 2016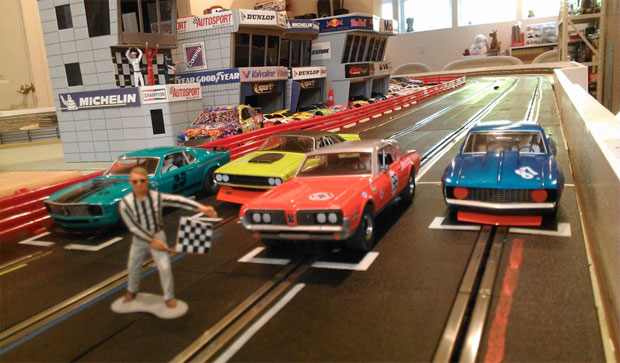 The Trans Am challenge race is for 1966-1972 Trans Am cars by Scalextric only. All cars will be out of the box stock. Rear tires are open to any type but must be on stock wheels. No adding of weight allowed. Body screws must be tight.

THE GORGE RACEWAY
985 SE 10th Circle, Troutdale, OR 97060
Saturday, July 30, 2016


Doors open at 9AM, Racing starts at 10:30
Will run four times through with 3.5 minute heats.
Entry Fee is 10.00 and includes lunch

2016 NASTE Season - The Shoot Out
Tuesday June 21, 2016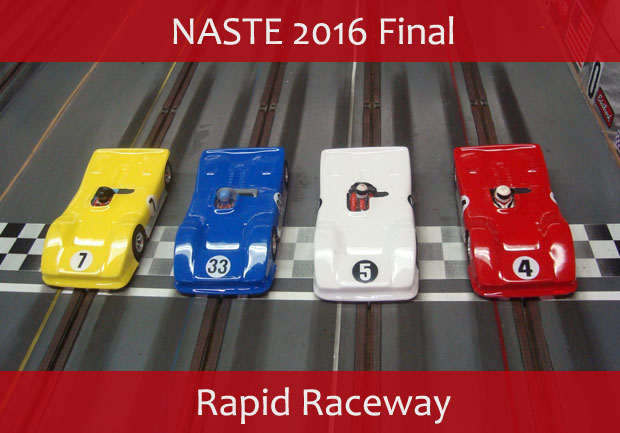 The NASTE 2016 racing season was brought to a close with the final race held at Rapid Raceway. There were two preliminary races followed by the final Shoot Out race for the championship. A set of four 1/24 Sports Racer cars were used for the Trophy Dash race and the "B" Main. The cars featured Ferrari 312P bodies supplied by Team Bluegroove of Canada, mounted on H&R chassis running H&R 26,000 RPM motors. The cars proved to be very durable and provided for some very close racing.
The first race was the Trophy Dash for all the NASTE racers who did not compete in the Point Series Championship. Dorothy "The Hammer" Abbott lead the way to the finish line to take the win.

2016 NASTE Season - Race No. 10 - It's Hammer Time!
Thursday May 26, 2016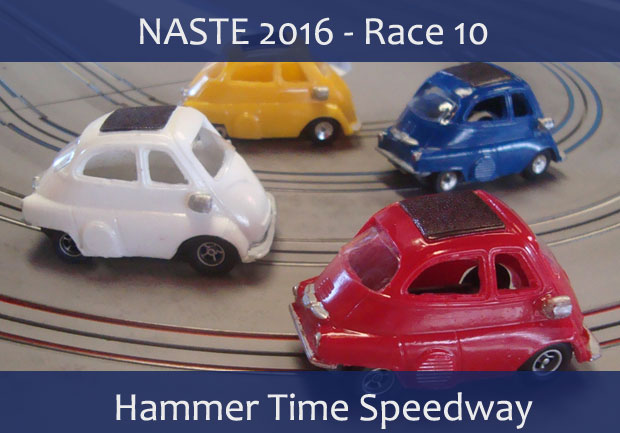 An excellent field of twenty racers met at Terry and Dorothy Abbott's Hammer Time Speedway for the final round of the NASTE 2016 Championship.
The Hammer Time Speedway is a four lane Max Track for HO scale cars. Terry had prepared three sets of cars for us to race in the NASTE IROC style race format. Our first and actually most challenging task was to complete a set of two-minute heat races with a group on Thunderjet Pontiac GTOs. They ranged from mild to wild.

2016 NASTE Season - Race No. 9 - Autumn Hills
Monday April 25, 2016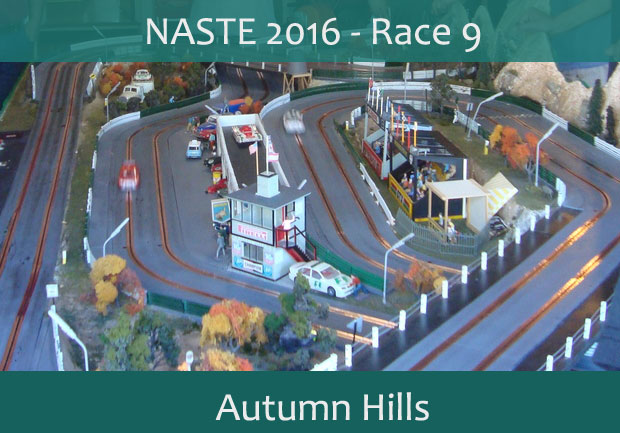 On April 17 the racers met up at Rico Locati's Autumn Hills Raceway in Milwaukie for the ninth race of the 2016 season. Round one of the race had Fly Porsche GT1s on the starting grid. Although the cars performed quite well they proved to be a handful on the challenging course. Both the Novice and Expert divisions struggled somewhat with the cars, but still turned in some impressive lap totals. After the racers had put the Fly Porsches through their paces they were removed from the track.
And then..........there they were on the start line. Yes, it was the return of the Flying Fickle Fiats of Fate! A pair of Ninco's finest.......ok maybe not quite their finest, but it was a pair! There is no way these cars should be this much fun, but on the Autumn Hills track the Fiats RULE!

click here to read more

2016 NASTE Season - Race No. 8 - The Gorge
Sunday March 27, 2016

On March 29th the NASTE racers made the trek to Troutdale, the home of Bob Nakamura's large Scalextric 4-lane layout better known as the Gorge Raceway.
We had been scheduled here earlier in the season but a small flood took over part of Bob's basement hastening the reschedule. And what a treat. In the interim Bob had not only repaired the water damage to his basement but also found time to cover the lane rails in copper tape. Beautiful, shiny, copper tape! Conductivity issues were now and thing of the past as cars zipped around the track with reckless abandon with an accent on the reckless portion. And don't forget there were still corners in the way.
After some time for practice and food the cars of the evening were presented – Slot.it Porsches sharply tuned by Bill Bostic. They were quick, handled great and brought a great fun factor to the night.
First up, the Novice bracket with Thomas Flood added to the mix to fill out the four lane grid. And in true expert fashion Thomas took them to task, with Victoria Saager taking second and Daryl Deabler taking third.

Digital Racing in Vancouver
Thursday March 10, 2016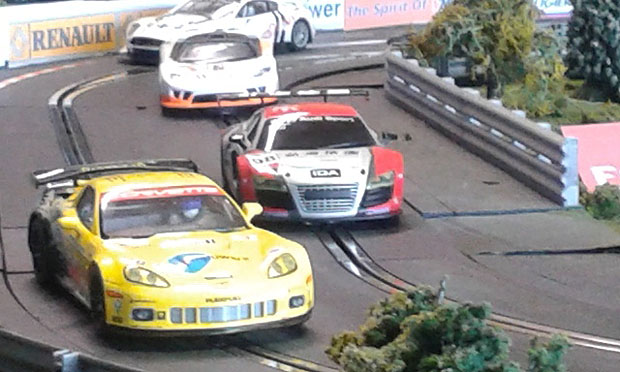 Welcome to the Dark Side, well actually the Park Side as in the Park Side Raceway located just over the river in Vancouver, WA. Owner Dan Fritz describes the track as about 100' of madcap digital racing fun on a 16' x 8' table using two lane Scalextric Sport track with full borders and two lane pit. There's also computerized race control via RSC64 as well as a 32" monitor to track race information. The track looks fantastic with full scenery. There's also working lights for night racing.

Racing available on Monday evenings. Contact Dan for more information.





2016 NASTE Season - Race No. 7
Friday February 26, 2016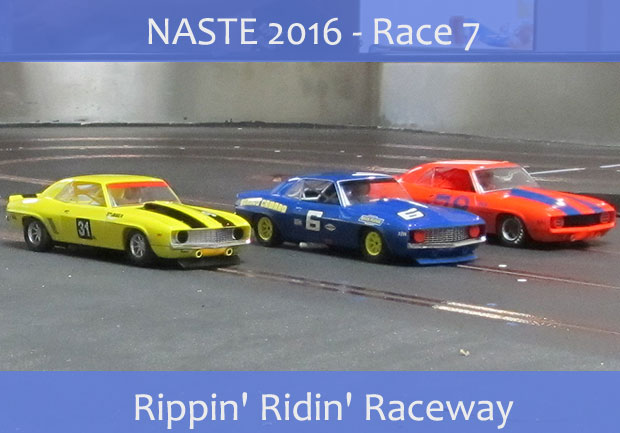 On February 21st 2016 the NASTE gang descended (literally) on Al Christensen's basement for the seventh race of the 2016 NASTE season and to officially break in Rippin' Ridin' Raceway.
RRR is a fast three lane routed track with a couple nice long straights, some twisty esses, and a tight hairpin thrown in for good measure. Al had two different sets of IROC cars prepared for the race. The first set of cars were Slot.it GT40s. The GT40s were well prepared and provided for some very close racing.
In the Novice group Dorothy Abbott finished first with Dominic Locati second and Perry Petrequin finishing in third. After the Novice group the Intermediates took the track. Finish positions were again close with Todd Flood in first, followed by Jimmy Jones and Tyler Petrequin. The last group to hit the track with the GT40s were the Experts. Bill Bostic finished first, Monte Saager second, followed by Bryan Trachsel in third.

Gravity Racer Program Underway
Wednesday February 17, 2016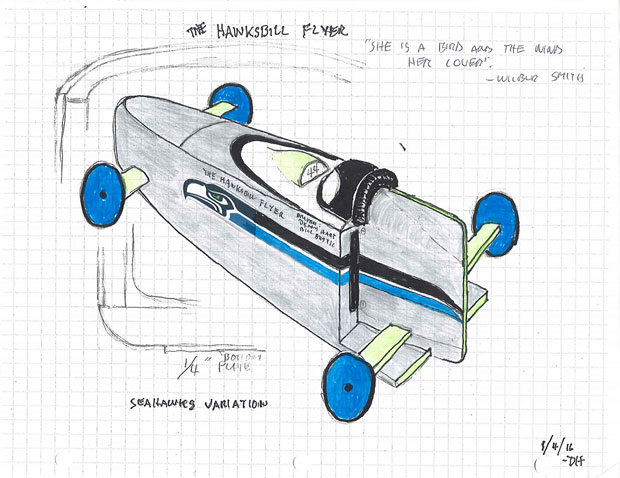 Don't miss out on this exiting downhill racing event. There's still time to get involved with the Gravity Racer program. Check the link for more information.

2016 NASTE Season - Race No. 6 - The Enduro
Tuesday January 19, 2016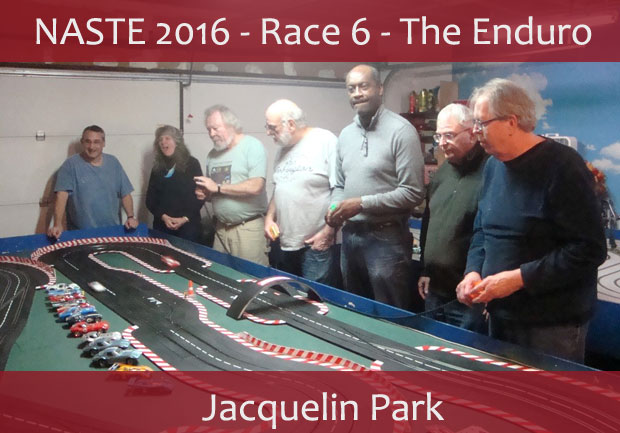 This past Sunday another legendary demolition derby thinly disguised as a three hour Enduro made it's impact felt at the Jacquelin Park house of pain. It was wild. It was crazy in a hurry. It got downright confusing. It got so crazy to the point a normally passive racer or some renown was induced to final heat Cobra hunting - though after a few laps he remembered who's cars they were and the onslaught softened.
After many offs, collisions and shredded tires no results were able to be understood and all left if not happy, at least somewhat content.
To paraphrase Rasheed Wallace "All teams played hard".

It's Christmas
Friday December 25, 2015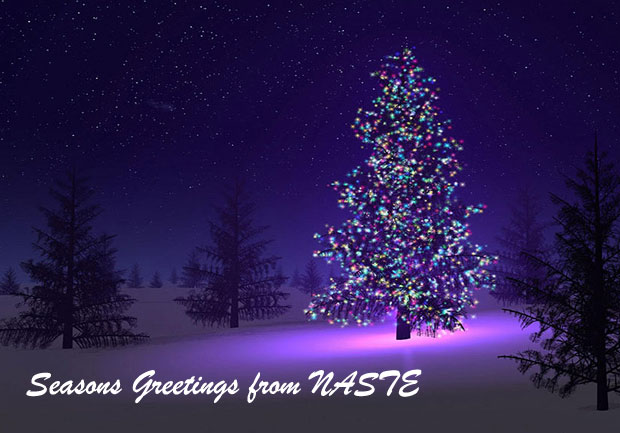 2016 NASTE Season - Race No. 5
Monday December 21, 2015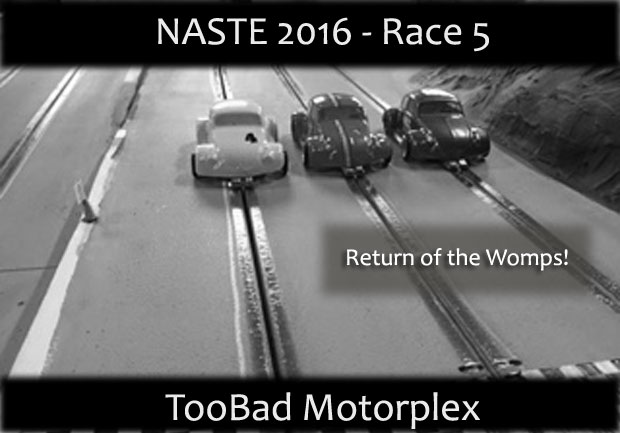 Friends, food, fun, and a little racing! Well OK, maybe more than a little racing. With 22 racers in attendance there was quite a bit of racing! Novice, Intermediate, and Expert racers put more than 2 hours of run time on the V Womp and Slot.it Porsche 962 IROC cars. Both classes of cars handled the pressure well, with only two minor malfunctions with the Slot.it cars. Hundreds of laps were put on each set of cars, and for the V Womps, well this was their third go around. The V Womps have now survived three IROC NASTE races without any major problems.
For this race we again divided the starting grids by driver skill, as they chose which division they wished to race in, starting again with the Novice Division. The Novice races were exciting. The youngest racer Dominic Locati, showed he could run upfront with the best! Todd Flood was very fast and ran up front all night! After both rounds of racing Dorothy Abbott finished in first place, followed by Todd Flood in second and Victoria Saager in third place.

click here to read more

Ferndale Fray
Sunday December 20, 2015


We had the pleasure of having Rick Phillis join us to participate in our NASTE IROC Race on December 19th. Rick is the promoter and host of the Fray in Ferndale.

If you are an HO racer and have not heard of the Fray in Ferndale you really must check it out! This once a year event is the largest gathering of HO racers in the nation.


The racing takes place on multiple routed type tracks with individual as well as team results. It is truly a spectacular thing to be a part of, and if you every get the chance to attend you should definitely do so!

2016 NASTE Season - Race No. 4
Wednesday November 18, 2015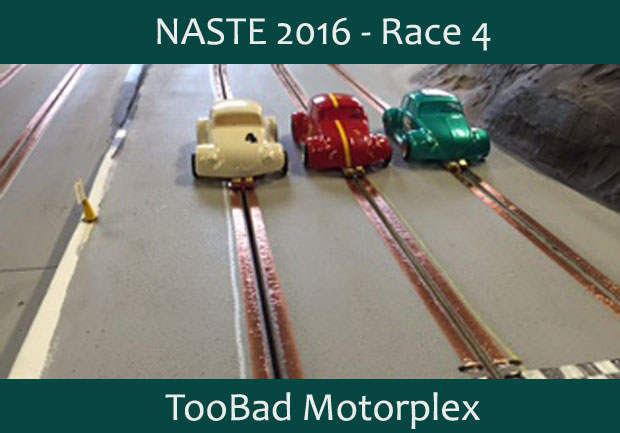 Race number four of the 2016 NASTE Season was held at TooBad Motorplex in Fairview. We had eighteen racers in attendance, pretty equally divided between Novice, Amateur, and Expert Divisions. The race format for this race mirrored the previous races this season, with the novice, amateur, and expert racers placed on starting grids together. Two rounds of racing, each with three minute heats were completed for each division of racers, with the novice racers starting first, followed by the amateurs, and then the experts. This seems to provide for some very close racing, and little if any negative feedback.
For each division's first round of racing the VWomps returned to TooBad Motorplex. The cars were unchanged from last years' event, and like last year the cars performed well. That's not to say they weren't a handful, but everyone seemed to manage. And the cars all survived another year's racing! Each division's second round saw the Monogram Grand Sport Corvettes on the starting grid. Sighs of anxiety were heard throughout the crowd. But hey, something was different from last year's race. The Vette's were fitted with urethane tires that had been trued. Holly slippery snot Batman! Someone had done some tuning on the crappy Vettes of last year! Of course that's not to say they were now excellent cars, but hey, they were somewhat better than last year.

NASTE Halloween Race 20th Anniversary
Wednesday November 04, 2015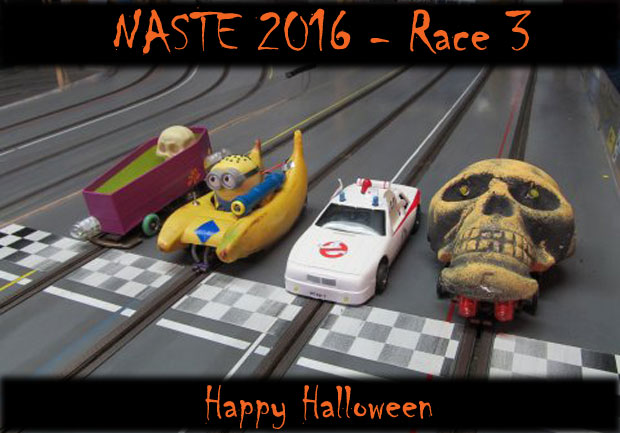 Friday October 30th, 2015 marked the 20th anniversary of the NASTE Halloween races. The race was held at Rapid Raceway, a large 1/24 scale four lane track that allows for plenty of creativity when it comes to Halloween car design. And as usual, there was plenty of creativity used in the design of this year's cars!


How do I accurately describe the NASTE Halloween Race? It's a big party, part parade, part slot car cruise, part car show, part demolition derby, and oh yeah, there is some racing! The Halloween race has turned into one of the biggest events NASTE holds during the racing season. This event receives the most attendance and car building participation of any single event! And this year was no different!


Twenty-one racers raced while some fought just to keep their entries moving! Perry Petroquin showed he was the ultimate builder for this event by completing five cars for his family to race. We had car themes from skulls to M&M bugs, to Minions to Willard The Rat. To start the action Dominic Locati threw a rear wheel and tire at the drop of the green flag in the first heat. After a quick pit stop by his mechanic he was back in the race and continued on. The first round of racing is held in daylight conditions. During the first round racers were feeling out their cars while trying to accumulate laps. Typical for NASTE Halloween races, some were just trying to get around the track!


The second round of racing takes place in the dark. As you can image some kind of illumination is a must in the preparation of a NASTE Halloween car! The lighting of the entries is just as creative as their overall construction. A NASTE Halloween heat is very colorful during the night round! Awards were given out at the end of the race, one for the "Ghoulest Car" which was awarded to Cailin Dunbar for her Minion Racer, and a "Rest In Pieces" award that was won by Dominic Locati for the misfortune he suffered on track. Not only did Dominic throw the rear wheel off his skull car, he also demolished his spur gear, while still making it to the finish. It was clear Bryan Trachsel was once again the King of the Halloween Race, but by only 2 laps this year. Mitch Brooks assembled an awesome '53 Chevy hearse that gave Bryan a good run for his money! You better watch out next year Bryan! Be afraid, very, very, afraid!


You can check out photos from the race in the Forum, and you can see additional photos in the Gallery.

2016 NASTE Season - Race No. 2
Tuesday October 20, 2015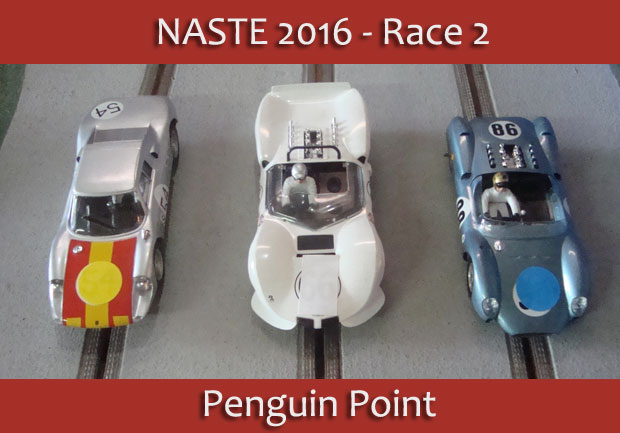 The second race of the NASTE 2016 season was held at Monte & Victoria's Penguin Point in Hillsboro. Monte had prepared two classes of cars for us to race in the usual NASTE IROC format, some very quick and twitchy Revell sports cars, and a set of three fast Slot.it Can Am style cars.
In the new NASTE racing format the Novices were first on the track. The sports cars proved to be quite challenging even at 9.5 volts. The Slot.it cars were the obvious fun favorite. After the Novice Division completed their races the Experts took the track. The reactions to the cars were the same, sports cars very challenging, Slot.it's very quick.

click here to read more

2016 NASTE Season Opener
Wednesday September 30, 2015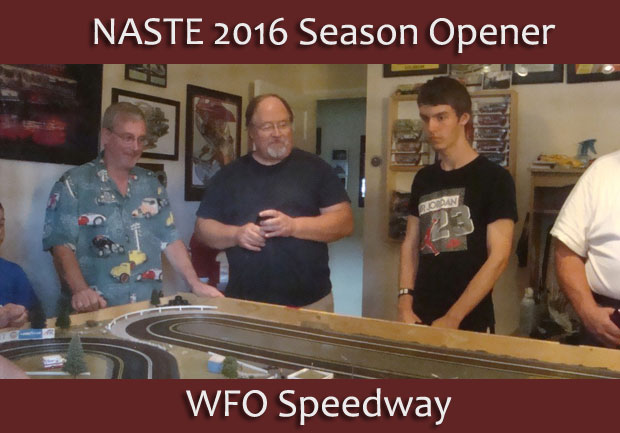 On Sunday September 20th, the NASTE racers converged on Bryan and Sherry Trachsel's WFO Speedway to do battle in the first round of the NASTE 2016 racing season. In this the 20th consecutive year of the NASTE Point Series Championship, only those racers that choose to be included in the points chase will race for the opportunity to have their name added to the coveted NASTE Point Series trophy.
It seems fitting that we start out the season with the smallest cars we race, and work our way up from there. The HO cars at WFO Speedway are always challenging and provide for some very close racing. This first race did not disappointment as Bryan had prepared eight T-Jet style cars to compete with in an IROC style format. Four Model Motoring '55 Chevys and four Johnny Lightning style AC Cobras made up the field.

Click here to read more

We're back!
Monday September 28, 2015
Yes, down but not out. Give us a few days to get the tables rebuilt and we'll be back to near normal. To quote Monte: "It's not my fault!"

More on this and other slot stories soon...

As for our previous hosting group, just let me sincerely say I hope the Dingo eats your babies.

More status:


Hot Racing at the Cool Gorge Raceway
Friday July 17, 2015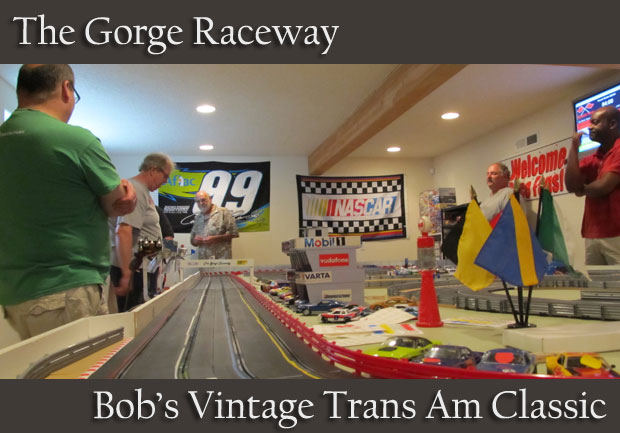 Yes it's been pretty hot in Oregon lately but on Saturday June 27th racers were cooled off in Bob Nakamura's basement in Troutdale, home of The Gorge Raceway.
This was Bob's first Vintage Trans Am race for out of the box stock Scalextric cars. The day started off with a practice session that provided everyone with plenty of time to get familiar with the track. After practice we moved right into the start of the race which consisted of four rounds of four minute heats.
Throughout the day the racing was extremely close - and fast. During the first round my Scalextric '70 Camaro exhibited some evil handling characteristics – basically no traction. She flopped like a fish on a line. Bob graciously lent me his Scalextric Challenger to compete with. The Challenger turned out to be an excellent choice for The Gorge Raceway.
After the first two rounds of racing it was time for the lunch break. Bob had a delicious spread of food which included Subway sandwiches and side dishes for all. During the lunch break Rico Locati and John Gill performed motor swaps as they both had motors expire during the first two rounds. When the race restarted both Rico and John were back in the hunt.
Soon after Rico had a second motor start to go south. I volunteered to let Rico swap the motor out of my ill handling Camaro with his sickly power plant. Rico instead took the Camaro, rubbed some of his magic on it, and proceeded to whoop me with my own car. I don't know what exactly he did to it other than a tire swap, but he impressed me with his tuning abilities!
In the end though Bob gave us all a good thrashing we all had a great time! The racing was really close all the way through, and no single type of car showed any clear advantage.
A big thanks to Bob and Robin for inviting us into their home, feeding us and even sending some of us home with nice trophies for our struggle.
Personally, I'm ready for Bob's next Vintage Trans Am race! Well almost ready. I have a new Scalextric Trans Am '69 Camaro coming via the U.S. Postal Service as I write this!
Position

Driver

Lap Total
10

Victoria Saager

349.2

Summer Slot Car Racing is Alive and Well
Sunday July 05, 2015
Odd Thursday Night Races keep the racing alive during the summer at TooBad Motorplex. Pictured are the entrants from the 50 and over race featuring slot cars from the early to mid-60's. It's great vintage fun so dust off those ancient war horses and come join us. With four classes per race night you'll find something for everyone.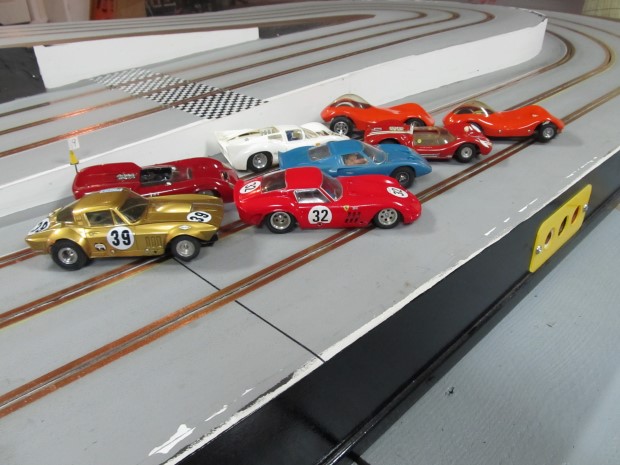 NASTE Race 14 - Autumn Hills Final
Tuesday May 19, 2015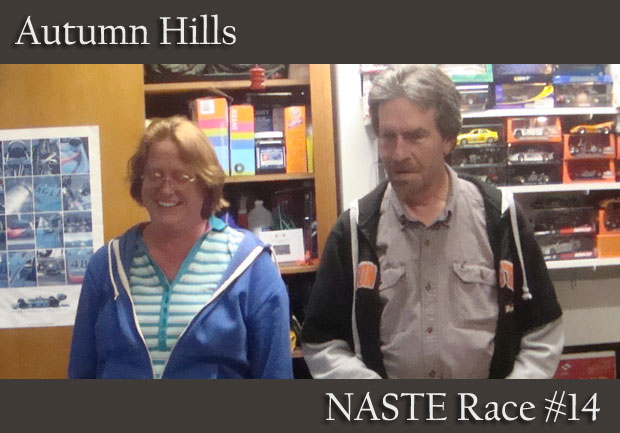 The final point race of the 2015 NASTE season was an interesting event. Twelve racers showed up, some of them came to race. Rico prepared Scalextric Ferrari's for the first round that were fast and fun. Lighted even.
Surprising the field was "the yute" Dominic Locati who sat among those tied for third. However, there would be a second round…
And for that second round Rico pulled out our favorite Ninco wonders – the Fickle FIATS of Fate. Thanks to Perry they will now be known as the Flying Fickle FIATS of Fate. Can you say "lift-off"? Not to be outdone, June performed a perfect horizontal 360. That she failed to also "stick it" was deemed irrelevant.

NASTE Race 13 - Digital Brackets
Monday May 04, 2015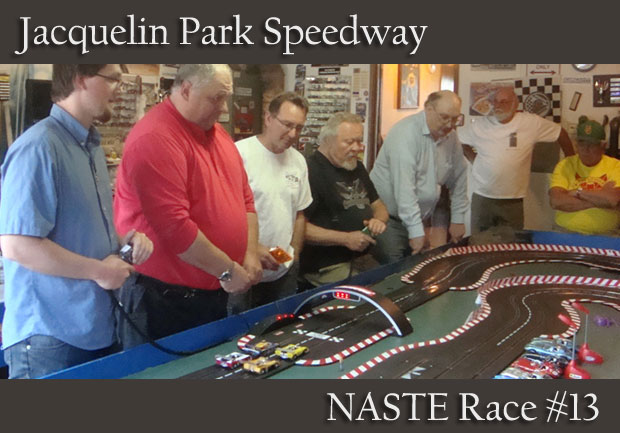 Hosting an IROC style race on a digital track would be a daunting task, even for a veteran slot car track enthusiast. Especially on the lucky 13th event of the season! But Monte "The Big Smooth" pulled it off in typical Big Smooth style.
This was by far the best digital race I have attended. Monte has his new Jacquelin Park Speedway dialed in. Monte has not only reconfigured the track, but has switched from an SCX system to Carrera. The last race on this new track showed improvements over the old SCX track, but now with the addition of the RamJet controllers he has an excellent race venue. The improvement over the Carrera controllers with the RamJet controllers is significant to say the least! Another significant improvement was the way the refueling was accomplished.
The racers of the evening were Can Am cars – a Porsche 917/30, a McLaren M20 and two Lola T222's. Race preparation consisted of removing the traction magnets and replacing the stock rear tires with Paul Gage Urethanes.

NASTE Race 12 - Womps!
Tuesday April 14, 2015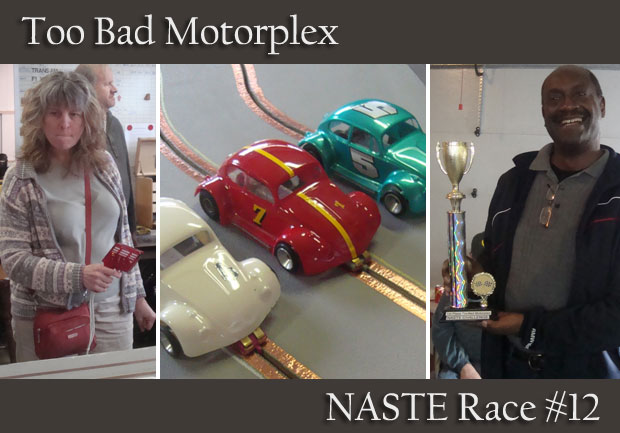 A great group of twenty-seven racers attended the 12th NASTE race of the season at Bill Bostic's Too Bad Motorplex in Fairview this past Sunday. The car of the afternoon – Parma Womps – 1:24 scale. VW Bugs to be specific. Harkening all the way back to the early days of NASTE – a Dave Smith design.
Now you'd think with all those bugs loose that someone was going to get slugged but the only violence in attendance was occurring on the track. The little slug-a-bugs buzzed around the circuit like a hoard of angry bees with each driver pushing to the limit.
Occasionally one of the bees would get sent off with a little slap. That only seemed to make them angrier.
Despite such raucous behavior no bees were damaged - and no drivers were slugged.

NASTE Race 11 - Thunderjets to the Max
Saturday April 04, 2015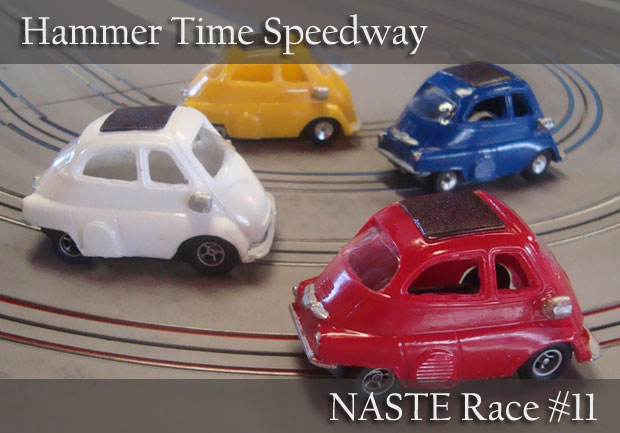 We had big fun with the little cars at Hammer Time Speedway. As usual Terry Abbott prepared some exciting Aurora Thunderjet cars for us to race. However this time he went over-the-top! Yes, something even more outrageous than the Space-Jets, or even the Monster-Jets! But we'll get to that in a minute.
For the first round of racing Terry had four equally prepared muscle cars on the start line. Two Camaros and two Dodge Challengers. Bodies were of the Johnny Lightning variety. This first set of cars were fast and handled very well.
After racing a full set of three minute heats everyone was settling into the T-Jet pace. Then he sprung it on us! What the hell are those was the cry from the crowd? All I can say is; have you ever seen HO scale Isettas?
Yes, BMW Isettas were the cars of choice for the second round. Now these things may look like they might handle bad. Well I can tell you from experience, they do! But, what they lacked in handling they more than made up for in the fun department! We raced these little Isettas for one minute heats. I think that's all Terry thought we could stand.

NASTE Race 10 - Return to the Gorge
Thursday March 19, 2015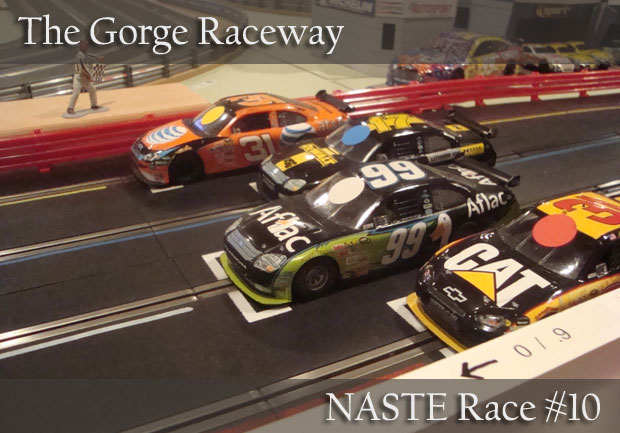 NASTE racers returned to The Gorge for the 10th race of the 2015 season. With 18 racers in attendance we attacked the course with a vengeance!
For the evening festivities a set of somewhat equally prepared SCX NASCARs with traction magnets were offered up. And they happily ripped down the long front straight and through the first section of fast flowing curves, only to be confronted by the difficult and challenging infield section of tight corners and short straights.
That's when the real fun started! Crash, bash, moan and groan.
And so it went, drivers would fly around half the track and then struggle to get the long NASCAR's through the tight spots. Some made it, some cried rider, some just cried. Yes, the Gorge is a challenging Scalextric track to say the least.

NASTE Race 9 - The Loose Wheel Gathers No Laps
Tuesday March 10, 2015



An exceptional crowd of twenty-one racers came out to race at Bryan & Sherry's WFO Speedway for the 9th race of the NASTE season. And the action was, well frankly wild, frantic, and outrageous!
Bryan had two sets of four T-jets for us to race.
The first set of cars were the '55 Chevys. The '55 s are my personal favorites, they maintain that NASTE heritage. The racing in the first round with the '55s was exciting to say the least. The cars performed flawlessly until the last couple of heats. One of the cars experienced a loose rear wheel. Since loose wheels only stay loose for so long it was soon to be so long wheel. After a little time out for some automotive repairs the car was back and running like never before. , and not too long after lost it entirely.

New Over 50 Class Debuts at TooBad Motorplex
Friday January 30, 2015

The new Over 50 Class took to the track for its first official race on the night January 29th.
The field was comprised of a diverse group of long gone manufacturers. Cox, Monogram, Classic, Strombecker, and Revell were all well represented.
It was great to see the old cars on the track racing again! The racing was close and there were some excellent on track battles! If you have an old 1/24 car sitting around, bring it out and get it on the track. You'll be glad you did!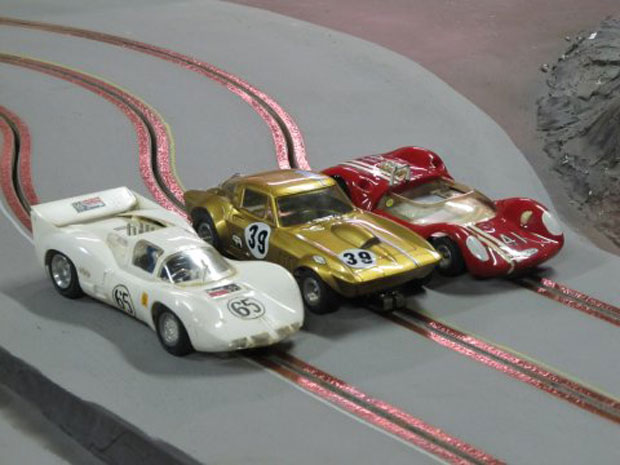 NASTE Race 8 - The Enduro
Wednesday January 21, 2015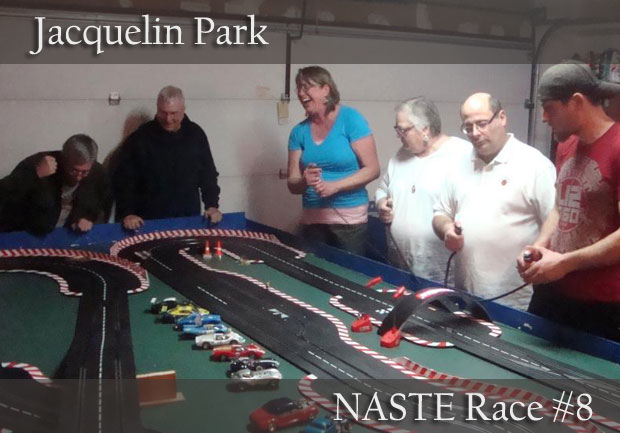 A new track, a new challenge, and another exciting evening of racing! As you've probably all heard by now Monte and Victoria replaced their SCX Digital track with a new Carrera Digital track and it was a hit.
The new track is smooth as silk and the layout easy enough that after a few minutes most were driving like experts. The Carrera Can Am cars Monte had prepared by removing the magnets and adding Paul Gage tires performed flawlessly, the system operated without a hitch. The drivers? Well, it is a NASTE event after all.
Once the sixteen racers in attendance had some practice time, we let the ladies – and Thomas – divide up the racers into four teams and it was Enduro time.

NASTE Race 7 - The HO Master Returns
Tuesday January 06, 2015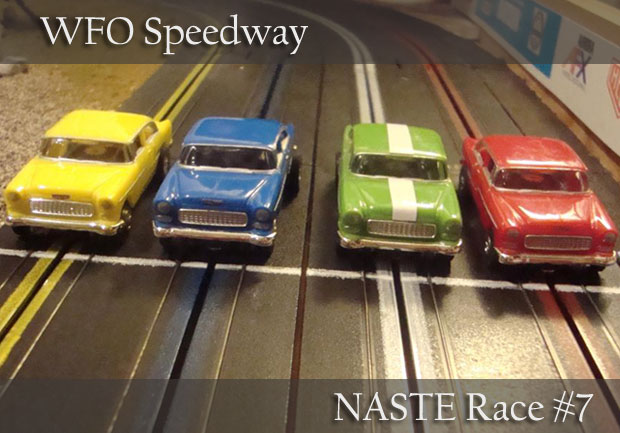 The seventh race of the NASTE 2015 Point Series Championship, HO style, was held at WFO Speedway this past Saturday. Sixteen racers evenly divided into the expert division and the NASTE Challenge division were in attendance.
The racing was intense and very close! There were some spectacular crashes in both divisions, pretty much equally divided between the AC Cobras raced in the first round, and the '55 Chevys raced in the second round.

NASTE Race 6 - First Race at The Gorge
Tuesday December 23, 2014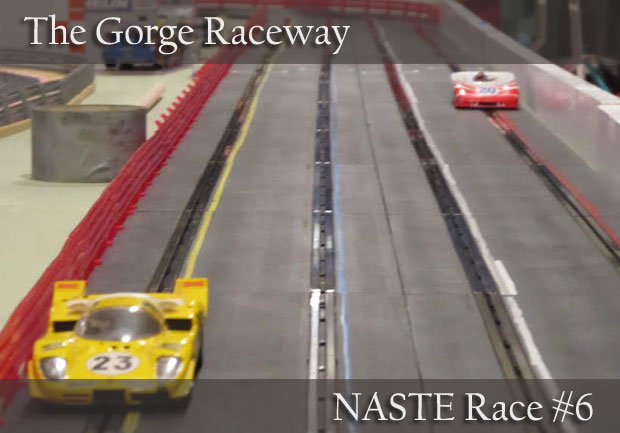 A new track, a new challenge, what an exciting evening of racing!
Bob Nakamura provided the NASTE racers with the honor of the first official race on his big Scalextric four lane track. And true to NASTE racing, we broke that baby in right! 22 racers put the track and computer system to the test. To Bob's credit we did not experience one problem with the track.
The night's racing consisted of two rounds of three minute heats. Fly Classics were the cars of choice for the IROC style format. Racers found the car and track combination quite challenging, but all adapted quickly and the racing was actually quite close.
In the Challenge Race Thomas Flood posted his third consecutive win, and fourth of the season. John Fisher was a few tenths behind in second with Perry Petrequin third, his best finish to date. The Challenge racers made up over half of the field of racers for this event, and we even saw some new faces including Eugene Jung who traveled all the way from Southern California to race with us.

NASTE Race 5 - More Fickle FIAT's of Fate!
Wednesday December 10, 2014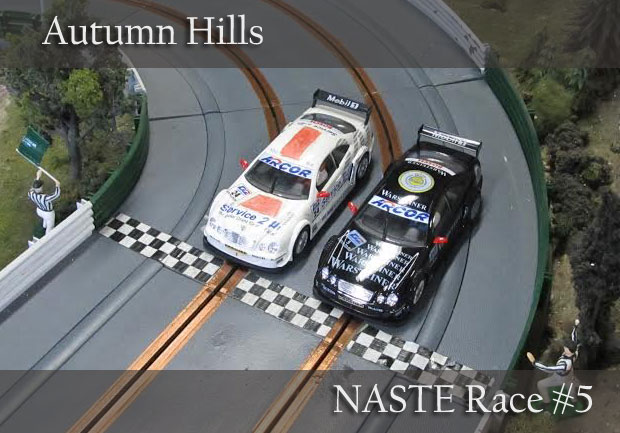 Sunday December 7th was the day for racing in the hills. Rico and Kelly Locati hosted the fifth race in the NASTE 2015 Point Series Championship. Racing at the Hills is a special treat as Kelly lays out a food spread equivalent to anything you might see at a Greek wedding! After we had all filled our stomachs we got serious about racing. Ok, maybe semi-serious.
Rico had brought out some old favorites for us to maneuver around the tight and twisty Autumn Hills course. For the first round of two minute heats we raced Ninco Mercedes. The Mercedes were somewhat loose in the traction department, so fast laps required a fair amount of judicious applied throttle! Even at that the racing was extremely close, with Rico taking the overall lead after the first round.

BRM Group C Race at Rapid Raceway
Monday December 01, 2014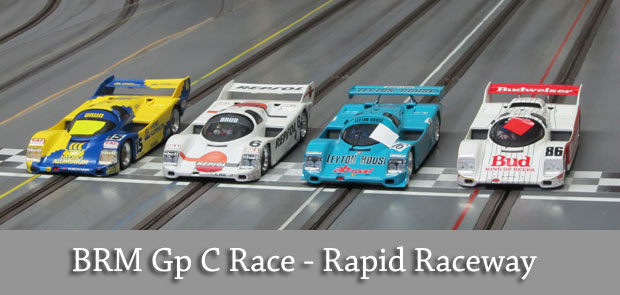 At approximately 1:30 PST yesterday the flag dropped on the opening heat. Sixteen racers were in attendance to fling BRM Porsche's around Rapid Raceway in Portland, Oregon. And did they ever.
We had expected some of the Washington area racers but with early morning pictures from up north showing snow on the ground I guess they decided it was better to stay home than come take their beating. Heck, we were looking forward to a little payback from the Tacoma 24 Hour Enduro. We'll just have to wait until next time.
Howie had the shop warmed up for us and the cars seemed well matched to the surface and temperature. With the exception of a lead wire parting company from a guide and a Parma gear loosening on the axle, all ran perfectly well- or at least well enough. The important thing though was for smiles all around and a good time for all.
Heats were 5 minutes with two times through the rotation for 40 minutes of track time for each racer.
Lots of racing and some good battles on the track- 3rd and 4th just 2 laps apart, just 3 laps between 5th thru 7th, and one lap between 12th and 13th!
1. Howie Howard - 352 laps
11. Victoria Saager - 265
Fast lap of the day was set by Howie with a 6.19. Chris was just behind that at 6.20.
Big thanks to Howie for opening his track to us and to Chris Kouba for heading up the event. Thanks to both Chris and Bill Bostic for supplying many of us with rides for the day. We'll hope to see more events like this in Portland in the future.

NASTE Race 4 - The Off Road Space Fray
Tuesday November 25, 2014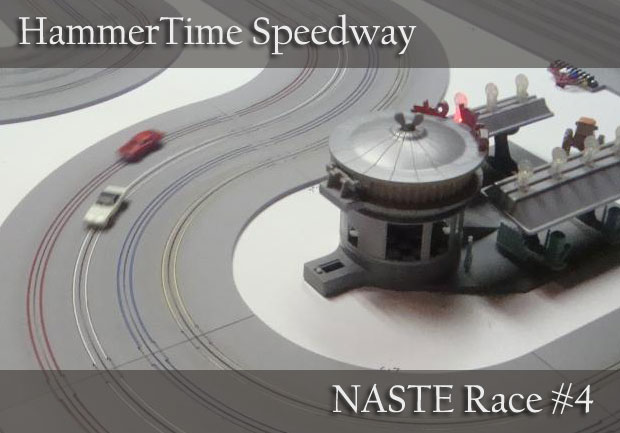 The fourth race in the NASTE 2015 point series was held at Dorothy and Terry's HammerTime Speedway. And for this night we had not only two sets of Terry's HO demons but an additional set of cars from Richard Phillis, better known as the master of the Ferndale Fray.
The first set featured the cars from Richard which proved quick and smooth. For the NASTE Challenge Thomas Flood charged out to an early lead and took first followed by hometown heroes Amanda Abbott and Nick Snowhill. For the experts it was Flyin' Bryan Trachsel taking the win followed closely by Richard "hey, those are my cars!" Phillis and Terry Abbott.

NASTE Race 3 - The HO Masters
Monday November 17, 2014



The third race in the NASTE 2015 point series was held at Bryan & Sherry Trachsel's WFO Speedway. WFO is a very challenging but fast HO track. Bryan had prepared two sets of cars for the IROC style race, and the NASTE Full Monte race format was used for this race.
The NASTE Challenge racers were the first to hit the track. The racing was fast and close. Russell Flood drove consistently making very few mistakes, which resulted in wins for both NASTE Challenge rounds. Mitch Brooks and Victoria Saager posted second place finishes.

NASTE Halloween Race 2014
Monday October 27, 2014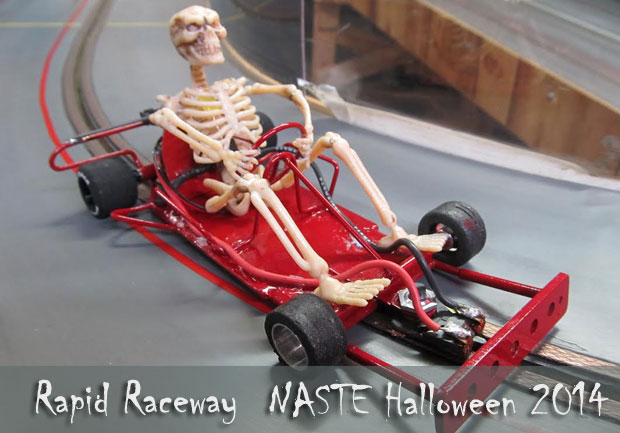 20 NASTE racers made their way through the horrific storm to Rapid Raceway for yet another Halloween race. Pre-race activities included an electrical power outage, followed by the deployment of an emergency generator for backup, a fantastic pot luck meal, with everything from white chocolate covered grape eyeballs, to hot and spicy BBQ bat wings. Not to mention plenty of chocolate rum balls!
After we were all full it was time for the NASTE logo contest judging. It was decided the judging would be by popular vote of all the racers in attendance. We had eight excellent entries, and after the vote we had it narrowed down to a tie between two of them. So it was decided we would vote again on just the two entries that had tied. Guess what? Yup, a tie again! That's where we left it….for now.
On to the racing. We had some totally outrageous entries this year! We had Carl's Cat In The Hat entry, which may have set a record for the longest Halloween car ever! There was John's coffin complete with a Barbie skeleton, and Barbie's head rotated 360 degrees while the car was in motion! Flyin' Bryan had a new go-cart driven by a skeleton. Dorothy was out in full battle gear with the brand new Hammer II……well……..hammer! Rico showed up with a full race wiener mobile, OSCAR Meyer sponsored of course! We raced one round of two minute heats in the light, and another round in the dark. All I can say is it was a wild race, as the NASTE Halloween races usually are! Look for photos of the entries in the forum section.
Here's how they finished:

NASTE Race 2 - Attack of the Magnet Men!
Wednesday October 15, 2014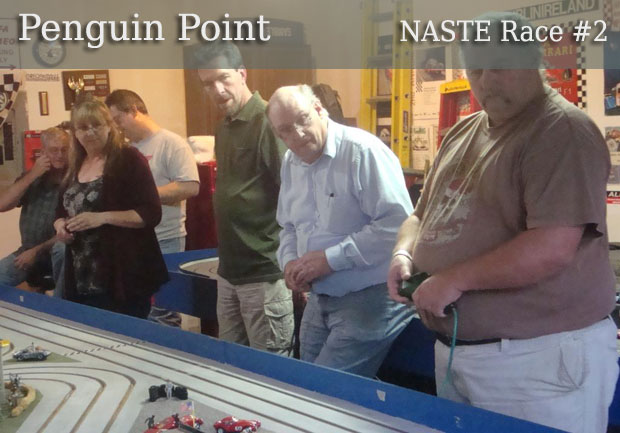 Monte & Victoria's Penguin Point hosted the second round of the NASTE 2015 racing season. We had a very good turnout with 17 racers showing up to compete on the very tight and technically challenging course. Penguin Point is one of the toughest tracks on the NASTE circuit. This track rewards smooth and consistent driving. And if the first two races of the NASTE 2015 season are any indication it is going to be a tightly contested championship!
The second race this season at Penguin Point was as close as it gets. Thomas Flood is starting off his season in the NASTE Challenge with a win at Penguin Point putting him neck and neck with the winner of the last Challenge race Mitch Brooks. In the expert division there have been two different racers posting wins, both winning by the narrowest of margins. It is clear just from the first two races that all of the NASTE racers have improved their skills over last year.
For the first race Monte set out the Cartrix Grand Prix Legends cars. Beautiful cars, simple in execution. Leading the field in the NASTE Challenge group was Thomas Flood with a half-lap lead over Mitch Brooks, with John Fisher almost another lap back. While in thee Experts division Monte Saager just slipped past Bill Bostic to hold a one-tenth lap lead with Terry Abbott another two-tenths back. In fact four racers were on the same lap only six-tenths apart.
For the second set, it was Carrera Can-Am cars brand new, out of the box, with minor tire sanding and not one but two traction magnets! Oh lordy…

NASTE 2015 Season Opener
Tuesday October 07, 2014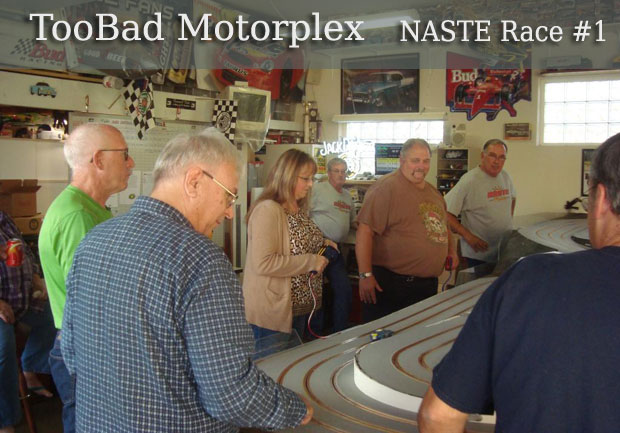 The season opener for the NASTE 2015 Point Series Championship was held at TooBad Motorplex in Fairview. The doors opened early, right after a breakfast get together at the local saloon, for a full day off racing. The day started with a vintage F1 race, followed by a classic sports car race. Both races consisted of cars configured and set up for the NASTE Odd Thursday Night races. There was lots of time for practice and just playing around with whatever racers brought out. Somewhere around lunch time a few of us went up the street to a local diner for some lunch.
The NASTE point series racing started around the usual NASTE time. This year we are racing and scoring the NASTE Challenge and expert races separately. First on the track was the first round of Challenge racers. For the first round of racing the racers found themselves in control of 1/32 Revell Monogram Grand Sport Corvettes. The Monogram Grand Sports were in stock configuration with only some rear tire sanding to prepare them for competition. The racing was very close for the Challenge racers as well as the experts. After the first round Mitch Brooks had the lead in the Challenge division and Bill Bostic and Bryan Trachsel were tied for the lead in the expert division.

NASTE - the Coming Season
Friday September 26, 2014

We are close to the kick-off of the 2015 NASTE Racing Season!
There will be some exciting improvements for this season!
After some discussion at the Racin' & Ribs BBQ, race, and meeting it was decided the NASTE Point Series Championship (expert division), and the NASTE Challenge (amateur division) would be scored separately. The two divisions will also be divided and race independently at each NASTE race whenever possible (this will depend on attendance and the number of entries at each race).
It was also decided we would go back to the practice of allowing racers to throw out races. Meaning, only a portion of the 15 scheduled races will be scored for each racer. For the Point Series Championship or expert division racers, 10 of the 15 races will count for their point total. For an expert division racer that attends all 15 races, their 10 best finishes will count for their total points. The racer would be able to throw out 5 of his lowest scoring races
The same goes for the NASTE Challenge amateur division, with the exception of only 8 races counting for their overall score. With this format in place the expert division racers need to attend the majority of the races, but not all
The amateur racers will need to attend just over half of the races. This takes much of the pressure off trying to make all the races. It will also make for a very close points race in both divisions! I fully expect some point ties at the end of the season, so here is the last change for this year: the last race of the season will be the Shoot Out.
The Shoot Out race will be held to break all ties in the point standings. This race will not be scored for series point totals, it will only decide winners of the ties. In addition there will be a Shoot Out trophy for the overall winner!
So there you have it. It should be an exciting season full of fun and close competition!

NASTE LOGO Contest
Friday September 26, 2014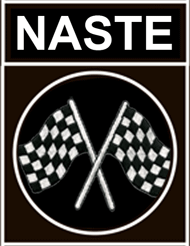 It's time for NASTE to update their logo. We have had the same logo for a number of years, and although I feel it is a terrific logo sometimes a change is refreshing. So, we are holding a contest, open to all who wish to submit an entry for a new logo.

Logos must include the script NASTE as well as what it stands for, Northwest Association of Slot Track Enthusiasts.


If your logo is selected as the official NASTE logo you will receive a $35 Fantasy World Hobbies gift certificate. The gift certificate will be purchased by NASTE, and you will receive the gift certificate in email form from Fantasy World Hobbies.

So draw something up and send it to us!

You can send it to us in email form at slotcars.naste.org, or you can post it in the forum here: http://naste.org/forum/viewtopic.php?id=601. We're looking forward to seeing some great new logos!
Entry deadline has been set for October 25th, 2014.

NASTEburgring 2014
Tuesday June 24, 2014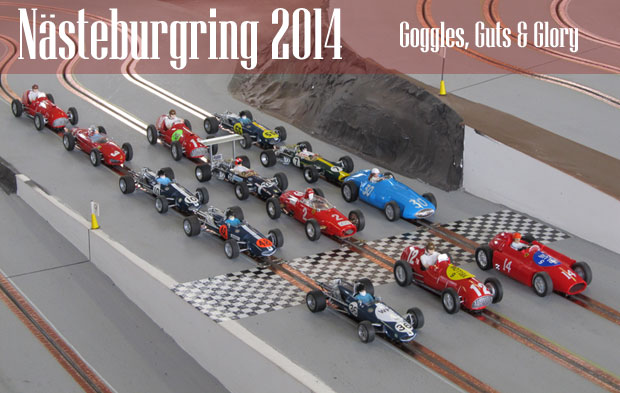 This past Saturday the NASTEburgring was held with thirteen racers in attendance to do battle on two different tracks in one day while competing in one of three different Formula One classes.
Racing three different classes at the same time can always be interesting especially when the cars are potentially quite different. However, by the end of the day I think the result was quite satisfactory.
To start the day a number of us met the Washington contingent of "the Professor" John, Victor and Fantasy World Tony at the Stagecoach Saloon for their world famous $4 breakfast. And a great breakfast it was. Afterward we traveled the two miles to our first venue - Bill Bostic's Too Bad Motorplex in Fairview.
Once everyone got their cars set and a little practice we assembled the field of thirteen racers and dropped the flag. The format would be two sets of three minute heats with class cars mixed in random order. A heat could have three cars from the same class or one from each or any mix in between.
The Professor took the early lead after the first set with Bill and Gary "Goose" Gossett close behind. In the second set though, mista Bostic took over claiming the class and overall victory for round one.
Monte "the Big Smooth" Saager managed 6th overall with a Cartrix Ferrai and Tracy Flood took 7th with his Scaley Masserati for class victories.
At this point drivers headed off to Hillsboro for round two at the Penguin Point track. And lunch.
Victoria and Monte had raced ahead and prepared a lunch of pizza and chicken wings so a combination of food and practice ensued until the racers were ready to race.
And at the drop of the flag it was Bill hard charging to a first set lead with Victor in second and the Professor nipping at his heels in third. In the second set Bill and John raced to a draw while Victor fell to third in class. Showing home track skills the Big Smooth pushed his Cartrix to third just ahead of Victor.
Final results from Penguin Point show Bill once again maintaining his dominance with first in class and first overall. The Professor took second with Victor in third. And the surprise fourth overall was the Cartrix which outran three Eagles and a Lotus. Rico Locati piloted his Ferrari 156 to a class victory and 7th overall.
Points were awarded per event based on one point for entering, one point for each car in class you finished ahead of.
The second round in the series will be held in Tacoma with a tentative date of Sunday, August 17. Let's go get 'em!

NASTE Race Night 18 - The Grand Finale
Sunday June 15, 2014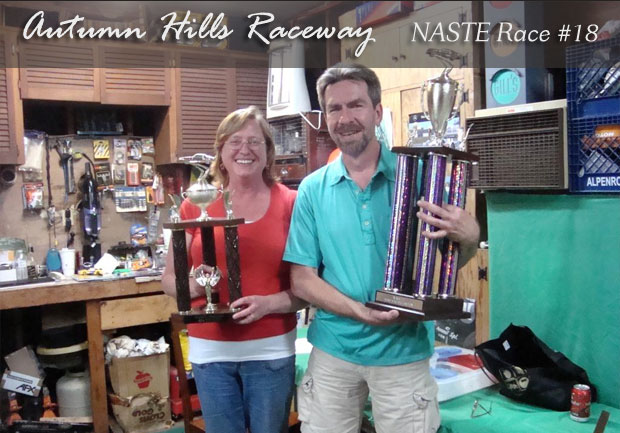 Autumn Hills hosted the final race of the 2014 NASTE Point Series Championship. Thirteen racers showed up to make their final run at the championship.
Autumn Hills has always been well known for its famous dinners, and Kelly Locati laid out another fantastic meal for us. Thank you so much Kelly!
Rico Locati's expertise is car set up and preparation. Rico did not disappoint us either with Scalextric cars that had been tuned and prepped for the IROC format. The cars performed well and provided some very close racing.
Rico Locati took the race win, but Terry Abbott was the star of the night. Terry drove an excellent race finishing 4th and securing his title of 2014 NASTE Point Series Champion.
In the NASTE Challenge Division Thomas Flood was first at Autumn Hills. Like her hubby, Dorothy Abbott was not to be denied her championship status. Dorothy was a contender at every race this season, and not just in the Challenge series. Dorothy is the first NASTE Challenge Champion, a title well earned!

The NASTEburgring - New Series Scheduled
Friday June 06, 2014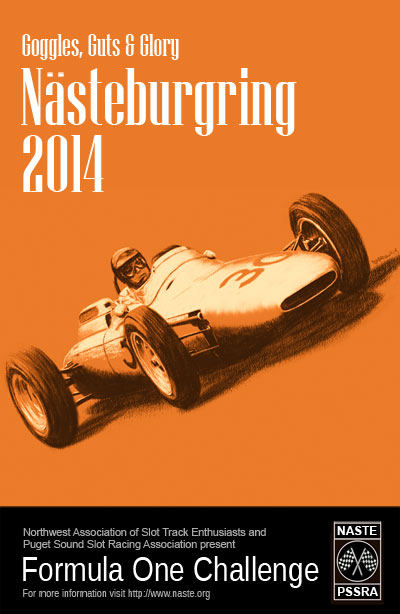 Who says it's going to be a dull summer?
A new series has been scheduled between NASTE and PSSRA of Tacoma.
The first event is scheduled for June 21 here in Portland while the second will be scheduled by the Tacoma group.
Fun and excitement await. Check out the rules and get ready to go racing with some old-school formula one cars.

NASTE Race 17 - Who Needs Practice?
Thursday May 29, 2014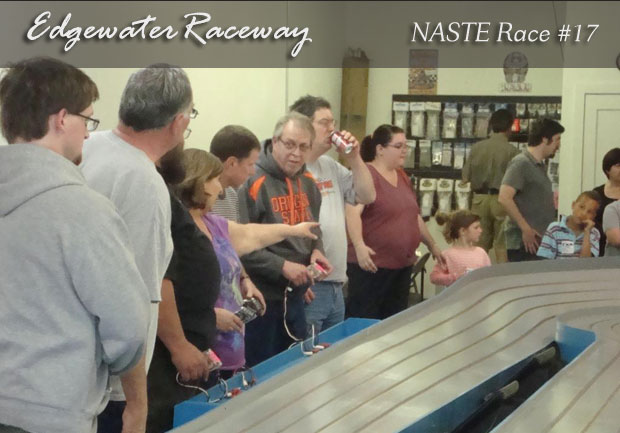 On May 17th 2014 NASTE racers had the opportunity to race at a commercial slot car raceway in Salem Oregon. Commercial raceways are not locally available. There have been very few that have been opened around here in the last 30 years. For many of the NASTE racers this was a chance to experience what they had missed in slot car racing's prime. For others of us it was a flashback filled with great memories.
Edgewater Raceway in Salem Oregon sits on a historic street in an older part of town. There are large windows in the front of the building, giving a passerby on the sidewalk an excellent view of the tracks inside. On this race day, on numerous occasions throughout the race, spectators would gather at the windows and watch. On one occasion two young boys ventured inside the building and took up positions trackside to get a better look. As I watched the boys and listened to their comments I remembered myself, or more accurately a much younger me, watching the first commercial slot car race I had ever seen. The first race I ever saw was at a slot car raceway in Parkrose Oregon. It was a large shop with multiple eight lane tracks. I remember there were as many or more spectators than there were racers. The building was packed and filled with excitement!

NASTE Race 16 - Slip-Sliding Away
Tuesday May 13, 2014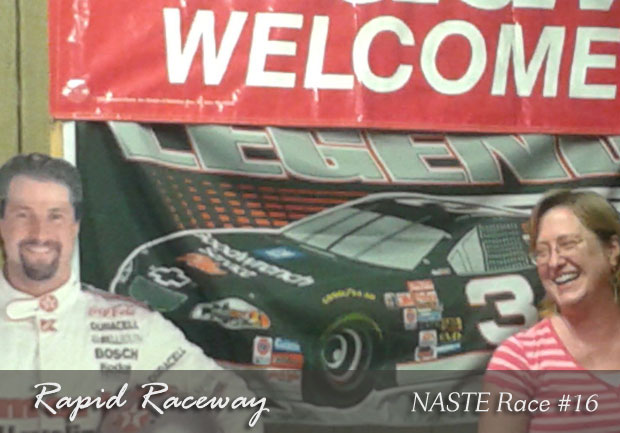 The Plan - For the sixteenth race of the 2014 NASTE season, the NASTE '55 Chevy's were scheduled as one of the IROC car classes. At their last Rapid Raceway appearance the '55s exhibited outstanding performance due in part to the incredible traction or grip they seemed to have on the track surface. With that in mind, a plan was formulated to prep the track for this race in the same manner as the last race.
So, Rapid Raceway underwent a thorough cleaning to remove any and all traction compounds or stick-'em (a technical racing term) from the track surface. In theory this would give Rapid Raceway the same race setup as the previous race where the '55s exhibited such outstanding performance (based on typical NASTE '55 Chevy performance standards - the bar being set somewhat low to start with). In addition to the NASTE '55 Chevy's, a full complement of 1/24 BRM Porsche 962s were added to the racing schedule.
This was going to be one spectacular night of IROC racing!

NASTE Race 15 - The Thundering Heard
Monday April 14, 2014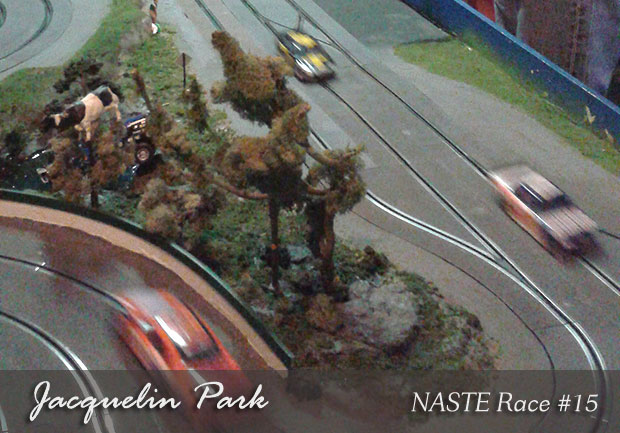 Jacquelin Park was the setting for the 15th NASTE race of the 2014 season and the third Enduro. And this time Monte had all the equipment set up and running perfectly from power control to break-out timing, all systems were go.
To add to the veritable excitement the cars of the night were SCX Digital NASCARs with magnets. The idea is that cars with magnets would make driving easier for all levels of competitor...

NASTE Race 14 - Classic Race and Rally
Monday April 07, 2014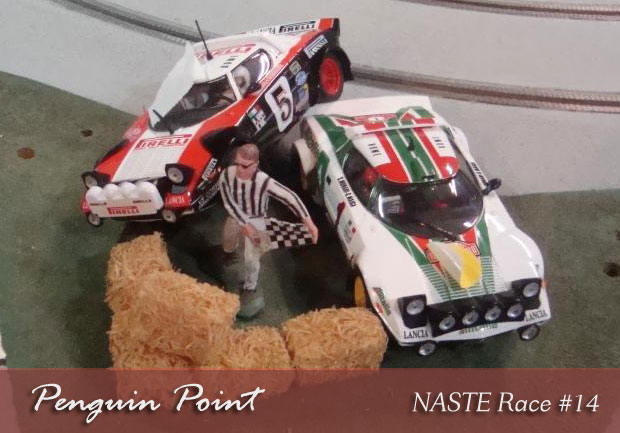 Penguin Point welcomed fourteen racers for the fourteenth race in the season series. This time Monte has set up two different classes of cars. For the first set, Cartrix Classic F1 racers. The second would be Ninco Stratos rally cars.
This was our first race with a set of Cartrix cars and there is a lot to like. They seemed to run well and look fantastic. The site of three open wheelers diving into the first turn looks amazing.
Taking the checkered flag in the NASTE Challenge division was Dorothy Abbott with a near one lap lead over Perry Petrequin with Mike Lombardi another half lap back in third. Dorothy?s victory promoted her to the Master Class for the second Cartrix set. In the second set it was home town here Monte Saager taking the honors with Terry Abbot in second and Tracy Flood in third.

NASTE Race 13 - The Outer Limits
Friday March 21, 2014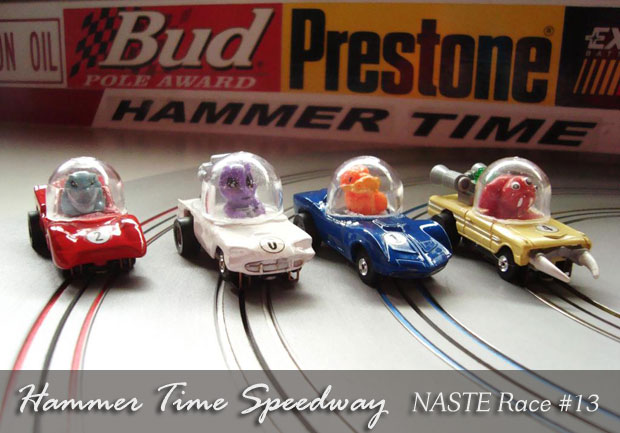 NASTE racing at Terry & Dorothy Abbott's Hammer Time Raceway; you just NEVER know what is going to be on the track for your racing enjoyment! Wait, I take that back; there's a pretty good chance they will be SMALL!
HO racing just doesn't get any better than racing at Hammer Time, and Terry did not disappoint us. Terry took us back to our childhood HO racing days with some way cool, totally creative and imaginative race cars. Back in the old days none of us could keep some kind of knife away from our T-Jet cars. Add to that glue, putty, and thick coats of paint and we instantly had creations Big Daddy Ed Roth would have been proud to claim!
On Saturday March 15th Terry Abbott allowed us to race those dream machines we created. For the first round of racing the field was set with some beautiful old style modified racers. Terry expertly assembled these Aurora Thunderjet 500 cars using A/FX style wide wheels and tires, and T-Jet style Johnny Lightning Willys bodies with the fenders cut. These cars looked great, and they handled even better!

NASTE Library
Wednesday March 05, 2014

We are pleased to announce the newest addition to our NASTE.org website. Monte Saager has created a NASTE Document Library where we can save historical slot racing documents such as flyers, rule books, and newsletters from a time when there was no internet. Back when we had to type or print things out, and use a photo copier that wasn't located in our own homes.
We have already posted a few documents, and if you look in The Forum in Slot Car History, under The NASTE Library you can find some information on each document shown. If you have any dialog you can add, please feel free to reply in the forum!
Thank you, and please enjoy!

NASTE Race 12 - The Lightning Round
Monday February 24, 2014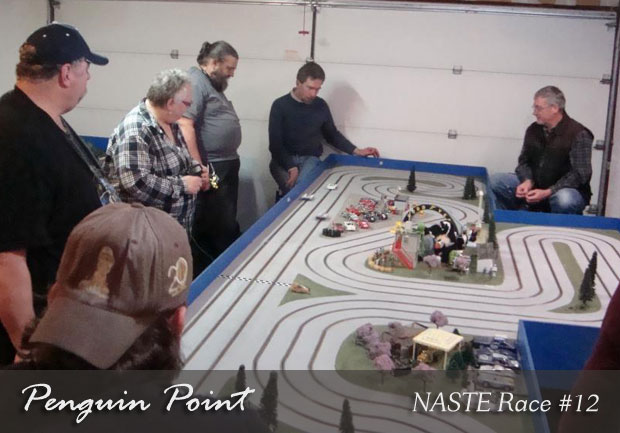 A dozen racers took part in the twelfth race of the 20214 NASTE season held at Penguin Point this past Sunday.
For the first set Monte set out three LMP cars ? two SCX Audi?s and a ScaleAuto Toyota. Traction was a little on the down side and the powerful motors made it a little tough on the drivers.
Taking the top spot in the NASTE Challenge race was Dorothy Abbott with a total of 35.4 laps. Tied for second was Victoria Saager and Tyler Petrequin with 34.8 laps. With her victory Dorothy was moved into the Advanced race with the big dogs.

NASTE Race 11 - The Floods in Salem!
Sunday February 09, 2014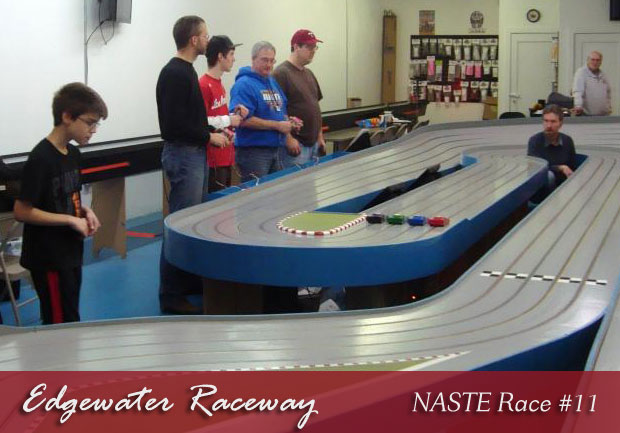 Yes, it was all about the Floods in Salem. But let me backtrack a little. Eight brave NASTE racers, without thought of personal safety, set out on an adventure of a life time. A trek if you will, to the far out reaches of Salem Oregon, in some of the most horrible, frightening, arctic conditions imaginable! Yes even just the thought of it brings my brain to numbness!

NEW Track in Oregon!
Sunday February 09, 2014
Bob Nakamura's new 4 lane Scalextric track is up and running! The Gorge Raceway is located in Troutdale and it is a beauty! Look in the Forum for more details!



NASTE Race 10 - Doing the Fairview Bump
Saturday February 01, 2014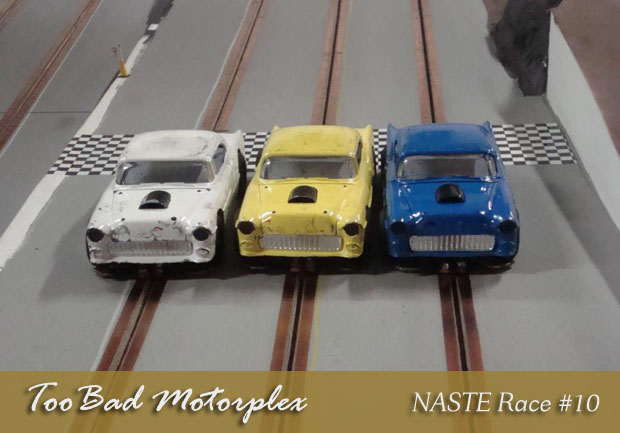 The NASTE '55 Chevys were the IROC cars of choice for the 10th race in the 2014 NASTE series. Seventeen racers bashed and slammed their way around TooBad Motorplex through two slamming-good rounds of racing. The Chevy's are somewhat slow and a rather ill-handling but what they lack in speed they more than make up for with non-stop fun. The results prove that and then some providing the closest, most exciting racing seen on the NASTE calendar in about forever.

NASTE Race 9 - Eat, Race, Crash
Friday January 17, 2014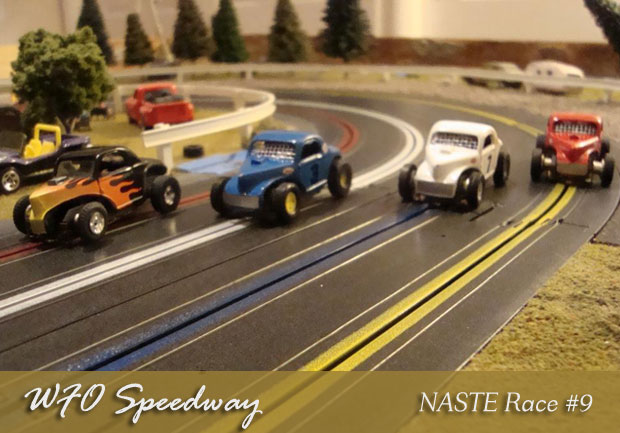 A small group of drivers braved the blustery weather to do battle at Bryan and Sherry's in the 9th race of the season. With only four so-called "pros" in attendance, the Challenge field was packed for the first race. Bryan brought back the AC Cobras, this time with little drivers in them. Unfortunately they had no safety equipment and there were some quick decapitations. Cars were tumbling and heads were rolling. Jeff came out on top, earning the chance to wreck with the pros.
And wreck they did! The first corner in nearly every heat saw carnage and had drivers fuming and marshals scrambling.
Click here to read more

NASTE Race 8 - Dirt Track Racers
Saturday December 21, 2013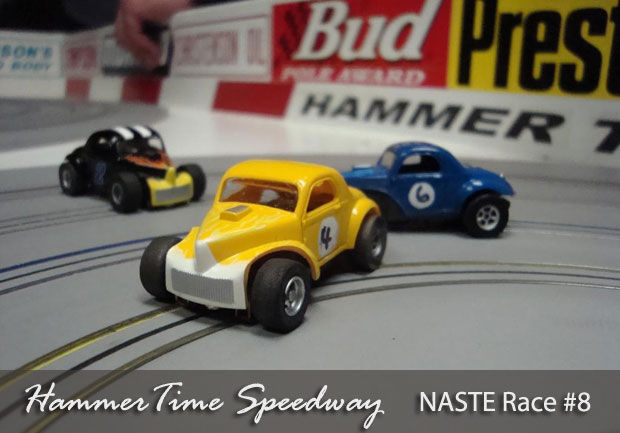 The Hammer Time Speedway was host to the 8th round of the 2014 NASTE season with twenty racers coming to play. Our master of ceremonies Terry Abbott had set up two sets of HO cars for our racing pleasure, giant Detroit steel and old-school dirt track racers.
The first round introduced us to good ol' Detroit Steel and piloting the little cars around the track proved as tough as it was fun. In the first set of heats Russell Flood had the hot hand moving him into the main event just ahead of brother Thomas and Dorothy. And in the main event of the first set it was Flyin' Bryan Trachsel winning followed closely by home track favorite Terry with another HO stalwart, Dave Smith, taking a solid third.

NASTE Photo Archives Restored
Wednesday December 18, 2013

The other day a conversation came up about the construction of slot car track tables. I was describing the table I had built some years ago for my 8 lane T-Jet track. We decided to search for the photos of it's construction process which I had posted on our old NASTE site. To my dismay the photos were no where to be found. Today I searched through my archives and found those old photos, so I created a new photo gallery under the Slot-Tech section on this site. You can now check out the photos of the construction process of my old 8 lane Aurora Thunderjet 500 track.
In addition, I found many other old NASTE racing photos that were posted and now gone from the web. Since I am retired and it's cold outside, I made time to get them uploaded. You can see them all in The NASTE Archives located in the Gallery.
Check out the photo gallery of The Fray in Ferndale 2003. We attended this race, well at least part of it. Long story, and these are the photos I took while we were there. It is a fantastic event every HO enthusiast should experience at least once!

NASTE Race 7 - No Holds Barred!
Sunday December 08, 2013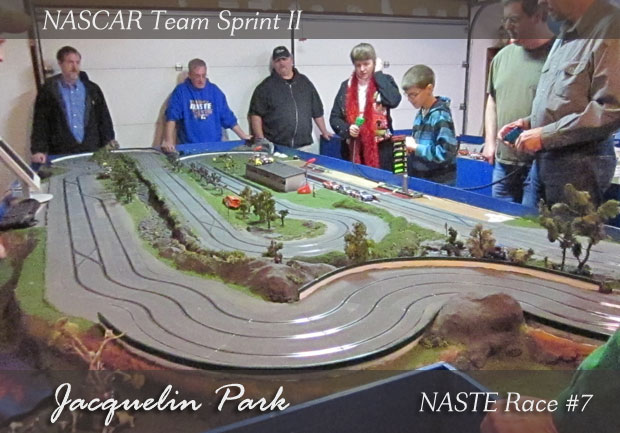 The Jacquelin Park Speedway was host to the 7th round of the 2014 NASTE, and once again it was a Team Sprint (mini-Enduro of 2 hours) with three teams driving each one of three SCX NASCARs IROC-style for 40 minutes. Drivers would rotate at each fuel change. And unlike the previous Team Sprint this one would not be subject to the 7-second speed barrier. No, it was pedal to the metal, damn the torpedoes and let it all hang out.
The thirteen drivers in attendance were arranged into three teams, rules were discussed, and Monte demonstrated that driving into the pits does count your lap.
Once the racing started, the action got fierce. At the 50-lap mark, all teams were on the same lap! Slowly Thunder Hammer moved out to a lead only to be overtaken by Crash 'n Bjorn. Eventually The Hairy Men moved into the lead. By the end of the first 40 minutes, The Hairy Men had an 11 lap lead over Thunder Hammer, with Crash 'n Bjorn another 10 laps back.

NASTE Race 6 - The Big Breakout!
Wednesday November 27, 2013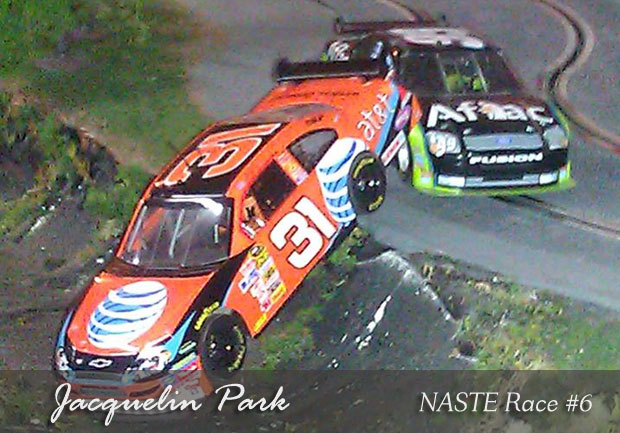 The idea was sound - the Jacquelin Park Speedway would host the 6th NASTE event of the season, a mini-Enduro of 1.5 hours with three teams driving each one of three SCX NASCARs IROC-style for 30 minutes. Drivers would rotate at each fuel change. It would be another opportunity to test the new RamJet-X controllers for SCX Digital.
What the lucky fourteen drivers in attendance didn't count on was the interesting breakout format that would be deployed. Yes, as it turned out, a 7-second minimum lap time had been installed and as the team of The 5 Storms started sending their car around the track at record pace during the first session none of those laps were being counted!

NASTE Race 5 - Tripping in Salem
Friday November 15, 2013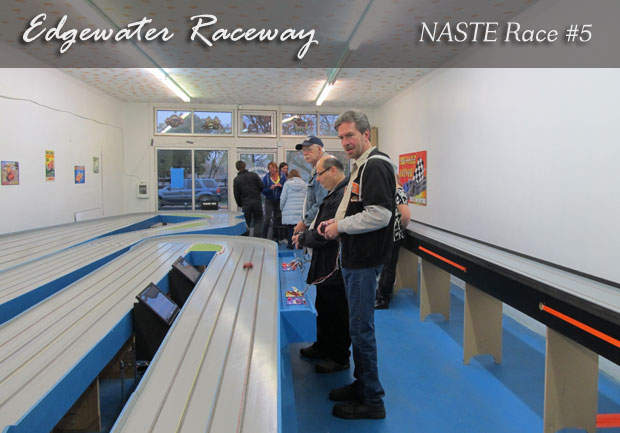 Race day, Saturday November 9th
Edgewater Raceway is a four lane routed commercial 1/24 track, built by Paul Painter. It features long straights, a steeply banked 180 degree turn, and some deceptively tricky ess curves. Dave Smith had prepared four identical Parma FCR cars for the IROC style race, and Parma Turbo controllers were in place for an "old school" feel.
But, the first order of business was dinner. The NASTE racers met at Garibaldi Mex, the restaurant located next door for some excellent Mexican food. After we all had full tummies we gave racing some thought and went back next door to the track.

NASTE Race 4 - A NASTE Halloween
Wednesday November 06, 2013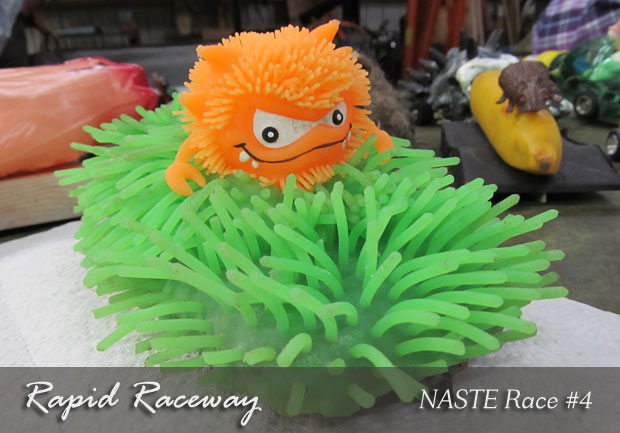 Happy Halloween - Slot Cars Dressed To Kill!
Rapid Raceway in northeast Portland was the host track for the Annual NASTE Halloween race for 2013. This was the second consecutive year the race was run on the 1/24 Rapid Raceway track and this year's race broke recent attendance records with twenty racers in attendance.
Entries for the NASTE Halloween races are always unique, and this year there were some outstanding examples! Also included were some previous vehicles that had not seen track use in years (brought back to life shall we say)!

NASTE Race 3 - Fords of Fairview - Anything But Too Bad!
Monday October 21, 2013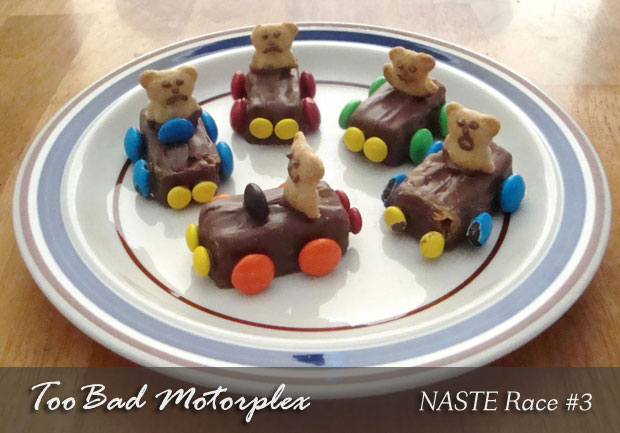 TooBad Motorplex in Fairview hosted the third race of the 2014 NASTE season. Race date was October 12th, 2013. The day started out warm and just kept getting hotter once the racing started.
Twenty-two racers turned out to compete on Bill Bostic?s exciting three lane routed track. Bill had selected three brand new Scalextric GT40s for the evenings racing pleasure. The cars were so new they were actually stock, with only a light sanding of the rear tires.
Up first was the NASTE Challenge race for amateurs.

NASTE Race 2 - A Triple F Night
Monday September 23, 2013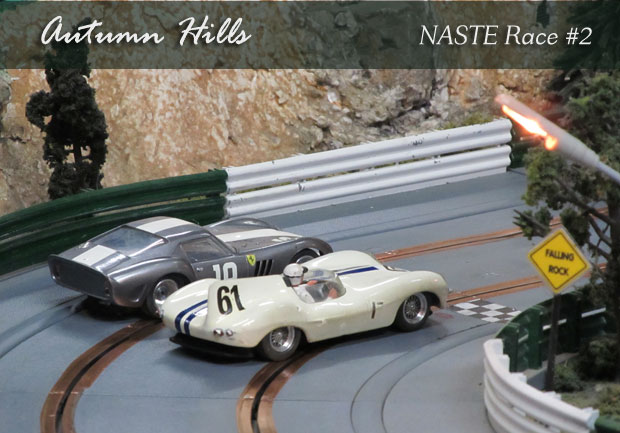 A fantabulous night of racing that had it all:
Fickle Fiats of Fate- check.
The evening started off with a few surprises in the form of old friends, three to be exact. It was great to see Frank, Randy and Tim back at a slot car race. They certainly are welcome anytime we race. After getting reacquainted and some track time it was announced it was time for dinner and what a feast it was. The theme was Oktoberfest and it lived up to the billing with two kinds of sausage, German coleslaw, potato salad, sauerkraut, pretzels and strudel. The only thing missing was Oompa music and leder hosen. Thank you Kelly!

Gallery Photo Updates!
Monday September 23, 2013
Take a look in the Gallery for updates to the NASTE 2014 Racing Season, and Rico's Rides albums.



NASTE Race 1 - 2014 Season Opener
Tuesday September 10, 2013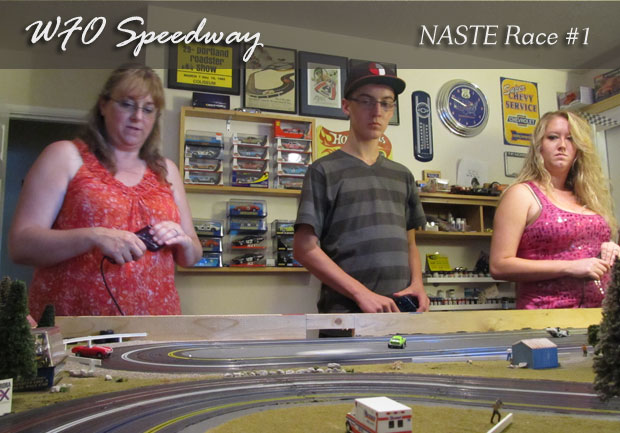 The NASTE 2014 Season opener was one of the most closely contested races to date. We had thirteen racers on hand at Bryan Trachsel's WFO Speedway, seven experts and six amateurs. WFO is a four lane Tomy HO track that is tight and tricky but fast. The Full Monte format was used as Bryan had prepared four Aurora Thunderjet 500 AC Cobras for the first race, and four Aurora Thunderjets with muscle car bodies for the second race.



NASTE Race 15 - It's Hammer Time!
Tuesday June 04, 2013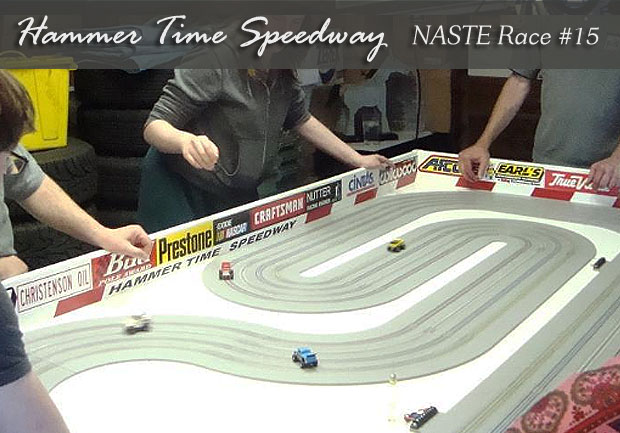 May 25th was the date for the final race of the NASTE 2013 Point Series Championship. Nineteen NASTE racers converged on Terry & Dorothy Abbotts newly opened "Hammer Time Speedway", a very appropriate name for their tight & twisty, but fast 4 lane HO track.

Terry had a surprise for everyone in the first race of the evening. MONSTER TRUCKS! Yes, Monster trucks! These things behaved like Monster trucks! But man, were they fun. Monstrously so!



NASTE Race 14 - The Power Stallions
Tuesday April 30, 2013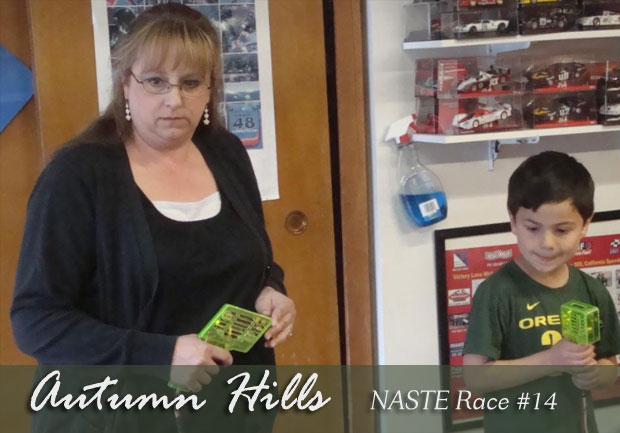 On Saturday April 27, twelve racers took to the track, controllers in hand for his season's final trip to Autumn Hills Raceway in Milwaukie.
Our track host Rico supplied some new cars for our racing pleasure that ranged from mighty Detroit steel to those exotic cars from Stuttgart.
In the first round of two-minute heats the Detroit Steel was on display in the form of thoroughbred stallions - Scalextric Camaro's! They were quick, they were loose, and they were a lot of fun.
Turning some fast times, Terry "the Mailman" Abbot stormed to an early.

NASTE Race 13 - Thirteen is the Number!
Monday April 15, 2013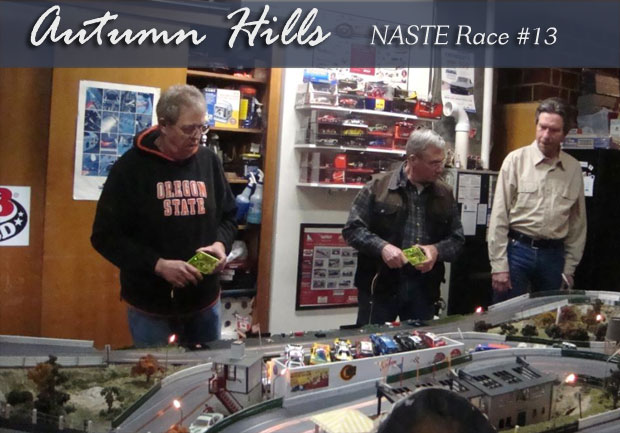 On Saturday April 13, the thirteenth race of the 2013 NASTE Point Series was held at Rico Locati's picturesque Autumn Hills Raceway in Milwaukie.
Sixteen racers took up the challenge to race two rounds of two minute heats, driving gorgeous Scalextric Ferrari's in the first race and rapid Ninco DTM?s in the second. The racing spanned the gamut from close and intense all the way to close and hysterical.
In the first round we were treated to a pair of pristine Ferrari 330 P4's. The looked fast, in fact they looked like they could fly. And soon it was apparent that they could as Tracy launched one nearly into orbit. After touch-down, the offending Ferrari was returned to the track where it happily continued for the remainder of the evening none the worse for wear. In another heat neither driver could get the hang of their car sliding off the track on nearly every corner for a few laps until they settled down to just most of the corners.

Let's Get Ready to Rumble!
Friday April 05, 2013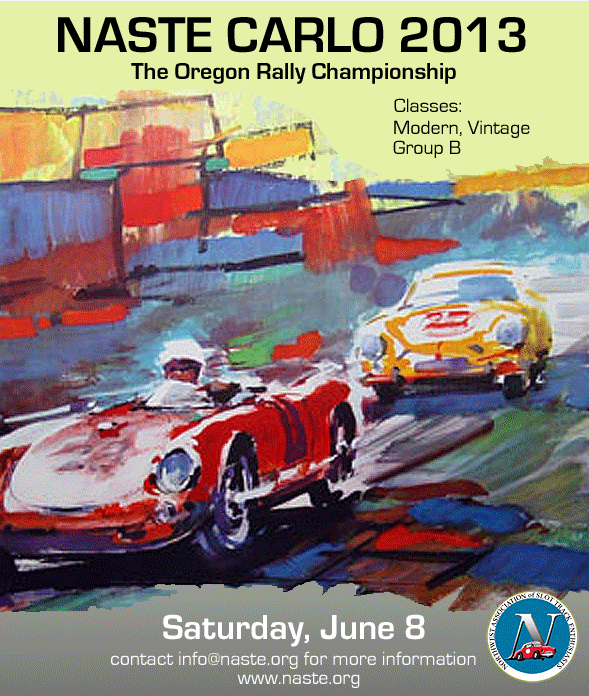 Come join us for a fun day of rallying around the greater Portland area. The NASTE Carlo will take place on a multitude of different tracks with your individual stage times being totaled to determine overall and class placings.
Last years overall winner was not decided until the final run of the final stage and then the difference was a mere two seconds!
Three classes are offered:
Modern, Vintage and Group B.
Contestants are limited to two entries either in the same class or split between different classes.

NASTE Race 12 - The Italian Job
Sunday March 17, 2013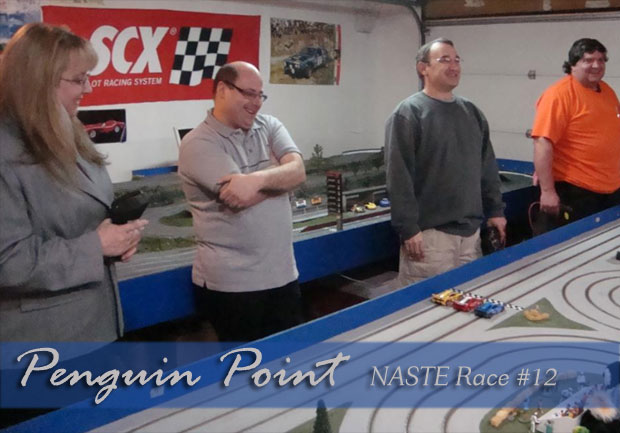 Fourteen friends of the slot came to Monte and Victoria?s Penguin Point for the twelfth NASTE race of the 2013 season this past Saturday evening.
This is the third time we've been to the Pen this season. Close racing is typically the norm and there would be no exception on this night.
For the first set Monte selected one of his favorites - the Ninco McLaren's. And as the flag dropped it was clear that there would be no traction problems. In fact the red car in the center lane could wheelie right out of the slot off the start line as more than one driver learned the hard way.
Some of the tighter turns at the Pen can elicit a little hop so managing that can be a priority. Those that did manage made good time while those that didn?t had a lesser result.
Finding the fastest way around the course and keeping the car pointed in the right direction was Monte "the Big Smooth" with a 1 lap lead over Flyin' Bryan. Bill followed in third just one tenth behind.
Dorothy "the Hammer" led the ladies division followed closely by Victoria and Sherry with Russell besting Todd in the junior division.
For the night's second set the gloves came off and out came the Ninco Mini's. It's The Italian Job - NASTE style. Oh brother?

NASTE Race 11 - MAGNETS! Too Bad.
Monday March 11, 2013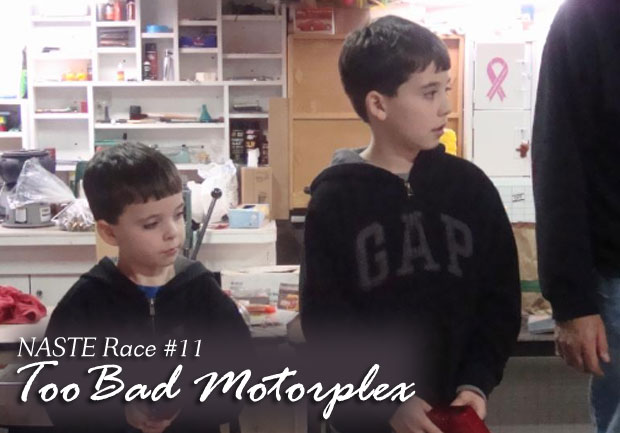 This past Saturday evening sixteen racers came to Bill Bostic?s Too Bad Motorplext to take up the challenge of the eleventh NASTE race on this year?s calendar.
This is the third time we?ve been to Bill?s this season. The first two times we raced the Fly cars but not this time. No, Bill had set up some Scaley Mustangs with magnets! Yes, WITH magnets. On the plus side, they did run really well. But magnets? what is this world coming too?
As the flag dropped it was apparent that some were taking advantage of the power of those magnets and running with relative abandon while others were running a little more like abandoned relatives.
In the first set it was Terry ?the Mailman? Abbott coming home first followed closely by Flyin? Bryan Trachsel and Tracy Flood in third. Tracy was heard to comment after the set ?I do pretty well when they give me a magnet?. Yes indeed.

NASTE Race 10 - The Night Off Road Died
Wednesday February 20, 2013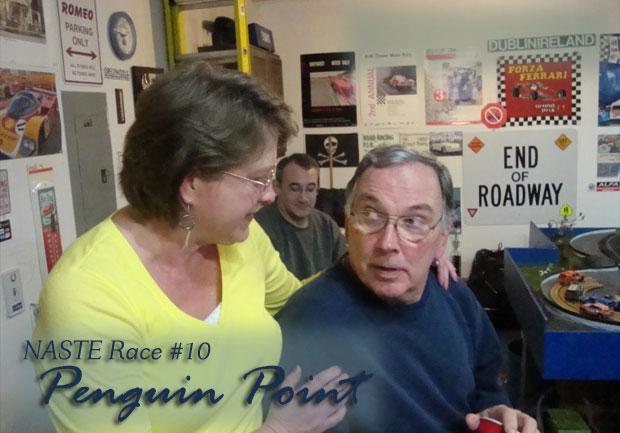 The tenth race of the season brought twenty racers to Hillsboro for a fun night of off-road racing. Or so we thought? As bad luck would have it after a week or so of setup and testing the track developed a severe power issue rendering it basically useless.
As good luck would have it, a small group of volunteers made quick work of the off-road track removing it to once again reveal the underlying Penguin Point track while the others were feasting on pizza and sweets. And in an even more fortuitous development, Rico had brought some nice Professor Motor controllers so the racers wouldn't have to spend the evening complaining about mine. Things were looking up after all.

NASTE Race 9 - The 55 Chevy's
Thursday February 14, 2013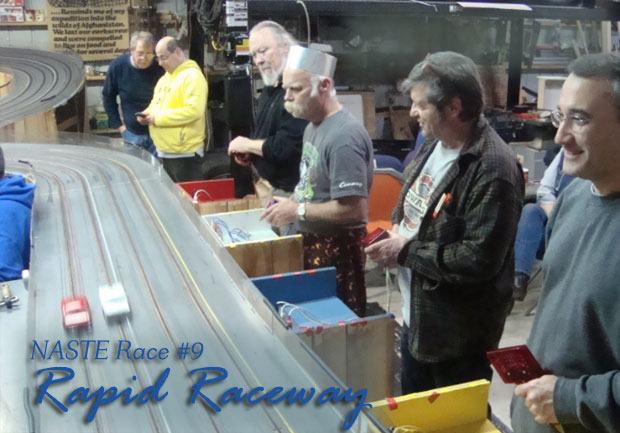 Gary "Howie" Howard graciously made Rapid Raceway available for the return of the NASTE '55 Chevys in this the 9th race of the 2013 NASTE Point Series Championship.
The racers in attendance brought pot luck dishes to start the race night out with some NASTE style face feeding. After we were all satisfied with full stomach we got down to some serious Chevy bashin'.
As usual with the NASTE '55 Chevys the racing was very close. There was a lot of bumpin', nerfin', and plain ole crashin', much to the delight of all those watching as well as racing.

NASTE Race 8 - The NASTE Digital Enduro
Saturday January 19, 2013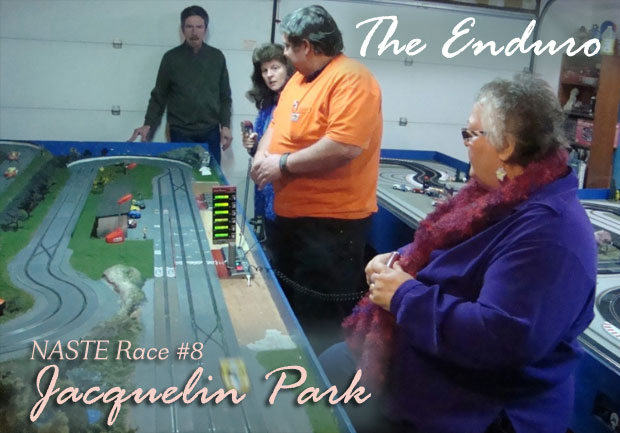 This past Saturday evening thirteen brave souls came to the Jacquelin Park Speedway in Hillsboro for the annual NASTE Enduro.
Originally scheduled for three hours, we found that talk got in the way and by the time we finally got started we settled for three 45 minute heats.
The stallions of the evening would be three of SCX finest Ferrari?s - two 360 Modeno?s and an FXX. Once teams were announced and driving orders established the flag dropped and cars left the starting line for 135 solid minutes of exhilaration. As the night wore on drivers would battle for position both on and around the track.
Early in the first heat Team One?s car developed some slow-ness causing them to fall quite a ways behind. After a little braid adjustment the car seemed to return to top performance. But by then the damage was done as Team One had fallen well over 20 laps behind. At the end of the heat Team Three held first with Team Two just a few laps behind.
In the second heat, Team One was unable to close the gap much still trailed by 24 laps while Team Two sped past Team Three to take an 8 lap lead heading into the final set.
Can Team Two hold the lead?

NASTE Race 7 - Attack of the T-Jets!
Tuesday January 08, 2013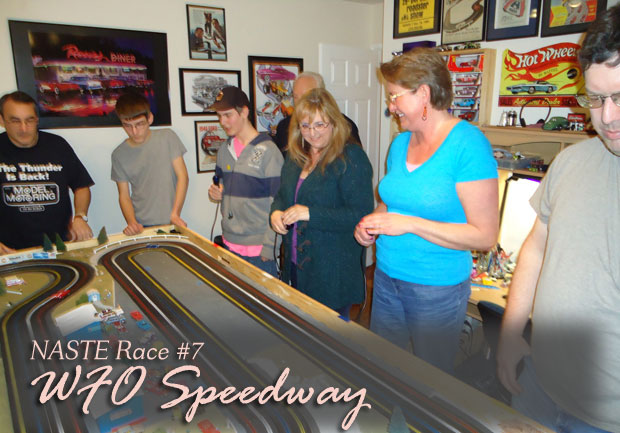 This past Saturday evening a fantastic group of eighteen NASTE Racers met at Bryan Trachsel's WFO Speedway in southeast Portland for some HO scale IROC racing.
For our enjoyment Bryan had prepared four Aurora Thunderjet 500 cars with AC Cobra bodies for this point series race. The first round of racing was very exciting as racers became familiar with the speed and handling of the T-Jet cars. But by the second round a few things became obvious...

NASTE Race 6 - Welcome Back My Friends!
Thursday December 27, 2012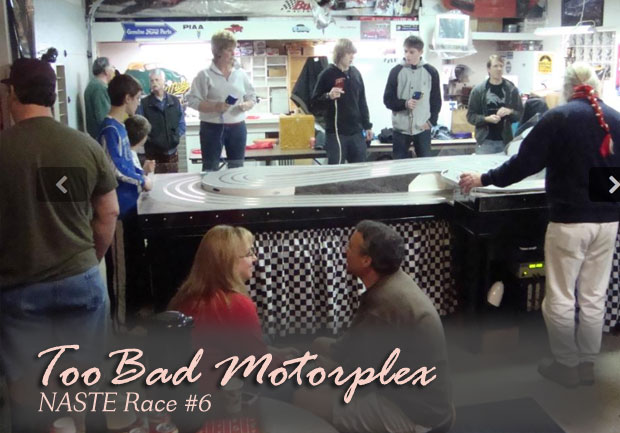 On Saturday December 8, an outstanding field of twenty-three racers came to Bill?s Too Bad Motorplex in Fairview to contest the sixth race of the 2013 NASTE season.
With so many racers we shortened the evening to be a single set of heats featuring the same Fly LMP cars that we had raced previously though Bill did say some weight had been added. The cars were once again solid. And once again tight racing was the order of the night.

NASTE Race 5 - Battle of the Fly LMP
Wednesday November 28, 2012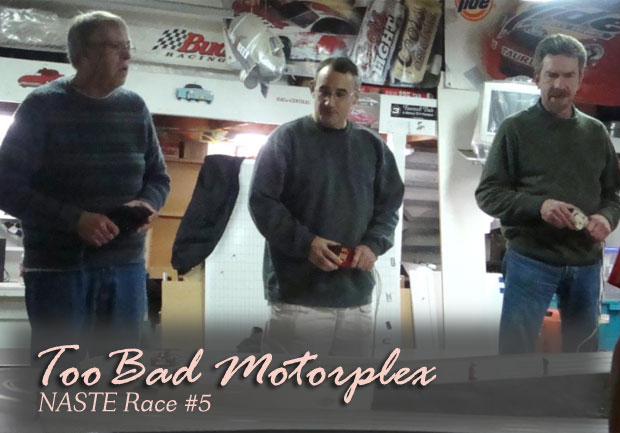 On Saturday November 24, a fine field of sixteen racers came to Bill?s TooBad Motorplex in Fairview to contest the fifth race of the 2013 NASTE season.
The race consisted of two rounds of two minute heats featuring Fly LMP cars. The cars were solid but a little wiggle here and there could prove costly. And for the second race in a row tight racing was the order of the night.

In the first set it was Terry ?the Mailman? Abbott off to an early lead with another six racers but a lap back. It doesn?t get much closer than that!

Could the mailman hold on to such a slim lead? And what about the track owner, where was Bill?

NASTE Race 4 - Lord of the Fly's
Tuesday November 13, 2012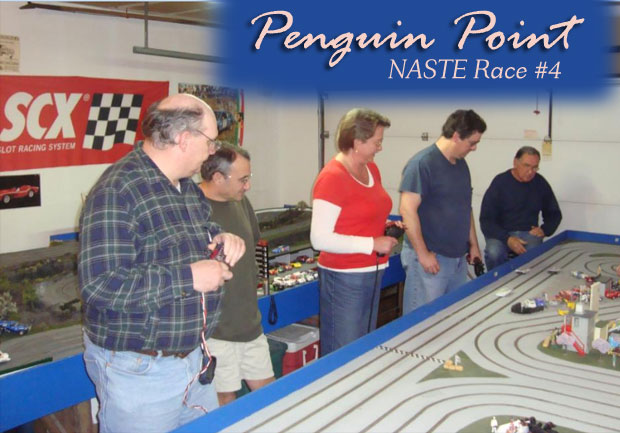 On Saturday November 13, the fourth race of the 2013 NASTE Point Series was held at Monte and Victoria?s Penguin Point Raceway in Hillsboro.
The race consisted of two rounds of two minute heats ? full Monte style. In the first set the racers sped Ninco McLarens around the track.
Tight racing was the order of the night as the cars were so close together they would spend much of the race as a pack. And the cars ran flawlessly leaving racers nothing to complain about with the exception of one of Monte?s controllers. First among the complainers was Flyin? Bryan Trachsel followed in second by Terry ?The Mailman? Abbott with Bill Bostic in third. In a surprise move, the track owner had slipped to fourth place! But would this trend continue?

Happy Halloween - The Race Report
Wednesday October 31, 2012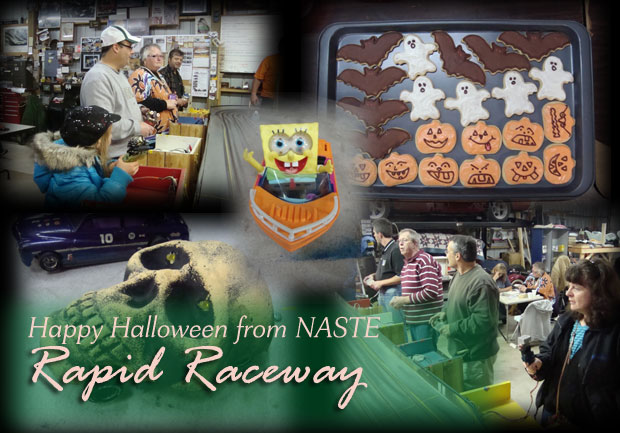 This past Saturday evening the annual NASTE Halloween Race was held at Rapid Raceway in Portland.
In typical NASTE tradition, the cars all came costumed! The drivers, not so much. And among all the talk, good food and friendship some racing occurred. Flyin' Bryan won by a whopping margin with Rico in second and Howie in third. The rest of us were so far back it doesn't even deserve mentioning. However, the food was great and plentiful and that's all we better say about that. You should have been there...
A big NASTE thanks to Howie for having us over.

NASTE Season 2013 Race No. 2
Wednesday October 17, 2012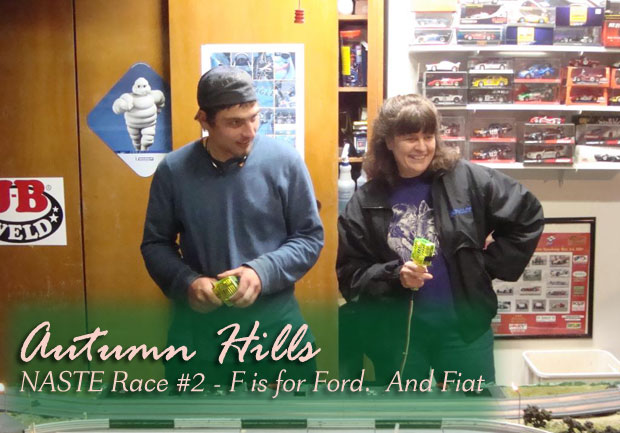 On Saturday October 13, the second race of the 2013 NASTE Point Series was held at Rico Locati?s picturesque Autumn Hills Raceway in Milwaukie.
The race consisted of two rounds of three minute heats, driving brand-new Slot.it Ford GT?s and those Fickle FIAT?s of Fate.
The racing was close and hysterical. The Slot.it Ford GT?s were rapid and solid while the FIAT?s were not. Once you get a FIAT hopping, it?s hard to get it to stop. In fact it?s a little like riding a bucking bronco bareback. Ye-haa!

NASTE Season 2013 Opener
Monday October 08, 2012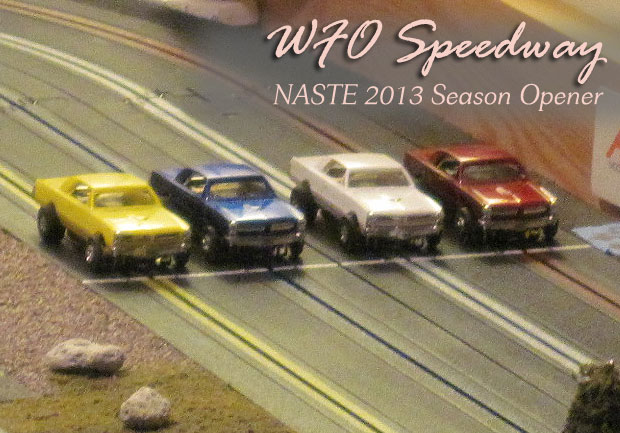 On Saturday September 29, 2012 the green flag dropped to signal the start of NASTE's 17th consecutive racing season. The opening race for the 2013 NASTE Point Series was held at Bryan Trachsel's WFO HO track in southeast Portland. Pizza and snacks were on hand to start the evening.
The race consisted of two rounds of three minute heats, driving Aurora Thunderjets with Dash GTO bodies.
The racing was fast, frantic, and hectic.
Breaking out to a first set lead was Flyin? Bryan with more than a lap on Monte in second and Terry in third.

NASTE Tuesday Nights
Sunday September 09, 2012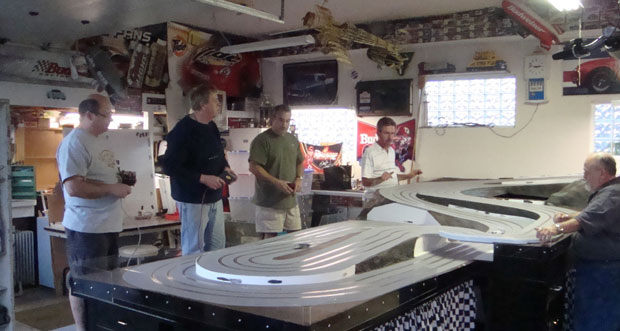 If you are looking for the best in entry level racing in a run what you got format then NASTE Tuesday Nights are the place to be!
With a couple of wide-open classes most everyone has a car or two that fits. Beginners even get to run with a magnet until they're ready for a more challenging experience. And there's always plenty of extra cars and controllers at each location so don't be bashful, come join in the fun of slot cars.
Come spend Tuesday night with NASTE, you'll be glad you did. Check the schedule for dates and locations.

Beaverton Winter Series Dates Announced
Tuesday September 04, 2012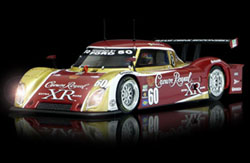 The Beaverton Slot Car Club released their winter schedule with 15 race dates planned for every other Tuesday night beginning with the season opener September 25th.
This year the are offering two different classes. Those that choose the STOCK class will select from a variety of Slot.it cars with a set of very minor modifications allowed. You can check the web site for a complete list of cars and rules for this class.
For the more advanced racers and tuners there is the MODIFIED class that will use the Racer Sideways DTP cars with quite a range of modifications being allowed. From what we've learned it shouldn't matter whether you pick a Riley or a Dallara they should all be competitive.
And what's more, there's a new track layout with a few more twists and turns. I don't think we'll be seeing 7 second laps any time soon.

The NASTE CARLO Review
Saturday July 07, 2012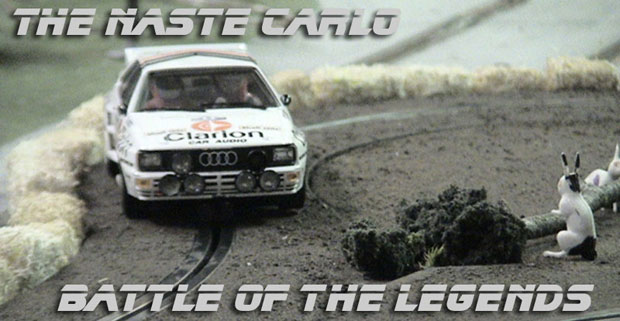 The weekend of June 16th saw fire-breathing rally cars from the past join their more modern brothers in a fierce contest of car and driver skills at the Oregon Rally Championship aka the NASTE Carlo.
The NASTE Carlo gave 1:32 scale rally-style slot cars an opportunity to run an event befitting their nature. Competition took place on four different tracks at local Portland area locations all on the same day. The winning car had the lowest combined time from all the tracks. And these tracks tested rally cars no super speedways or ovals here.
Early that Saturday morning entrants from both Oregon and Washington arrived at Ricos Autumn Hills in Milwaukie.

NASTE Race Night 11 - Autumn Hills
Tuesday May 15, 2012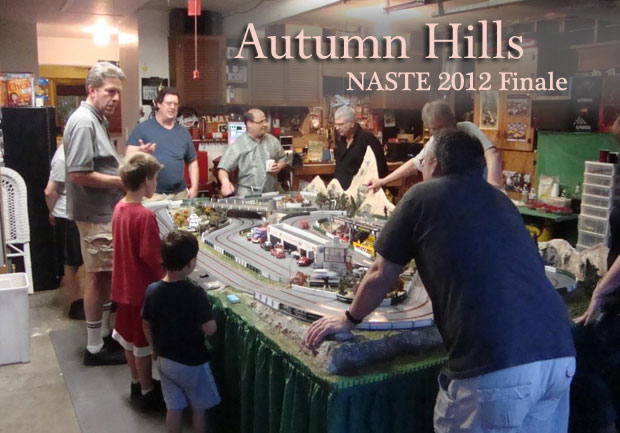 The final race in our 2012 season brought fourteen racers to Rico Locati's Autumn Hills Raceway in Milwaukie this past Saturday evening.
Ricos track is a tight and twisty trek through the beautiful countryside complete with gorgeous fall colors. There's an off-camber corner on one end and a squeeze corner on the other to keep drivers on their toes. It's a fun track to race on and the action is always close and exciting.
Rico had brought the Fickle Fiats of Fate out for another night of NASTE fun. Though not the fastest cars we run, they certainly are well matched. Smooth driving is important here. A few offs can make a lot of difference.
In the first set Rico ran a near-perfect run to finish with 47.5 laps. Monte was second a lap down with both Bill and Bryan close behind.
Would Rico's lead hold up?

NASTE Race Night 10 - Boss Slot
Wednesday April 25, 2012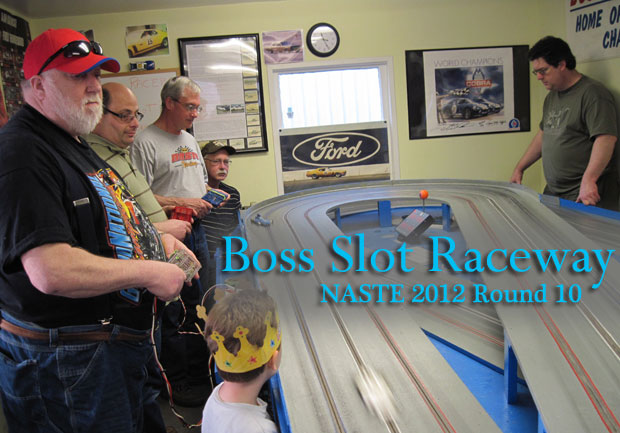 The tenth race night in our series brought eleven racers to Larry Cockerham's Boss Slot Raceway in Carlton this past Saturday evening.
Larry's track - the Slingshot - is a fast track with four straights connecting four high-speed turns. The cars sail around the track at a frantic pace and it is easily the fastest track we've raced all year.
For our racing pleasure Larry had set up three 1:24 scale hard-bodied open-wheeler cars that he'd recently constructed with brass chassis and Parma motors. These are also the fastest cars we've raced all year. But despite being quite fast they were not unmanageable. So armed with a fast track and some fast open wheelers the NASTE gang was in for a wild night!
And it got there in a hurry as drivers struggled with the difference in lanes, cars and controllers. As the evening wore on we all adjusted and as a result the cars took a beating.
Taking the lead through the first set with a fine set of runs was our host Larry with 97 laps. Bill was just a lap behind with Monte another lap off the pace with Rico and Terry sitting at 91. Could anyone best Larry in the second set or would the Curse of the Track Host return to haunt us all?

March Madness at Rapid Raceway
Monday April 02, 2012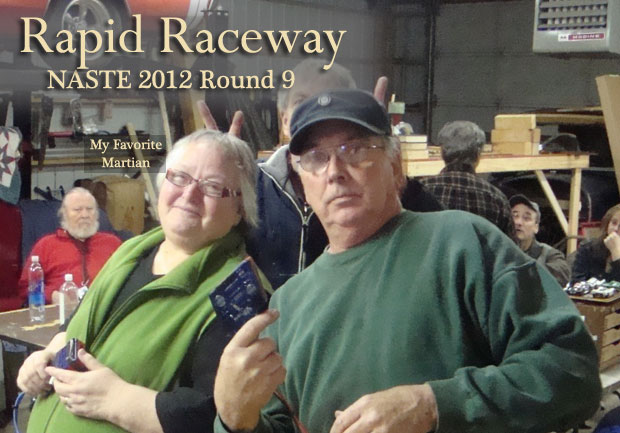 Fifteen racers braved the end of the March monsoons to race the NASTE 55 Chevys at Rapid Raceway.
Howie had the track cleaned, Bryan and Bill tuned the cars up and the ladies brought a table full of goodies to munch on. This is the largest track we run on, and everyone was anxious to throw the cars around that big banked corner.
Once the racing got underway, we quickly found out passing a car on the inside of a curve could be just as dangerous as passing on the outside.
When the first round was over, the drivers relaxed while the lap counts were totaled. A tight pack of experienced racers found themselves down by almost two laps to Rico Locati.
Could anyone catch Rico? And what about the track owner? Was there another shoe about to drop?

SCX Breaking News
Friday March 30, 2012

Times are tough all over, especially in Spain. For those of us that are fans of SCX cars and track systems this has meant slow delivery times for new product plus fewer offerings in general. For the Digital System users, it has been years since a new feature has been announced. While other systems have gained new features, SCX has failed to keep pace.
Perhaps help is on the way. Word out of Spain today is that Tecnitoys is being purchased by a much larger Spanish toy company with production headed back to Spain.
This can only be good news.

NASTE Race Night 8 - Riverside Raceway
Wednesday March 21, 2012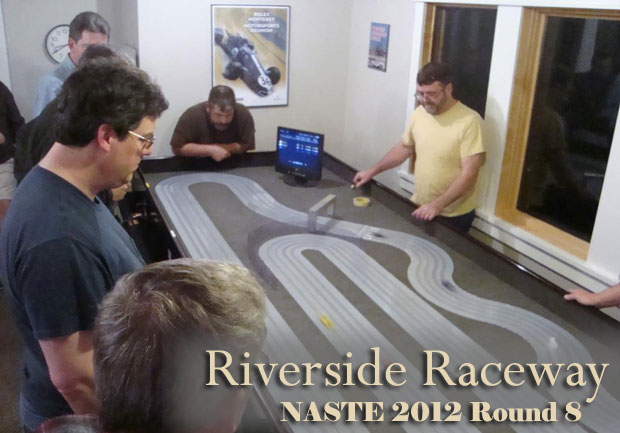 Little cars made another appearance as twenty racers came out to Andre Perra's Riverside Raceway.
Andre and wife Suzanne treated us to a fantastic night of racing and an excellent feast prepared with a St. Patty's theme. Andre has a beautiful HO scale track, smooth as silk! As it turned out, Andre had selected cars that were both fun to run and easy to handle. The nights hot-rods were what the HO gang refers to as Slow-Jets- probably just our speed. And as the evening wore on and the racing progressed it became more interesting by the minute, if not longer.
In the first set controversy erupted once it was determined that the tires had only been cleaned prior to the start. As the heats went by the discrepancy mounted. It was determined that in the next set the tires would be cleaned prior to each heat.

NASTE Race Night 7 - WTG Speedway
Tuesday February 28, 2012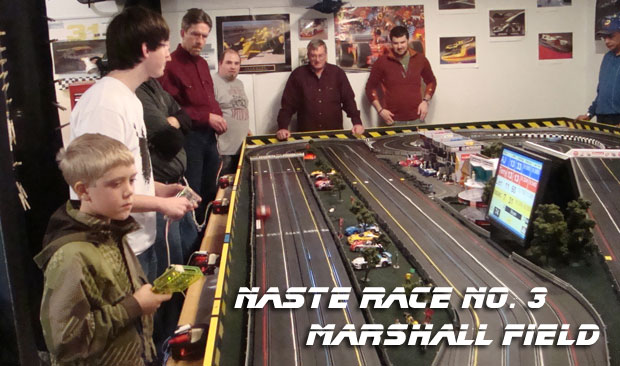 Little cars returned to the NASTE schedule for another night as Flying Bryan entertained us with a field of T-Jets in American Steel trim. The cars were fun to drive, but as is typical for a NASTE race, trouble is not hard to find. And find it we did!
Starting off the evening, our fearless leader Flying Bryan set a pace that looked like no one would touch him. After the first set the Flyin' one held a 4+ lap lead over Dave Smith in second with Rico in third.
Would this be another night of the track host?

NASTE Race Night 6 - Marshall Field
Monday February 06, 2012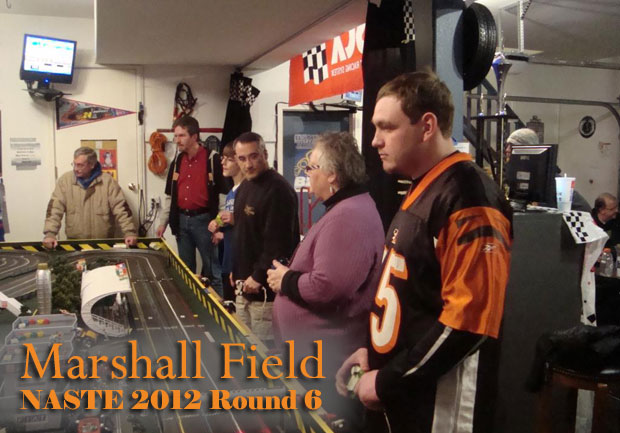 A hard-charging field of nineteen racers turned out for the sixth event of the 2012 NASTE season held on Randy Stumman's four lane Scalextric Sport race track in Beaverton. The cars for the evening were well-tuned Slot.It C-Class racers.
Voltage was set to ten volts and the racers were off for two tightly contested sets.
Laying down the hot pace in the first set of heats was Bill Bostic with 88 laps followed closely by Byron Stumman and Rico Locati but with a total of five racers within three laps of the leader the final set offered opportunity for both triumph and defeat. And the question on everyone's mind... what about the track owner? After the first set Randy was firmly in eighth. Would the curse of the track owner finally be lifted?

NASTE Race Night 5 - Return to Hemi Heights
Thursday January 19, 2012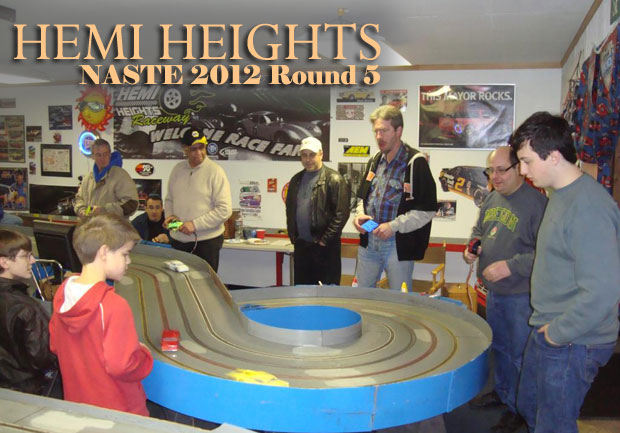 The NASTE 55 Chevys returned to duty for the fifth race of the NASTE 2012 Championship.
Jeff Courtney's 1/24 scale four lane routed track hosted the race for the group of racers.
Dorothy "The Hammer" provided us with some of her finest calorie work to date. Her delicious cakes molded in shapes of cars and trucks were just too cool! As for the racing, three minute heats were run which allowed the new racers time to adjust to the challenging cars, and allowed the veterans time to re-familiarize themselves with the Radio Shack power delivery.
Typical with the NASTE 55s there was some great crashin' and bashin', highlighted by well placed nerfs, and just plain "take-outs". Surprising to many of us was "The Hammer's" amazing (totally out of character I might add) super clean, super fast, precision racing style that took her to a great finish. The room was a buzz with comments of "is this the new Hammer?"; "Will a new nickname be required?"; "Where has our beloved Hammer gone?". It would appear the inevitable has finally happened; The Hammer is now a full-blown racer!
But even with her excellent performance she as well as every else was no match for the un-catchable Dave Smith.
Dave took the win with Terry Abbott and Bill Bostic in a tie for second. As usual racing the NASTE '55 Chevy's resulted in a very close field, narrowing the gap between the experienced racers and the less experienced.

NASTE Race Night 4 - The NASTE Enduro
Monday December 12, 2011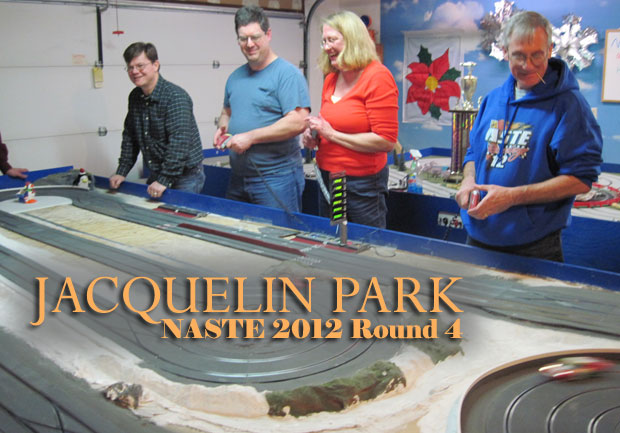 The fourth NASTE race of the 2012 season was held Saturday evening at Monte and Victoria's Jacquelin Park Speedway where a spirited group of fourteen racers came out on a cold winter night to try out the re-designed digital track.
After an hour of practice so racers could get re-acquainted with the digital format as well as do a little grazing at the food bar three teams were formed to battle it out Enduro style for the next two hours.
An Enduro is a little different than a normal heat race since the heat lasts 40 minutes. And a digital Enduro adds another feature as refueling is required lest your car stop dead on the track out of fuel and also out of the remainder of the heat. So periodically drivers need to pull into the pit area and refuel their cars to continue. At that point drivers are swapped, just like at Le Mans and Sebring.
Once the flag dropped Team One in lane one took the early lead. As the heat progressed, the lead stretched further and further. Would they run away with the race or was this just the first symptoms of an IROC race?

NASTE Race Night 3 - Fantasy World Hobbies
Wednesday November 23, 2011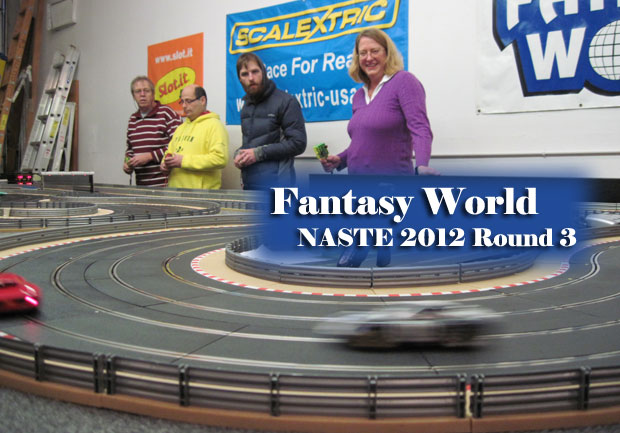 The third NASTE race of the 2012 season was held Saturday at the Fantasy World Hobbies warehouse courtesy of Tony Kuljis. Since that's about a three hour drive from Portland, Bill offered to pilot the NASTE party van and we filled it with eight willing souls. Mike Lombardi met up with us at Fantasy World where we were joined by local hot shoes Tony and John "The Professor" Powers.
The Fantasy World warehouse track is a 1:32 scale 4-lane Scalextric track of about 80 ft. The track has a nice feel to it with a set of S-curves and a good sized straight section to unwind. It doesn't take long to feel comfortable. On top of that, Tony had brought along his Racer Ferrari 250 LM's. We've raced them before - quality cars that are well tuned without being over-powered. What a treat!
After an hour of practice we got down to racing. Through the first set of heats The Big Smooth held a two-lap lead over Rico, The Professor and Tony with Bill and Drew another couple of laps behind. The girls were also charging hard with Victoria holding the lead over Dorothy The Hammer.
Could the Smooth hold off the locals?

NASTE Race Night 2 - Fast Times in Hillsboro
Wednesday October 12, 2011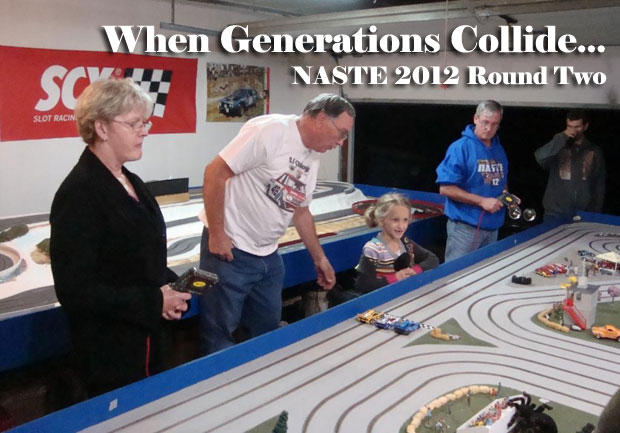 The second NASTE race of the 2012 season was held Saturday at Monte and Victoria's 1:32 scale track in Hillsboro. The Penguin Point track is a 55-foot, 3-lane, wood -routed track with full detailing. The surface grip is outstanding and beginners get the hang of it pretty quickly.
On this night twenty racers came to do battle. Monte had set up three of his Ninco McLarens complete with Slot.It running gear so there was none of that Ninco wheel tossing or as much tire hop. Instead what we got was fast and close competition as racers flung those little cars around the track with reckless abandon.
After the first set of heats Flyin' Bryan held a one-tenth lap lead over host Monte with Bill just a lap back and Rico close behind him. Would the home court advantage finally be overturned or could the Big Smooth come back and grab the win?

New NASTE Season Classes Announced
Tuesday October 11, 2011

After some discussion it has been decided to adjust the NASTE Season Scoring format. Here are the changes:
Class A: Men - 16 and over.
Class B: Ladies - 16 and over
Class C: Juniors - under 16
And also an added class for Rookies and that would include anyone that is entering their first season of NASTE events.
Points per race will be accumulated just as in the past. We'll just have a few more categories to add interest. The main NASTE trophy will still be awarded to the high points racer but we'll also be honoring those in the individual classes as well.
We hope you enjoy the adjustment.

NASTE Race Night 1 - Those NASTE HO's!
Wednesday September 21, 2011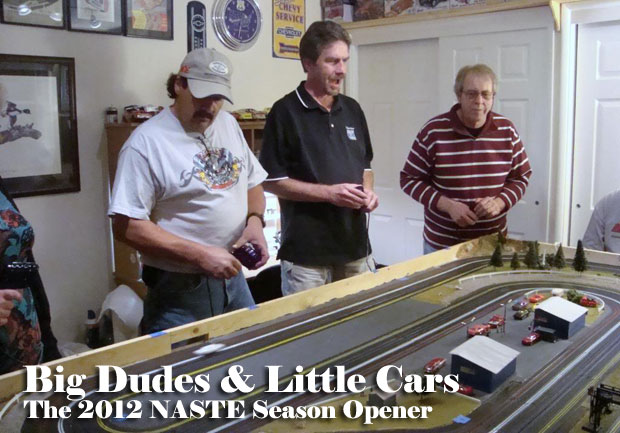 The first NASTE race of the 2012 season was held Saturday at Bryan Trachsel's HO track in northeast Portland. The track is a 4-lane plastic track fully detailed and a lot of fun.
For the season opener a fun group of twelve racers came out to do battle on the race track, swap stories, play a little scrabble, eat a bunch of great food and otherwise have an enjoyable evening. Bryan set us up with some cool looking Detroit steel autos that were not only easy to get the hang of but still required a fair amount of skill to really get the most out of them as Bryan would soon show us?

Ribs n' Racing 2011
Monday August 15, 2011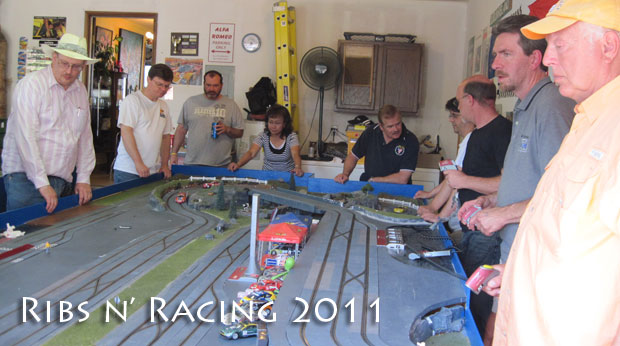 The sun broke out early on Sunday, August 8th as Monte and Victoria welcomed a large group of over 30 friends and family to the Jacquelin Park Raceway for the first in their annual Ribs n' Racing Spectacular. And spectacular it was! With a good group of racers joining us from the Tacoma area it was quite the party.
Monte and Victoria started preparing the Ribs on Saturday with an all day cook-a-thon, By the time lunch arrived Sunday, there were 7 racks of Ribs, 2 dozen dogs, and a large pot of meatballs. Add to that the myriad items brought by the racers themselves and it was a fabulous feast.
Most of those that survived the lunch hour were then divided up into 6 teams and for the next three-plus hours teams would battle the cars, the digital track, the heat and each other in a fight to the finish. As the racing progressed, teams started to get in the flow and find their rhythm.
A digital track is somewhat different from a typical slot car track in as much as 6 cars run on the two and three lane track. There are multiple locations to change lanes and cars need to be re-fueled lest they stop dead on the track out of fuel. It can get quite hectic. However, by the end of the event, all the participants were smiling and a fun day seemed to be had by all.
Here are the final results:
1st: Team 3D - 410 laps - Fantasy World Tony, Derek Powers, David Harburg and Dave Demuth
2nd: Team NASTE - 406 laps - Bill Bostic, Terry Abbott, Steven Walker, and Drew
3rd: Team Numero Uno - 392 laps - Monte Saager, Randy Stumman, Dennis Hart, Victoria Saager, Larry Owens
4th: Team Red Devils - 391 laps - AJ Locati, Greg Gaub, Alex Gaub, John Baumgarter
5th: Team NO - 372 laps - Rico Locati, Tracy Flood, John Adams, Myrna Stumman
6th: Team Squisher - 323 laps - John Powers, Greg Petrolati, Dorothy Abbott, Jessica Saager
Thanks to all the attendees, we're already thinking about next year.
Sidenote: After the race, the next day the track was disassembled for a new layout.

NASTE visits Family Day at OHS
Wednesday June 22, 2011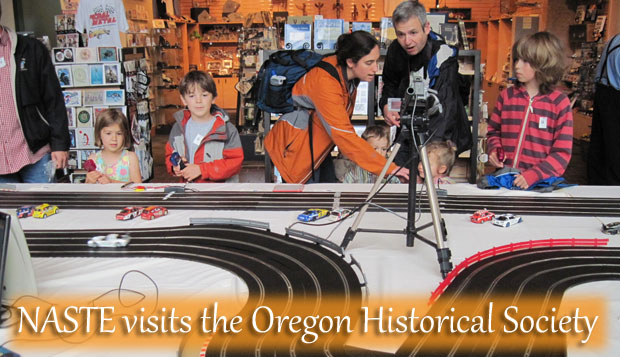 This past Saturday a team of NASTE volunteers attended the Family Day portion of the Oregon Historical Society's Pedal to the Metal exhibit. But they weren't there just to view the exhibit, no, there was a more sinister purpose. For there mixed among the fantastic racing cars from a wide spectrum of Oregon's past were slot cars! And a slot car track!
The previous afternoon Rico, Victoria and I had gone in and set up a 4 lane track complete with timing system. Within 90 minutes of starting we were ready to go. About 11am the next morning Greg joined us and for the next four hours we proceeded to entertain children of all ages.
And we were a hit. In fact we had one family come in and start playing with the cars and track and about 40 minutes later one of them asked if they should tour the rest of the museum or just spend the day there. They stopped by again on the way out.
We set up a display case with some of our special cars and Greg spent some time talking with folks about the different cars and how we put them together.
We even had old slot racers stop by that were happy to relive the past. I had a few conversations with folks that were impressed with the newer cars and systems. More than a time or two I heard the talk that we'll have to go home and dig that set out of the attic.
On the nerd front, we had the notebook and video camera set up and operating as a lap counter. Worked pretty well and gives us an option of a mobile timing system for situations where there isn't one already.
Victoria even created a NASTE business card late Friday night and we set them out on the tables. I think most everyone that came by picked up one. We also mentioned all the local programs at every opportunity.
And just where did they set us up? Right inside the front door in the middle of the main lobby. Awesome!
The response that we heard was that this was the best family day they have had and it was because of us.
When we were packing up I mentioned to Mary that we'd be glad to come back some other time if they were interested. She seemed thrilled with that and told me that the rest of her workers had been asking her all day if she could get us to come back.
I would say it was quite a success.

NASTE Race 8 - The Sling Shot
Thursday May 19, 2011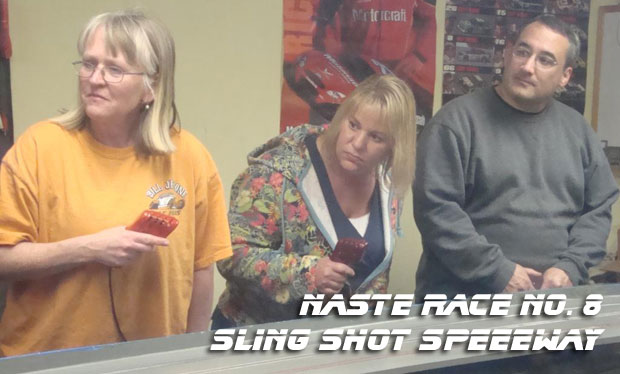 As the final race of the NASTE season dawned the race for first overall was a contest. Mostly?
The Big Smooth actually had the lead over past multi-year champ Flyin' Bryan but any chance of holding him off for the championship seemed remote at best. First, Bryan's a great racer and difficult to beat on the best of days. Second, the race was at Larry Cockerham's new Sling Shot Speedway which is a 1:24 scale track. Once again advantage Bryan. And since Monte would need to not only beat Bryan but do so by at least 3 points, the task looked impossible.

NASTE Race 7 - NASTE Night at Autumn Hills
Wednesday April 27, 2011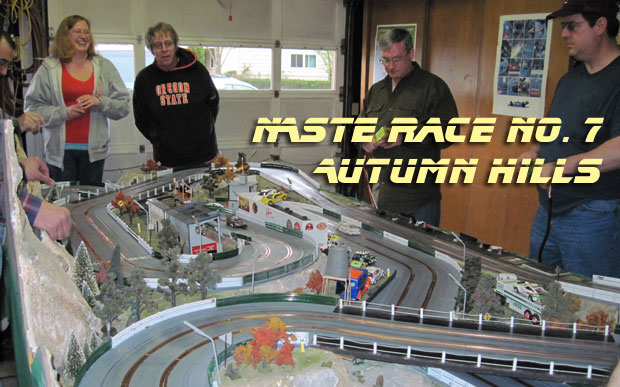 A small but spirited group of NASTE racers descended upon Autumn Hills Raceway in Milwaukie on Saturday, April 16th to engage in a series of spirited racing duels. Rico Locati armed the racers with Ninco's fine inline motored Mercedes CLKs, and Autumn Hills provided the racers with the technical challenge it is known for.
Monte 'the Big Smooth' and 'Flyin' Bryan started the evening off with a rousing first heat tie. To the inch. It would stay that close for much of the evening.

NASTE Race 6 - The NASTE Digital Enduro
Monday March 21, 2011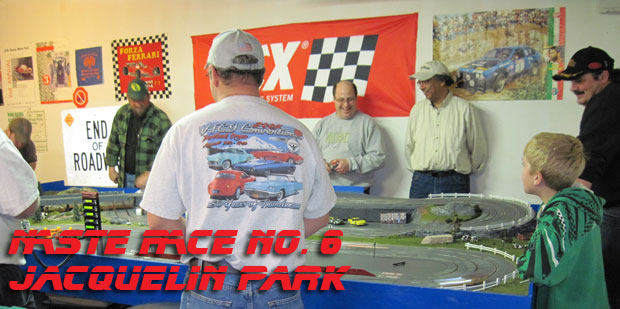 On Saturday, March 19th the third digital event in NASTE history was held at Monte and Victoria's Jacquelin Park Speedway - a three hour team Enduro. Seventeen racers came out to put the cars and track to the test. After an hour or so of getting used to the track, teams were arranged as fairly as possible.
For the race a set of 4 SCX Digital cars had been specially prepared by Monte. They were a pair of 550 Ferrari's, A 360 Ferrari and a Seat Cupra. All had been upgraded with Slot.It aluminum rear wheels and SCX Pro gears. Each team was also provided a stock backup car just in case their main car became disabled. (As fortune would have it none did, though Rico did manage to toss a front wheel. "Leave it alone, it's running better now than it was!")
After a few minutes to come up with some clever team names, driver order was established, teams took to the track, the cars were placed on the starting grid and the flag was dropped.
For the next 3 hours, mayhem would reign supreme.

NASTE Race 5 - The Fickle Fiats of Fate Return
Friday February 25, 2011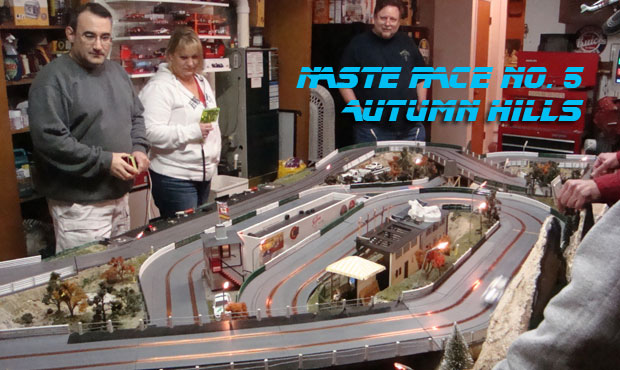 The fifth race of the NASTE season saw the return of two favorites of mine, the Fickle Fiats of Fate and racing under the lights. To top it of, there was also some close racing action going on among the amazing food display. It's always a fun night at Rico's.
Those fabulous Fickle Fiats got the first set of the night started and quickly reminded us of their tempestuous nature as some of the drivers induced the Fiat bounce enough to dislodge a tire now and then greatly reducing the lap count. There's a joke about cars going wop-wop but you won't hear it here. Those Fiats have always worked well for me and I was able to get just a little more out of them than Flying Bryan to take the win squeaking by him by about half a lap. Battlin' Bill Bostic rounded out the podium in third slipping by the track owner Rico by one tenth of a lap. That's close!
But there was still a second set to run. And there would be different cars and more chances. Who would make the most of it? And with three successive NASTE wins on the Autumn Hills track could the Big Smooth make it four?

Behind the Scenes: Ultimate Slot Car Race
Tuesday February 15, 2011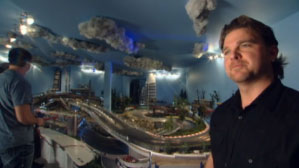 As we know, driving a slot car can be quite the challenge. You have to keep control through all the twists and turns of the track while also trying to out race your opponents.
Here's a Discovery Channel feature on Michigan's White Lake Formula 1 Ring. It's one of the most elaborate Slot Car Tracks in the world. Travel to the track in White Lake, Michigan to watch racers put some tiny pedals to the metal. And check out the other video's as well. Great stuff!

NASTE Race 4 - Those Jaunty Jalopies!
Thursday January 20, 2011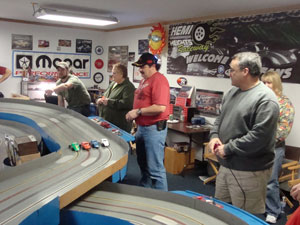 The half-way point in the NASTE season was greeted by torrential downpours as the weather turned aggressive. But the real aggression was being displayed at Jeff Courtney's Hemi Heights Raceway this past Saturday as an exceptional field of nineteen racers turned out to do battle with Jeff's wild and crazy 1/24 scale Jalopies. They look great but handling is a little less precise and cornering speeds were slow and treacherous.
After the first set it was Jeff in first with Flyin' Bryan in second and Dave Smith in third. Would Jeff be able to hold the lead and turn in another owner fueled win?

NASTE Race 3 - Ninco Night
Friday December 17, 2010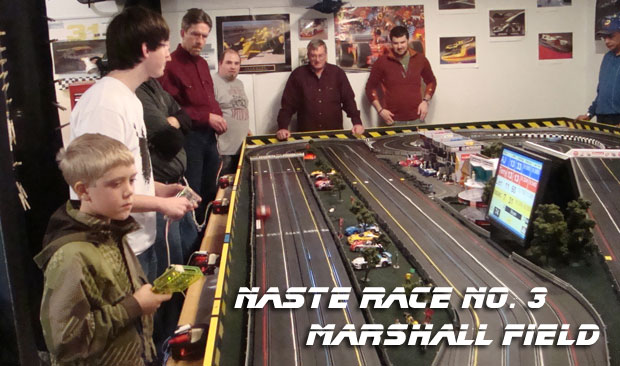 Brightly lit Christmas decorations provided a festive greeting to racers as they arrived at Randy Stumman's Marshall Field. A great crowd of eighteen racers came out for the third race in the 2011 NASTE series.
In the first racing set of the evening, Randy treated us to some fast and furious Ninco coupes. Racers worked hard to bring the Ninco magnet-rockets under control. Would the track owner once again come out on top? Click here to read more.

Second NASTE Race Goes Smooth...
Thursday November 25, 2010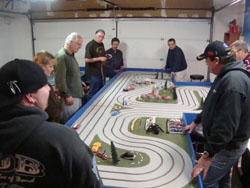 Penquin Point was the place to be for the second race in the 2011 Naste series. Monte provided some great cars, Victoria provided some great food and Dorothy brought treats for a special taste-test.


We had 12 drivers who gave the cars and track a good workout. This was possibly the smoothest event I've attended as there was never any downtime for track or car repairs. The only casualty was the continuous battering of a little track marshal and the hay bales he was trying to hide behind.

Take a Spin with Revell
Monday November 01, 2010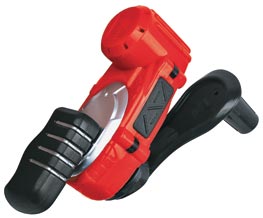 That's right friends, here's one we haven't seen before and I think we know why.
It's the Revell Spin Drive Controller. Finally a controller and track set that uses no wall warts or any other power supply save for the power of your right arm. Simply set your car on the track, crank the controller and watch it start to move. The faster you crank, the faster it goes. What a concept!
Here's a link, check it out. We'll now await a response from the Armstrong company. They must have something in the queue?

Jeff Courtney Wins NASTE Season Opener
Tuesday October 19, 2010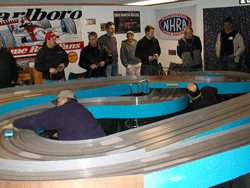 The first NASTE race of the 2011 season was held Saturday at the Jeff Courtney's Hemi Heights Raceway Park in northeast Portland. Hemi Heights is a 4-lane wood-routed track offering great racing for 1/24 scale cars.
A great group of sixteen racers showed up to put Jeff's set of IROC racers through their paces.
The NASTE cars are not extremely fast (being powered by RadioShack motors), but they are challenging and fun to drive!
The cars slip and slide around and it's a challenge to take a corner at a high rate of speed. Crashes were rampant as drivers laughed their way through two sets of heats. Its fender slapping at it's very best in the true NASTE tradition.

New NASTE Track comes to Boss Slot
Monday August 23, 2010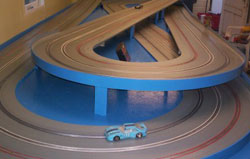 Late last week John Gill and I had the pleasure of touring Larry Cockerham's new three-lane routed track at Boss Slot Raceway in Carlton, Oregon. Nicknamed The Slingshot, it's capable of running either 1:24 or 1:32 scale cars on it's flat, smooth surface.
I took along a collection of cars from both scales to do a little testing and I can report that all of them ran around just fine. The track's wide-open layout with high-speed turns makes for some fast racing. This would be a great track for our 1:32 scale NASCARS. And Larry even used magna-braid so those magnet 1:32 cars worked really well too.
In talking to Larry about the build process, he mentioned that he was able to build the track within about a three week time frame. Judging from what we saw, it was time well spent. I'd say we can look forward to some great racing days out at Boss Slot in Carlton.

Flyin' Bryan Claims 2010 Crown
Monday June 21, 2010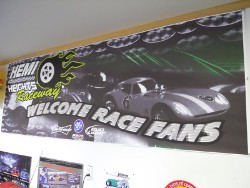 The final NASTE race of the 2010 season was held Saturday, June 19 on the Hemi Heights Raceway at Jeff Courtney's in Portland. The Heights is a four lane, wood-routed track. Featuring a fast, flowing layout - the action is always intense!
A super group of fourteen racers showed up to race the cars of the night - 1:24 scale Flexi's in two different flavors. Jeff Courtney prepared eight cars for the final race which consisted of two sets of heat races. In each set of heat races the racers had an opportunity to race a different class of car.

Professor's 4-Hour Enduro to Feature NSR's!
Tuesday June 15, 2010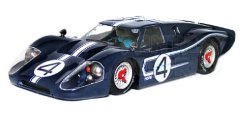 Once again it's time to head north for another of John Power's great events. It's the second in this years 4-hour Endurance Series. Scheduled for Saturday, June 26th, the Enduro is an IROC event and teams are based on known seeding. They race non-mag at 10-11v with a fuel management system on their 4-lane wood-routed track. Racing is always close and competitive.
The cars for this event will be NSR Ford MkIV's. These are excellent, high-dollar cars and it will be a treat to get to run them for the day!
We'll be putting together a group to go up to the next one in a few months so contact us if you'd like to come along. If you're lucky you'll even be able to slap a little plastic with Fantasy World Tony as well as other local racing legends.

AJ Has 'The Night'
Thursday May 27, 2010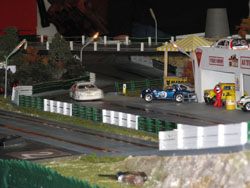 The seventh NASTE race of the 2010 season was held Saturday, May 22 on the Autumn Hills Raceway at Rico, Kelly and AJ Locati's in Milwaukie. The Hills is a 50 ft. two-lane Scaley Sport track with copper tape. Its tight layout and hairpin squeeze always provides close competition for racers of all levels.
A super group of twelve brave souls showed up to race the cars of the night - SCX Corvettes. The very same Corvettes that Rico had just completed the Beaverton season with - they were tuned to perfection. The timer was set to three minutes, the tires were cleaned, and off they went.
After the first set, 4 drivers were on the lead lap with two more just behind. It was shaping up as the closest race in NASTE memory. Storming out of the gate in the second set of heats was Bill Bostic. He ran a withering set and took the overall lead until Rico got it going to take the overall lead. But could he hold it?

James May Toy Stories - Brooklands
Sunday May 09, 2010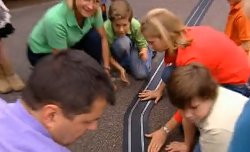 Car fans will need no introduction to James May better known as "Captain Slow" for his various exploits on the British automotive series Top Gear. In this series James returns to the famous Brooklands Race Track to attempt the first race on the old speedway in over 70 years. First challenge: find the track.
Follow James progress through all the episodes as he confront the many obstacles until finally the local Brooklands Aston takes to the track to tackle the Team Scalextric Mercedes. It's a whole lot of fun.

Girl From Ipanema Goes To Greenland
Wednesday May 05, 2010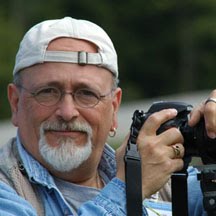 No, wait a minute, that's the B-52's. Let's get it right here? our very own Greenman, Greg Petrolati, goes to Europe to visit with the Italians and there's bound to be some slot talk.
"I've always wanted to see the MM Historica (that many significant old cars in one place just staggers the imagination). Having an opportunity to do this, get a little slot racing in and visiting the land of my ancestors was something too good to pass up."
You can follow his adventures abroad online here. Stop in and check it out.

Ninco De Mayo and the Fickle Fiats of Fate
Monday May 03, 2010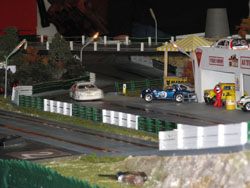 A super group of fifteen hearty and hungry racers showed up for the sixth NASTE race of the 2010 season held Saturday, May 1 at the Autumn Hills Raceway of Rico, Kelly and AJ Locati in Milwaukie. The Hills is a 50 ft. two-lane Scaley Sport track with copper tape. Its tight layout and hairpin squeeze always provides close competition for racers of all levels.
The cars of the night were all Ninco - DTM's and Fiat's specially prepared by Rico. On the incredible treats side was a fabulous Mexican dinner put on by Kelly! As for the racing, the action was close all the way to the finish. Eeking out the win was? well, you'll just have to read on for that. But let's just say the Curse of the Hills has been passed on.

The Postman Still Delivers on Saturday
Thursday April 22, 2010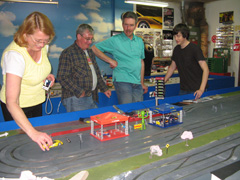 The fifth NASTE race of the 2010 season was held Saturday, April 17 on the Jacquelin Park Speedway at Monte and Victoria Saager's Li'l Slot Car Heaven in Hillsboro.
The Jacque is an SCX Digital track with multiple cars on the same lane and fuel management. Actually management is the key word here, as in managing the insanity! With 6 cars zipping around a two and sometimes three-lane track it can get pretty wild. It's the NASTE way.
A field of ten brothers and sisters of the slot came together to have at it with a mix of digital Ferrari's, a Corvette, an Aston Martin and even a pesky Seat Cupra. And have at it they did. At times the track looked more like a destruction derby than a race. Cars flew, guides popped loose, it was out of control. The best you could hope to do was manage well amid the mayhem. Frankly, it was a ton of fun?

4th NASTE Race Close As Can Be!
Wednesday March 10, 2010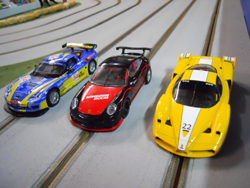 The fourth NASTE race of the 2010 season was held Saturday, March 6 on the Penguin Point Raceway at Monte and Victoria Saager's Li'l Slot Car Heaven in Hillsboro. The Pen is a three lane MDF-routed track with magna-braid and with its tight layout provides close competition for racers of all levels.
After the first set of heats Bill Bostic was clinging to a one lap lead over the field with 5 drivers nipping at his heels just a single lap behind. But could he hold the lead? Only time would tell?

Third NASTE Race a Battle of the Screaming Midgets
Saturday February 06, 2010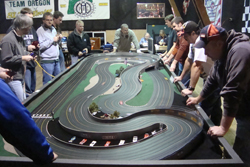 The third NASTE race of the 2010 season was held Saturday, January 23 on the Kodiak track in the stunning Brystal Barn of Bryan Henden. The Kodiak is a high-speed HO track with continuous rail. A fabulous track in a great location - it was a treat!
A great group of twenty-one racers showed up to race the cars of the night - HO something-Jets. All I know is that they had magnets and they were fast. Real fast - and amazingly sturdy considering the NASTE beating they took. In fact once a car did de-slot it was like a trip through pinball alley as other cars would hit it tossing it a good two feet into the air only to be smacked again by the next car by. Fast and very furious?

Second NASTE Race a Battle of the Nascars!
Wednesday January 13, 2010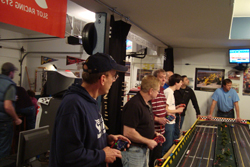 The second NASTE race of the 2010 season was held Saturday, January 9 at the Stummans' Marshall Field Raceway in Beaverton.
A great group of nineteen racers showed up to race the cars of the night - SCX Nascars. We've run the SCX Nascars plenty in the past and once again they showed to be excellent runners providing close competition. These cars are not only hard to pass in the turns they can be tough to pass in a straight line. And they're all just about the same speed.
This makes for some great racing.

NASTE Goes to the Enduro
Sunday December 06, 2009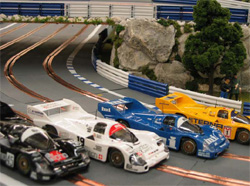 This past Saturday at 1 pm, the flag was once again dropped at the Auburn track of John Powers, aka, the Professor, sending four Slot.It Porsches hurtling into the future. For the next four hours, teams of drivers would speed their cars around the track stopping only for the occasional fuel refill and driver swap. Each hour, teams would trade lanes and take up with a different car.
Throughout the afternoon the race was tightly contested with the overall lead changing hands many times. The final results show the winning team ahead by a mere 18 laps. That's a difference of about one lap every 13 minutes!
Attending from the local area were Bill Bostic, Len Gillean, Greg Petrolati, Mike Lombardi and Monte and Victoria Saager and we all had a great time. Make your plans to come with us for the next one in about three months.

NASTE 2009 Halloween Race
Tuesday November 17, 2009


The annual NASTE Halloween race is always a fun event, and this year proved to be another great event! On Friday night October 30th, sixteen racers placed their exotic Halloween creations on the starting line at Hemi Heights Raceway Park. In addition to the sixteen racers were a number of spectators, who were there just for the show.
The race was run in two segments or rounds. The first round was run under the lights, with the second round run under "blacklight" lighting. NASTE Halloween races are typically............well, let's just say different, in an exciting kind of way!
Highlights included Dorothy "The Hammer" Abbott pounding her way to 13th, Lynette Spohn driving Speed Racer to a great 7th place finish, Larry Cockerham racing a Thong (NOT WEARING!), Victoria Saager showing the skull to most racers on her way to 5th place, and of course Bryan Trachsel taking the win! Thanks to Jeff Courtney for hosting yet another Halloween race!
Check out the "Gallery" for a photo recap of the race.

NASTE IPS Car Returns
Tuesday November 10, 2009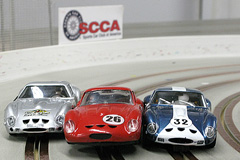 The extremely successful International Proxy Series entrant named The Red Rider has returned safely home. After a journey of many months that started in Australia, traveled to England, Canada and finally the US, our car earned 3rd place overall out of 29 entrants including some top proxy racers. Racing on a variety of tracks under the hand of numerous drivers, our car consistently placed near the top in most events and was always a good qualifier in the time trials.
Our top event was the 5th event, La Grande Dame in Canada, where our car blazed to a pole position qualifying first only to slide to third in the race results.
We now set our sites on the next IPS scheduled to start up in early spring.

Team NASTE Proxy Car Holding Strong
Friday October 23, 2009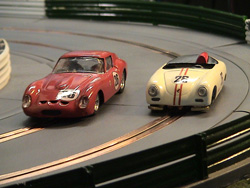 The NASTE team entry for the IPS has now made it successfully through 7 rounds of racing having recently finished the most recent race held in New York at the home club of SCX's Dave Kennedy.
Our car is still in 3rd place overall with one final event to go and that one is scheduled to run here in the US in the next few days. It's been a good run for the little red racer in a series that started some months ago in Australia, with stops in Europe and Canada. Along the way some rather famous slot car tracks were encountered. We're looking forward to seeing the traveler return home.

SCX Regional Qualifier Results
Thursday September 24, 2009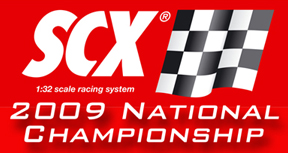 Marshall Field was the site of the first of the Northwest qualifier races for the SCX National Championship this past Saturday, September 19 at Marshall Field in Beaverton, Oregon.
Leading the way with a smoking 10-lap lead on the rest of the field was Monte Saager followed by fellow qualifiers Byron Stumman, Rico Locati and Bill Bostic. Also qualifying for the finals as our area alternate was Greg Petrolati.
For those that still would like to try and qualify there is another opportunity. Round two is scheduled for October 3rd at Fantasy World Hobbies in Tacoma, Washington.
Complete details, requirements and further discussion for the SCX National Championship can be found in the forum here.

NASTE Goes to the Professor's Enduro
Monday June 22, 2009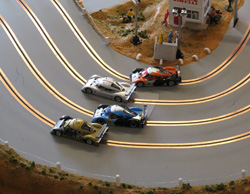 A great showing of 10 racers from Oregon joined 11 racers from the Tacoma area Saturday, June 13th in Auburn, Washingon for the second in the 2009 Professor's Enduro series.
And there was a new look to things - the Professor's new wood-routed track! And it was as smooth as it was pretty to look at. The cars were equally nice - non-magnet Racer Sideways Daytona Prototypes that ran fast and smooth all day.
After racing IROC-style for four hours, the final result showed Team One featuring AJ, the Professor, and Fantasy World Tony holding about a 50 lap lead over my second place team featuring Rico, Professor Lite (Derek) and Crikey among others.
A big thanks to the Professor and Crikey for hosting a splendid event. We're all looking forward to the next one.

Team NASTE 3rd in Tasmania
Tuesday May 26, 2009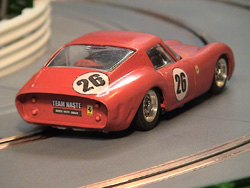 Results are just in from the second round of the International Proxy Series (IPS) and the Team NASTE scratch-built Ferrari (pictured) has landed on the podium with a third place finish out of 25 cars. Coupled with the first event's 9th place finish our entry is currently in third place overall and in front of some pretty heavy hitters.
The IPS is a set of eight races. After the first two events, the series now leaves Australia and heads for jolly 'ol England for two races followed by a trip to Canada and finally ending with a pair of races in the US the last of which is scheduled for November.

NASTE Season Finale Crowns Champ
Monday May 25, 2009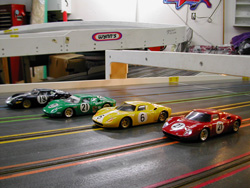 The finale night of the 2009 NASTE season brought a field of 20 racers to Bill Bostic's Too Bad Raceway in Fairview. Included in the group were a few new racers. The cars for the evening's IROC entertainment were Racer Ferrari 250 LM's graciously loaned to us by Tony of Fantasy World fame. The Racer cars are well known for their stunning beauty but that's not their only charm. The cars Tony sent us run like little champs!
Since the rubber on the Racer's NSR tires was getting a little thin the warm-ups were all done using the Carrera Aston Martins we had previously raced in Eugene. And they proved to be slippery little devils that were pretty hard to manage. But once the racing started and the Racer cars took to the track it was night and day different. The Racer's gripped the track perfectly and soon most everyone was getting in the groove?